It's No Speed Demon, but China-Made Maglev Passes Major Milestone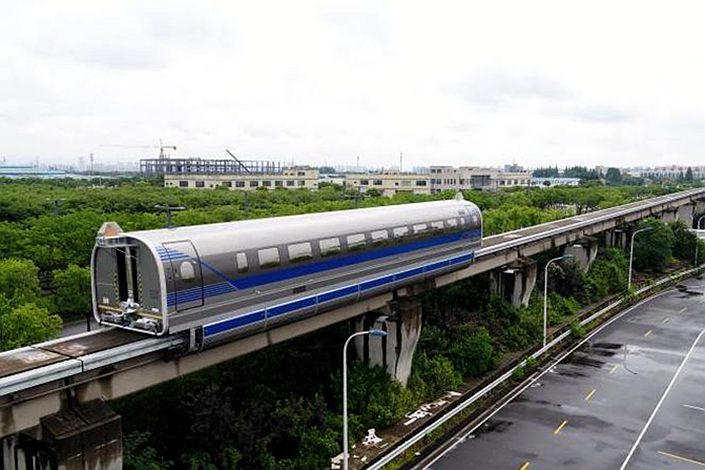 The maglev technology was successfully trialed in suburban Shanghai by CRRC Corp. Ltd., the largest supplier of technology behind China's current state-of-the-art high-speed rail network. Photo: Chinanews
It may not go down in the record books for its lightning-like speed just yet. But magnetic levitation (maglev) technology being developed by China's main railroad equipment maker has just passed an important milestone, nonetheless.
On Sunday, the futuristic technology was successfully trialed on a 1.5 km track in suburban Shanghai by CRRC Corp. Ltd., the largest supplier of technology behind China's current state-of-the-art high-speed rail network.
The single-carriage train traveled at speeds of up to a modest 50 kph (31 mph), and can go up to 100 kph, a source close to the company told Caixin, even though trains of the future are ultimately planned to zip along at up to 600 kph.
More importantly, the testing was aimed at assessing the system's coupling capabilities, Zuo Dajie, an associate professor at Southwest Jiaotong University, told Caixin. Such capability is a key factor for maglev trains that attain their super high speeds through frictionless travel that see them "float" above the track through use of magnetic forces.
Maintaining exactly the right distance between track and train is a major science, since too much space can lead to loss of control and derailment. On the other hand, too little space can result in friction that slows things down. Once such coupling technology is validated, testing at higher speeds can begin, Zuo said.
Once famous for its slow-moving and often behind-schedule trains that were the country's main form of long distance transport, China has come a long way in terms of rail travel over the past decade. It now operates the world's largest high-speed rail network with over 29,000 km of track and trains capable of traveling up to 350 kph.
Maglev could fill a niche by providing speeds significantly higher than that, while still below the top speeds of more than 900 kph for today's passenger jets. Industry watchers are divided over whether that niche is big enough to be economically viable, especially considering the higher cost of building maglev rail that is about 1.5 times more expensive than current high-speed rail.
Read more
China Floats Plans for Levitating High-Speed Trains, but Tech Issues Threaten Hard Landing
The technology trialed Sunday in Shanghai made its first appearance in May 2019 in the coastal city of Qingdao. CRRC is planning to launch a five-carriage maglev train by end of this year. Still, many more trials will be required after that to gradually increase the speed, said Sun Zhang, a professor at Shanghai's Tongji University.
A similar project in Japan could offer a glimpse into how long the Chinese project will take to reach commercialization. That project, being developed by Central Japan Railway Co., or JR Central, began trialing maglev technology in 2015 on a 42.8 km track that will eventually be able to go 603 kph. But a planned commercial line connecting Tokyo and Nagoya, a distance of about 350 km, won't be ready for commercial operation until 2027 at the earliest, publicly available documents show.
The only commercial maglev currently operating in China is a 30 km demonstration line in Shanghai connecting the central part of the city's Pudong New District with its Pudong International Airport. That line began operation in 2006, and uses core technology developed in Germany allowing for maximum speed of 431 kph.
Despite being launched to fanfare and subsequent popularity for its novelty, the project has operated continually at a loss.
Despite that, plans are moving ahead for a maglev line that would connect the South China cities of Guangzhou, capital of affluent Guangdong province, and Shenzhen, the boomtown 140 km away on the border with Hong Kong.
The proposed design, known as a Guangshen maglev, is touted as potentially being the second-fastest maglev train in the world and could cut the 30-minute journey between the cities in half.
Contact reporter Yang Ge (geyang@caixin.com)
You've accessed an article available only to subscribers
VIEW OPTIONS
Share this article
Open WeChat and scan the QR code

China Stories: How a Rich Child Rapist Bribed His Way Off Death Row