Bankrupt Firm Tied to Prestigious Peking University Refuses to Honor Offsprings' Debts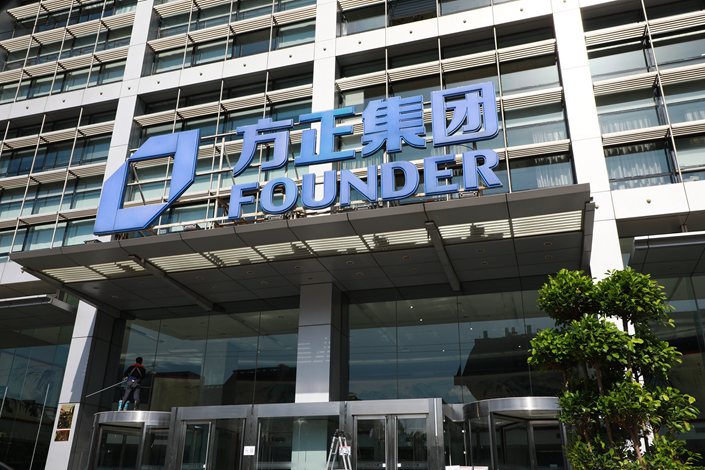 State-owned Peking University Founder Group Corp. (PUFG), which is undergoing bankruptcy reorganization, will not recognize $1.7 billion of dollar bonds issued by two overseas subsidiaries as its own debt.
The bankruptcy administrator of troubled PUFG said that it had notified overseas bondholders in August that the company won't include (link in Chinese) the five dollar-denominated bonds with a combined principal of $1.7 billion backed by keepwell deeds it provided in its own debt, according to a notice the bankruptcy administrator released Monday on the Shanghai Clearing House's website.
PUFG did not directly provide a guarantee for the bonds but signed keepwell deeds, which usually serve as "letters of support" used by Chinese companies to facilitate offshore bond sales by subsidiaries.
"The decision underscores the limitations of keepwell deeds in protecting bond investors," analysts of Moody's Investors Service wrote in a recent report. "It also sets a potential precedent for future cases involving keepwell deeds."
Analysts of S&P Global Ratings Inc. said in a report last week that PUFG's move raises the refinancing risk on $93 billion of Chinese companies' outstanding bonds backed by keepwell deeds, over a third of which will mature over the next 12 months.
PUFG is mired in debt, and is already the largest defaulter of U.S. dollar bonds China has seen in nearly two decades, according to the S&P analysts.
Read more
In Depth: China Responds to Default Wave With New Legal Frameworks
In February, a Beijing court accepted an application by one of PUFG's creditors to restructure the indebted company. The court designated the central bank and several other regulatory authorities to form a reorganization team as the bankruptcy administrator.
As of Aug. 19, a total of 478 creditors had reported 187.9 billion yuan in debts to the bankruptcy administrator, according to a PUFG statement (link in Chinese).
PUFG's debt problems have come as something of a surprise to investors, who previously had few concerns about state-owned enterprises (SOEs), which were assumed to be a safe bet, a brokerage's bond investment manager told Caixin previously.
As China's economic growth slows, local governments are less able to bail out struggling SOEs than they once were. In February, an SOE owned by the Qinghai provincial government tried to persuade investors in another Qinghai SOE to sell back defaulted bonds at sharp discounts.
A lawyer experienced with Hong Kong's capital market said that the holders of PUFG's dollar bonds could sue PUFG for failing to adhere to contracts. Caixin has learned from sources with knowledge of the matter that some of PUFG's and its subsidiaries' bondholders have formed an ad hoc committee in preparation of suing the company. Some of those bondholders have securities backed by PUFG's keepwell deeds.
Moody's analysts said that the agency incorporates legal and regulatory uncertainties when rating bonds with keepwell deeds. "The ratings are usually one notch lower than the keepwell providers' ratings, especially for investment-grade bonds. In some cases, the ratings are more than one notch lower," they said.
The validity of keepwell deeds had not been previously questioned, as there were no related bankruptcy cases.
"This is a bit like a hanging sword," said a source from a Chinese company that bets in Hong Kong's bond market. "When everything's good in the market, people just turn a blind eye to it, but we all know if something really goes wrong, we might be hit."
Contact reporter Timmy Shen (hongmingshen@caixin.com) and editor Gavin Cross (gavincross@caixin.com)
Download our app to receive breaking news alerts and read the news on the go.
You've accessed an article available only to subscribers
VIEW OPTIONS
Share this article
Open WeChat and scan the QR code

Caixin-Sinica Business Brief: Hong Kong to Allow Retail Investors to Trade Crypto