Xi to Visit China's Pioneer City of Reform and Opening-Up on Wednesday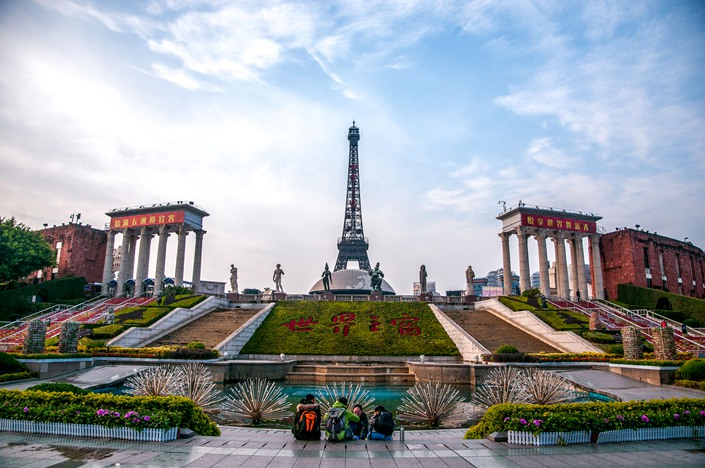 The Window of the World, a landmark theme park built in Shenzhen in 1994.
President Xi Jinping will attend a grand gathering and deliver a speech in Shenzhen on Wednesday celebrating the southern Chinese city's 40-year history of being the country's pioneer of reform and opening-up, the Xinhua News Agency reported Monday, in an apparent reassurance that Beijing will not close its door on foreign investors despite decoupling pressure from the United States.
Xi's visit comes as the world's second-largest economy is recovering from the Covid-19 pandemic and grappling with the United States in a geopolitical and economic competition, in which Washington is attempting to cut off Beijing from the developed countries' markets and supply chains for advanced technologies such as 5G and high-end microchips.
In response, China's leadership initiated a so-called "dual circulation" strategy, an idea first raised by Xi in May, to reduce its dependence on overseas markets and technology in its long-term development, instead relying mainly on domestic cycles of production, distribution and consumption.
The strategy would be a part of China's next national Five-Year Plan from 2021 to 2025, raising fears among foreign investors that the country could disengage itself from the foreign market and investors.
The Shenzhen Special Economic Zone (SEZ), one of the four such zones established in 1980 in the early stage of China's shift to reform and opening-up after domestic social unrest in the 1960s and 1970s, has since been the country's experimental field for policies of market reform and liberalization.
The Chinese leadership usually choose to visit the city as a show of commitment to the reform and opening-up policy. In 1992, former leader Deng Xiaoping paid a historic visit to the special economic zone in an effort to press forward his reform agenda when he was facing pressure from some of his colleagues in the leadership who favored conservative economic policies.
The city was the destination of Xi's first inspection tour once he became China's leader after the 18th Communist Party Congress in late 2012. He also paid a second visit to the city in October 2018 in the midst of a tit-for-tat trade war with the U.S., when he assured people that China would not stop reform and opening up to foreign investors, according to state media reports.
Details of the Wednesday visit and the speech have not yet been released.
Contact reporter Lu Zhenhua (zhenhualu@caixin.com)
Support quality journalism in China. Subscribe to Caixin Global starting at $0.99.

Register to read this article for free.
Register
Share this article
Open WeChat and scan the QR code