Wang Tao: How Fast Can China Grow?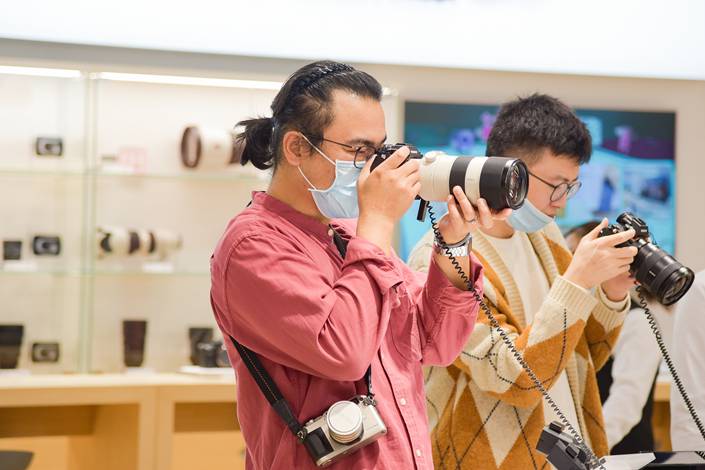 People check out electronics at a Beijing shopping mall on Oct. 3.
Wang Tao is the head of Asia economics and chief China economist at UBS Investment Bank. The article is the first part of the "Understanding China" 2021 series.
We first published our "Understanding China" thematic report series in 2017 and an updated version in 2018, covering key questions about capital flows, the yuan exchange rate, debt risks, monetary policy, the property market, trade frictions, rebalancing to consumption, and long-term growth potential.
In the past few years, China pushed through deleveraging in 2017-18, endured trade war with the U.S., and sustained the unprecedented shock from the Covid-19 pandemic. We expect China's growth to recover further in 2021 while macro policies normalize.
Meanwhile, China faces the challenges of sustaining long-term growth in an ever more difficult external environment, while its macro leverage has increased further. In this 2021 Edition, we provide brief answers to the key questions for understanding China's economy as below.
How fast can China grow in the coming years?
The country will see a strong recovery in 2021, followed by slower but sustained growth in subsequent years. We expect China's real GDP growth to rebound strongly in 2021 to 8.2% from a low base in 2020, led by exports and domestic consumption.
Growth in 2022 is expected to reach 6%, supported by continued global recovery, but slow to around 5% or below in subsequent years. After averaging about 5.8% in 2021-25, we expect real GDP growth to slow to an average of 4% a year in the 2026-30 period.
The continued transfer of labor to more productive areas accompanying urbanization, further investment in higher value-added industrial and services sectors, and increased R&D spending should help support long-term growth. However, the challenges of an aging population and shrinking working age population, a less friendly external environment and tighter restrictions on technology access will likely lead to a steady drop in trend growth. Specifically, U.S. tech restrictions and decoupling pressures may lower China's potential growth by another 0.3 percentage points a year.
China will contribute the most to global growth, helped by further reforms and market opening. With the above assumptions of long-term growth, we expect China to contribute at least 30% of global growth in the next decade. We foresee China's nominal GDP at $30 trillion in 2030, and the number of people with annual disposable income over $10,000 rising to 680 million from 280 million in 2019.
We believe China's plan to deepen reforms in the labor (and household registration), land and capital markets, reduce entry barriers for private and foreign companies, and push for mixed-ownership reform and increased efficiency in the SOE sectors will be important to sustain its long-term growth.
In addition, policies to foster innovation and tech self-reliance, and further opening of China's markets would also be key to mitigate the negative effect of tech restrictions, attract foreign investment, and make China more competitive and efficient.
China's economic structure has been changing in recent years. The share of services has risen steadily to 54% in 2019 (from 44% in 2010), while that of industry has declined by 8.5 percentage points to 31.6% (of which manufacturing makes up 26.8 points). Consumption share has also increased from 49-50% in 2010 but stagnated around 55% in 2016-19.
We expect these shifts to continue gradually over the next decades. As a comparison, manufacturing accounts for 11% of GDP in the U.S., 25% in South Korea, 16% in Eurozone, while consumption accounts for 82%, 66% and 74%, respectively in 2019. We think the government may aim to increase the share of service and consumption to 58% to 60% by 2025.
Alongside economic rebalancing, China has also set the long-term ambitious goal of "carbon neutrality" by 2060 and peaking of carbon emission by 2030. We expect various structural changes ahead, including a higher share of non-fossil energy in total energy consumption, clear roadmap of coal consumption peaking, electrification of energy use (especially related to transport), and developing a market mechanism for reducing carbon emissions.
Will consumption take the lead ahead?
Consumption will lead economic recovery in 2021. Covid-19 and related lockdowns in 2020 led to significant challenges for China's labor market and sharp contraction in consumption in the first half of 2020.
As the pandemic came under control later in the spring, activities normalized, both the labor market and consumption rebounded, though we think the labor market had still not recovered fully at end 2020 due to issues facing small services companies.
Retail sales recovered to positive growth in the third (1%) and fourth quarters (5% in Oct-Nov) after falling 19% in the first quarter and 4% in quarter two, but service consumption lagged behind (e.g. catering finally rebounded to the level of a year ago).
In 2021, we expect both employment and income growth to recover further, and consumer confidence to improve along with reviving economy and continued control of Covid-19, especially after vaccines are available. Consumption is expected to grow by 10% in real terms partly thanks to a low base, with consumer services reviving more quickly, contributing the most to GDP growth.
Changing consumer behaviors and accelerating trends post-Covid-19. From both macro level data and UBS Evidence Lab consumer surveys, we learned that Covid-19 had affected Chinese consumption patterns, and some of the changes may last even after vaccines are implemented and activities normalize.
For example, consumers have increased stay-at-home goods and services demand, including in daily goods, telecommunication and home electronics. Also, consumers remained reluctant to travel domestically and go out for in-person meetings and entertainment even at end 2020. International travel and tourism may take much longer to recover, especially given the strict restrictions.
Moreover, the pandemic has accelerated or facilitated trends in consumer behavior, including: 1) digitization and online spending, especially for services including media and entertainment; and 2) increased spending on healthcare and self-improvement, such as sports and gyms, health and medical care, and education. The consumer survey noted that online penetration increased especially more among men and older people.
China is the fastest-growing and second-largest consumer market, and the importance will grow further. In current prices, China's consumption has more than quadrupled to $8 trillion (2019) in the past decade, accounting for 12% of global consumption (2018). The total consumption share of GDP has risen steadily since 2010 to 55% lately, but it's still lower than most developed economies where private consumption accounts for 55% to 70% of the economy.
The 14th Five-Year Plan proposal highlighted the dual circulation strategy where boosting domestic demand is a key priority, planning to adopt policies that support employment, improve public services and social safety net, reduce income inequality, and facilitate smooth distribution of goods and services. In the coming decade, we expect China's total consumption to grow faster than GDP growth as the middle class rises and saving rate declines as a result of better social safety net. Total consumption is expected to increase by $8 trillion to $9 trillion in the next decade to reach $17 trillion in 2030.
The views and opinions expressed in this opinion section are those of the authors and do not necessarily reflect the editorial positions of Caixin Media.
If you would like to write an opinion for Caixin Global, please send your ideas or finished opinions to our email: opinionen@caixin.com
Support quality journalism in China. Subscribe to Caixin Global starting at $0.99.
You've accessed an article available only to subscribers
VIEW OPTIONS
Share this article
Open WeChat and scan the QR code