Jan 20, 2021 08:34 PM
CHINA
Chinese Provinces Home to 250 Million Plan Carbon Emission Peaks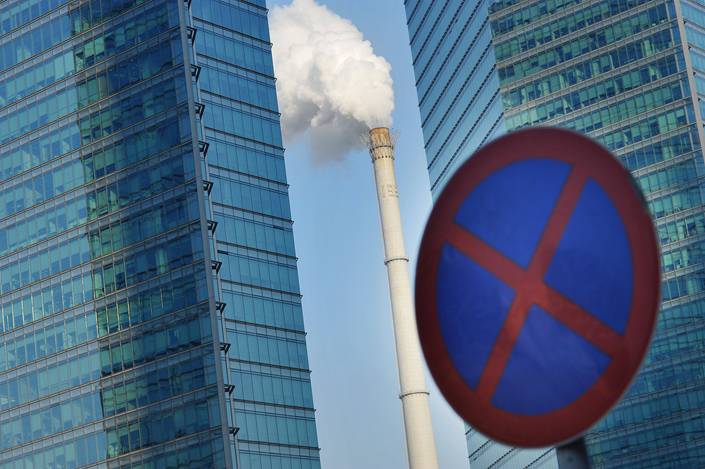 The major cities of Beijing and Shanghai, the industrial provinces of Guangdong and Jiangsu, and the island of Hainan have all included carbon emissions peaks in their proposed five-year plans.
Chinese cities and provinces home to a combined 250 million people have announced targets to bring carbon dioxide emissions to a peak, fleshing out the country's bold pledge last year to reduce emissions to net zero by 2060.
The major cities of Beijing and Shanghai, the industrial provinces of Guangdong and Jiangsu, and the island of Hainan have all included emissions peaks in their proposed five-year plans, which will align with the overarching national blueprint guiding policy through 2025.
The peaks refer to the point at which each region's annual emissions reach a maximum. After that, they must make further sharp cuts to the amount of heat-trapping carbon dioxide they release into the atmosphere so that China can become carbon neutral by 2060.
As part of that goal, the world's largest greenhouse gas emitter has said it will reach a national emissions peak before 2030. The pledge is seen as crucial to slashing global carbon dioxide production and averting the worst effects of climate change.
Several of the abovementioned areas have not put a date on their planned carbon emissions peaks. But others have said they intend to reach a maximum by 2030, while the eastern megacity of Shanghai may shoot for 2025.
Municipal officials in Beijing said at a press conference Monday that the capital will continue to prioritize renewable energy over the next five years and promote the large-scale use of technologies like solar panels and heat pumps powered by clean energy.
The city will look to better integrate renewables into urban buildings, basic infrastructure, modern agricultural facilities and rehabilitated mines, while also seeking breakthroughs in hydrogen energy and ultra-low energy consumption, the officials said.
Beijing's proposed new five-year plan, which was released last month, listed "carbon emissions" as a priority. The capital's deputy environment chief said at a forum in December that Beijing would reduce its amount of carbon emissions per 10,000 yuan ($1,545) of GDP by more than 22% this year.
Shanghai's suggested timeline is clearer, with the business and financial hub pushing to peak emissions by 2025. It also aims to rapidly decarbonize its energy, industry, transport and agriculture sectors, with a particular focus on polluting iron, steel and petrochemical plants.
But perhaps the greatest challenges lie in Guangdong and Jiangsu. The former, a southern province with a vast manufacturing sector, aims to "promote" low-carbon development and "draw up and implement" a strategy to peak emissions, without specifying a date.
Guangdong also calls for a stronger conservation industry, low-carbon innovation and "clean production," stronger environmental governance, and the "active development" of wind, nuclear and hydrogen energy.
The national government considers Jiangsu, a wealthy province located near some of China's thriving coastal cities, as a key area for emissions cuts. Provincial authorities have proposed drawing up a plan for achieving peak emissions by 2030, driving "clean production" in hard-to-decarbonize key industries like petrochemicals, steel, building materials, printing and dyeing, and importing clean power from other provinces while building offshore wind capacity.
Hainan, a tropical province that in recent years has positioned itself as a green tourism hub, aims to become a "model" of low-carbon development and clean energy production.
Government officials, policy advisers and climate experts jolted into action in September when President Xi Jinping unexpectedly told the U.N. General Assembly that China would aim to reach peak carbon emissions before 2030 and achieve carbon neutrality before 2060.
"The human race cannot ignore the warnings of nature over and over again," he said at the time.
In December, China's Central Economic Work Conference agreed to formulate an action plan this year for achieving peak emissions by 2030 and to support localities primed to play leading roles in the transition.
Guidance issued last week by the environment ministry reiterates (link in Chinese) that China must "urgently draw up an action plan for peaking carbon emissions before 2030," adding that the government will "comprehensively use relevant policy tools and measures to sustain its promotion and implementation."
Experts disagree on the pathway China should take to achieve its ambitious carbon neutrality pledge. The world's No. 2 economy accounted for 28% of global carbon dioxide emissions in 2019, according to the Global Carbon Project.
To reach its 2060 goal, some experts have recommended peaking emissions by 2025, while others have argued that the country should focus on reducing the amount of coal in its energy mix by more than one-sixth over the next five years.
Contact reporter Matthew Walsh (matthewwalsh@caixin.com) and editor Joshua Dummer (joshuadummer@caixin.com)
Download our app to receive breaking news alerts and read the news on the go.
You've accessed an article available only to subscribers
VIEW OPTIONS
Share this article
Open WeChat and scan the QR code

China Stories: Strict Rules at Home Push Chinese Metaverse Entrepreneurs, Investors Overseas