Starbucks' Sales Grow in China, Bucking Global Downturn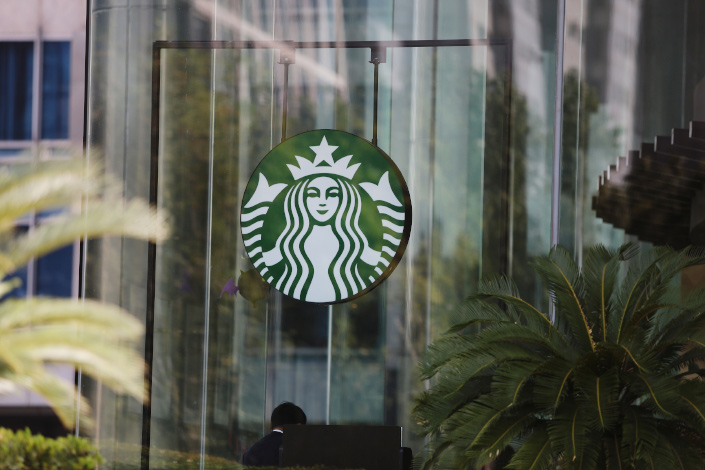 A Starbucks store in Shanghai in October 2019.
Same-store sales of coffee titan Starbucks Corp. in China, its fastest growing overseas market, climbed 5% in the October-December quarter, bucking a broader decline of 3% in international store sales, according to the company's interim report Tuesday.
Shares of the Nasdaq-listed Seattle-based coffee-maker slipped 6.5% to $97.87 as of market close on Wednesday in response to the news.
The coffee-maker saw its total revenue in the quarter tumble 5% to $6.7 billion, with the company attributing its decline to the "effects of reduced customer traffic, modified operations, reduced store operating hours and temporary store closures."
Chief operating officer and group president Roz Brewer will depart the company and board at the end of February, Starbucks said in the statement. Brewer has agreed to serve as CEO of U.S. drugstore chain operator Walgreens Boots Alliance Inc.
In China, where Starbucks brick-and-mortar stores were largely closed and sales plummeted as the coronavirus swept the country early last year, demand for its coffee has notably bounced back with the wider economy.
China's GDP grew 6.5% year-on-year in the fourth quarter on official figures, accelerating from 4.9% growth in the previous quarter and gaining momentum in the wake of its record pandemic 6.8% contraction in the first quarter.
Starbucks had 4,863 brick-and-mortar stores in China as of the last quarter, according to the report, almost a third of the 15,340 it had at home in the United States. Last month it announced it will open 600 new stores in China in the upcoming fiscal year, as part of its plans to expand its global footprint from the current 33,000 stores to 55,000 by 2030.
Nearly 10% of the 600 new stores will be what it calls "walk-thru" locations in busy metropolitan areas where customers can pick up their coffee after placing digital orders. Such orders made up more than half of its net sales in the U.S. for the quarter due to social distancing mandates following rising Covid-19 cases.
Closer to home, there are signs disgraced local rival Luckin Coffee is trying to get back on its feet, after it resumed touting for new franchises as part of a plan it reportedly halted last year after revelations it inflated its sales by $310 million in 2019.
Luckin, which was delisted from the Nasdaq in the middle of 2020, spectacularly imploded over the fraud and has since been mired in scandal and executive infighting, after previously wowing investors with seemingly astonishing growth and an ambitious narrative that it was a successful challenger to Starbucks in the making.
Contact reporter Anniek Bao (yunxinbao@caixin.com) and editors Heather Mowbray (heathermowbray@caixin.com) and Flynn Murphy (flynnmurphy@caixin.com)
Download our app to receive breaking news alerts and read the news on the go.
You've accessed an article available only to subscribers
VIEW OPTIONS
Share this article
Open WeChat and scan the QR code