China's Largest Livestock Producer Sees Profits Slide as Post-Swine Flu Oversupply Eats Into Prices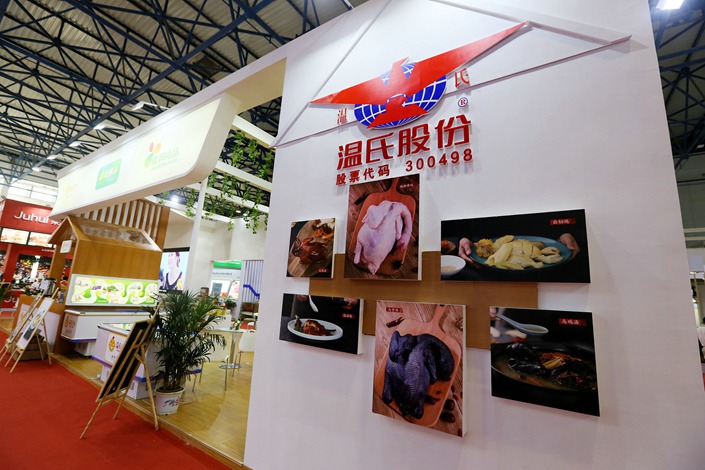 Wens Foodstuff has been dealt a double blow as poultry prices tumbled more than 20% in 2020 as the Covid-19 pandemic hit businesses. Photo: VCG
The chickens have come home to roost for China's largest hog and poultry producer Wens Foodstuff Group Co. Ltd., which blamed sliding live bird prices in a saturated post-African Swine Fever market for an almost 47% drop in annual profits.
In unaudited 2020 financial results released to the Shenzhen Stock Exchange Friday, Wens blamed oversupply and the impact of Covid-19 for the slump, even as it reported a relatively healthy 7.41 billion yuan in profits on revenue of 74.9 billion yuan.
The average price of the 1.051 billion broiler chickens and 56.9 million meat ducks it sold last year dropped 21.79%, Wens said. Profits of its duck and chicken farming business fell sharply into loss, it said.
An executive from one of China's major hog producers told Caixin the domestic chicken and duck markets had suffered after companies scrambled to fill the gap left by the African Swine Fever crisis that emerged in August 2018, decimating pig herds, wreaking havoc on the broader meat market and sending policymakers reaching for the nation's strategic pork reserves.
The outbreak, which was initially fueled by a lack of transparency, quarantine loopholes and a bungled compensation scheme, was gradually brought under control in 2019 and pork production in the nation has since recovered. Oversupply in the live poultry market began to emerge as an issue in the second half of last year.
Wens' statement made no mention of spiraling prices of animal feed, which rallied to eight-year highs this month, led largely by record imports of corn, especially from the U.S.
China has been scooping up American crops at the fastest pace in decades to feed a rapidly expanding hog herd. That's fueled a rally in prices, with the global benchmark futures for corn and soybeans reaching multiyear highs on the Chicago Board of Trade.
The outlook for U.S. agricultural exports to China has been raised $4.5 billion from the November forecast to a record $31.5 billion due to strong first quarter shipments and surging sales, most notably of corn, according to a U.S. Department of Agriculture report released last week. The Asian nation will remain the largest U.S. agricultural market this year, followed by Canada and Mexico, according to the U.S. Department of Agriculture.
Founded in 1983, Wens is one of China's nine big domestic pig breeders. Income from pig breeding accounts for more than half of the company's total, with poultry contributing around 40%. The company went public in Shenzhen in 2015. Wens' 2020 mid-year financial report said poultry profits were down more than 10% year-on-year, after growing more than 26% the year before as Swine Fever raged. Wens' Friday disclosure did not give such figures, nor did it quantify how many pigs it slaughtered last year, but a research report from Everbright Securities Co. Ltd. estimated that number was down about 48% to 9.546 million.
Contact reporter Flynn Murphy (flynnmurphy@caixin.com)
Download our app to receive breaking news alerts and read the news on the go.
You've accessed an article available only to subscribers
VIEW OPTIONS
Share this article
Open WeChat and scan the QR code