Five Things to Know About China's Loosening Grip on the Cross-Border Flow of Funds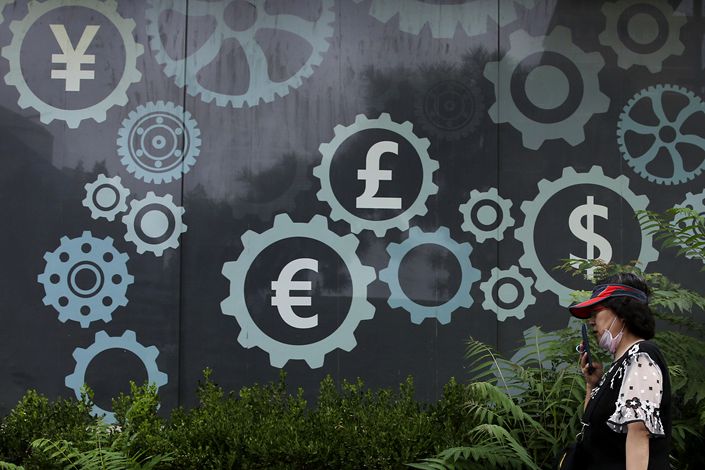 China is testing measures that will make it easier for major multinationals to use funds across borders. Photo: VCG
China is carrying out a trial program in Beijing and Shenzhen to facilitate certain multinational firms' cross-border use of funds, a move that can also advance the country's push for the greater internationalization of the yuan.
Under the trial, the selected multinationals will be allowed to combine their cross-border multiple-currency and yuan cash pools into a single pool, and also buy foreign currencies at will within certain limits for overseas payments, according to a joint statement (link in Chinese) released March 12 by the People's Bank of China (PBOC) and the State Administration of Foreign Exchange (SAFE).
Here are five things you need to know about the trial program.
Who is eligible?
A SAFE official told Caixin that regulators select multinationals for the pilot based on their scale. Their Chinese mainland-based operations need to have booked at least 10 billion yuan ($1.5 billion) in revenue in the previous year, and they need to have recorded at least 7 billion yuan in overall cross-border payments and receipts in all currencies for the year. Also, the multinationals' overseas entities must have booked at least 2 billion yuan or equivalent in revenue in the period, the official said.
The strict requirements aim to make sure the firms involved have high credit ratings and large-scale cross-border payments and receipts, to help ensure effective risk prevention and control, the SAFE official said.
The selected multinationals are no longer allowed to run more than one cross-border cash pool and need to rearrange and remove existing cash pools within a given timeframe, the official said.
In Beijing, global oil giant Royal Dutch Shell PLC, and Chinese state-owned conglomerates Sinochem Group Co. Ltd., Cofco Corp., China General Technology Group Holding Co. Ltd., and Aviation Industry Corp. of China Ltd. are the five participants selected, according to the PBOC.
Shenzhen Transsion Holdings Co. Ltd. (688036.SH), one of the world's largest cellphone exporter to Africa, is one the five participants in Shenzhen. The four others haven't been disclosed.
Read more
China Picks 10 Companies for Currency Conversion Trial
What's so good about a unified cash pool?
The short answer is that it's easier to manage.
Cash pooling is a common practice for multinational companies to facilitate the use of cross-border capital. It is a cash management strategy in which a corporate group and its subsidiaries concentrate or centralize their balances, minimizing their banking costs.
Currently, multinationals' yuan and multiple-currency cash pools are managed separately by the PBOC and SAFE, and subject to two sets of rules, causing inconvenience in the cross-border use of funds.
Standard Chartered Bank (China) Ltd. said in a Wednesday statement that the pilot will reduce corporations' manual processes and greatly improve the flow of cross-border funds by integrating the two types of cash pools.
How will the trial deal with foreign-exchange purchases?
Currently, multinational firms in principle need to seek SAFE approval every time they want to buy foreign currency in China under the capital account, several regulators and bankers told Caixin. That denies businesses the freedom to buy and sell foreign exchange at will to hedge against currency fluctuations. In contrast, under the current account, firms can basically convert their yuan funds for real business needs at will.
The capital account typically involves equity investment and debt financing, while the current account involves international goods and services trade.
The pilot program makes it possible for multinationals to purchase foreign currencies at will within a certain quota, "significantly reducing exchange costs and effectively managing exchange risks," Standard Chartered Bank said.
SAFE will determine foreign-currency purchase quotas for the selected firms based on China's and the companies' cross-border payments and receipts, as well as the firms' sales and purchases of foreign currencies in the previous year, the SAFE official said. The companies can use onshore and offshore forex derivatives to manage and hedge against foreign exchange risks, the official said.
Read more
China Trials Greater Flexibility for Multinationals' Currency Conversion
How will the foreign debt cap be adjusted?
The short answer is that the cap in the pilot program will remain unchanged.
Domestic companies' borrowing from overseas lenders has long been subject to tight control by SAFE. According to SAFE's 2019 rules (link in Chinese), the current consolidated foreign debt quota is two times the combined owner's equity of the multinational group and its mainland entities involved.
The foreign debt cap in the trial program is also two times the combined owner's equity, the SAFE official told Caixin.
How will the outbound lending cap be adjusted?
The SAFE official said that the trial will adjust up the selected multinationals' outbound lending quota's macro-prudential adjustment parameter. That will allow the companies to lend more to their overseas subsidiaries or other related firms.
The PBOC and SAFE said on Jan. 5 that they had raised (link in Chinese) the macro-prudential adjustment parameter on domestic nonfinancial firms' overseas lending cap to 0.5 from 0.3, allowing them to have more money used overseas.
The trial is set to adjust this parameter to 0.8, the SAFE official said.
Lu Yutong and Denise Jia contributed to this report.
Contact reporter Timmy Shen (hongmingshen@caixin.com) and editor Joshua Dummer (joshuadummer@caixin.com)
Download our app to receive breaking news alerts and read the news on the go.
Follow the Chinese markets in real time with Caixin Global's new stock database.
You've accessed an article available only to subscribers
VIEW OPTIONS
Share this article
Open WeChat and scan the QR code