Apr 12, 2021 09:05 PM
CHINA
China CDC Director Sticks Up for Homegrown Vaccines, Downplaying Criticism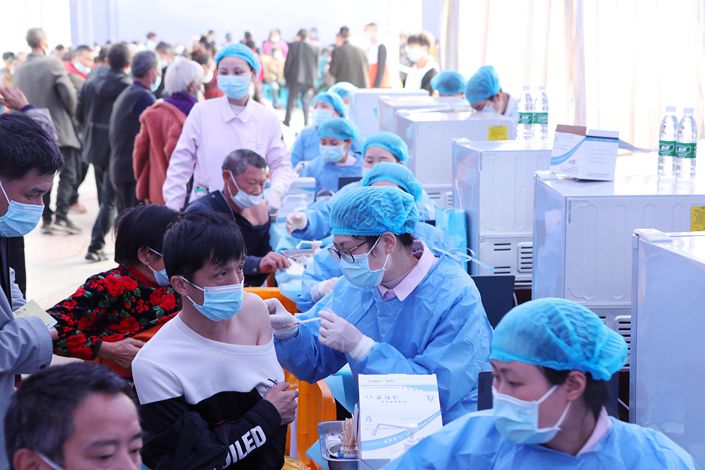 People recieve Covid-19 vaccinations in Chongqing on April 12. Photo: VCG
A senior Chinese health official has downplayed recent headline-making comments he made about the effectiveness of Chinese Covid-19 vaccines, saying he was commenting on the efficacy of global vaccines more generally, not homegrown ones in particular.
In follow-up press reports, Gao Fu, director of China's Center for Disease Control and Prevention (China CDC), nonetheless stood by remarks that the country is considering adopting a new inoculation strategy that includes mixing different types of vaccines and adjusting doses.
Gao was responding to a variety of media reports on Saturday which quoted him as saying that efficacy rates of Chinese vaccines needed improving while speaking at a conference in the southwestern city of Chengdu.
At the conference, Gao said that "We will solve the issue that current vaccines don't have very high protection rates," according to various media reports. "It's now under consideration whether we should use different vaccines from different technical lines for the immunization process," he said.
The top health official's comments were reported as an admission that Chinese vaccines have low effectiveness.
In a follow-up response to the Associated Press, which had reported his comments from the Chengdu conference, Gao said he was speaking about the effectiveness rates for "vaccines in the world, not particularly for China."
In a Sunday interview with the Global Times, Gao elaborated that "it was a complete misunderstanding" to say Chinese vaccines have low efficacy rates, and that his remarks referred to global inoculation campaigns in general.
"The protection rates of all vaccines in the world are sometimes high, and sometimes low. How to improve their efficacy is a question that needs to be considered by scientists around the world," Gao said in the Global Times, a nationalist news outlet run by the Communist Party's official newspaper People's Daily.
The early stories on these comments appeared to complicate the ongoing vaccination campaign in the 1.4 billion-strong nation. Beijing plans to inoculate 40% of its entire population by the end of June, which still lags far behind the roughly 70% threshold which many global experts argue is necessary for achieving any hope of herd immunity.
In a separate interview with a nationalist news website Guanchazhe, Gao again said that his remarks in Chengdu had been "taken out the context." He said that all of the Chinese vaccines meet the World Health Organization's (WHO) requirement for Covid-19 vaccine, which is above 50%.
By contrast, some other inoculations — including the U.S.'s Pfizer and Moderna vaccines and Russia's Sputnik V, all claim protection rates above 90%.
China has four homemade Covid-19 vaccines approved for public use and a fifth for smaller-scale emergency use. Available data showed that the first four vaccines have protection rates ranging from 50.38% to 79.34%.
In the subsequent reports, Gao added that it was natural for China to optimize its vaccination strategy, because countries around the world have been adjusting their immunization strategies.
"In this regard, I suggest that we can consider adjusting the vaccination process, such as the number of doses and intervals and adopting sequential vaccination with different types of vaccines," he told the Global Times, confirming portions of the initial reports from the conference.
China has been speeding up its nationwide vaccination program in a drive to protect its population. As of April 10, China had administered more than 164 million doses of Covid-19 vaccines within its 1.4 billion-strong population. The numbers include those who have only received one dose so far as well as those who have received a complete two-dose regimen.
Wang Huaqing, chief immunization expert at China CDC said in an interview with the official Xinhua news agency that China may need to vaccinate at least 1 billion people to reach the threshold necessary for herd immunity.
"In the past week, the daily inoculation has increased to 7 million from about 3 to 4 million," Wang said, "But it's still relatively low compared to those countries that have vaccinated 40% to 60% of their population." Early leaders reaching these levels include Israel, the U.K., Seychelles and Bhutan, according to statistics from the Oxford University-affiliated Our World in Data.
Meanwhile, China's national health authority criticized compulsory vaccination drives conducted by a handful of local governments recently. During a press conference on Sunday, national health officials warned against sacking employees if they refuse to receive vaccines, for example.
Mi Feng, a spokesperson for China's National Health Commission, said during the Sunday press conference that mandatory vaccination orders go too far and "must be completely corrected."
Contact reporter Lu Zhenhua (zhenhualu@caixin.com) and editor Michael Bellart (michaelbellart@caixin.com)
Download our app to receive breaking news alerts and read the news on the go.
Follow the Chinese markets in real time with Caixin Global's new stock database.
You've accessed an article available only to subscribers
VIEW OPTIONS
Share this article
Open WeChat and scan the QR code

Caixin-Sinica Business Brief: China's First Homegrown Jet Sets Sights on Airbus and Boeing