Apr 12, 2021 08:50 PM
CHINA
Local Authorities Use Creative Ways to Coax People Into Getting Covid Jabs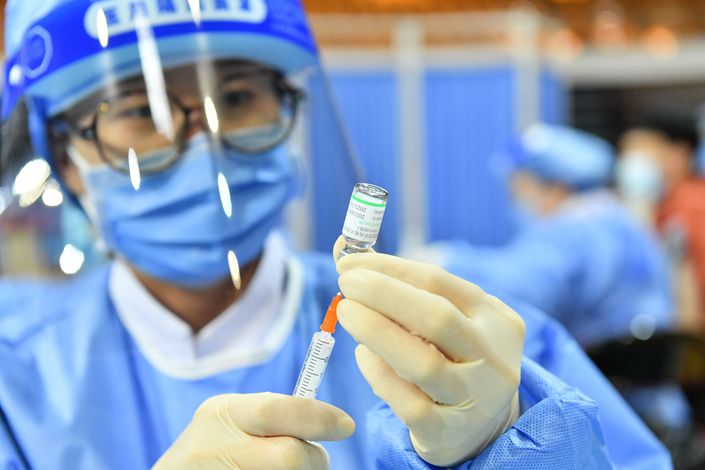 A medical worker prepares a vaccine shot on March 23 at a campus of the Beijing Institute of Technology in the capital. Photo: The Paper
Local authorities are using a variety of measures to persuade people to get Covid-19 vaccines, including free food, as China looks to accelerate its sluggish vaccine drive.
China's Covid-19 vaccination drive is lagging behind other countries, such as the U.S. Despite efforts to speed up in recent weeks, many people have shown little urgency to get vaccinated, casting doubts on government plans to vaccinate 40% of the population, or 560 million people, by the end of June. At present the figure is under 12%.
Under pressure to boost the number of inoculations, local officials nationwide are rolling out programs to lure people in.
In Beijing's central Dongcheng district, seniors can get two boxes of eggs after getting fully vaccinated, according to an online post from the local government. Many residents queuing for vaccination in the district told Caixin that the prospect of free eggs was the main reason they'd turned up.
The capital's suburban Daxing district has handed out supermarket coupons worth 200 million yuan ($30.4 million) since March 24 to residents who have gotten all of their Covid-19 shots.
Some parts of the capital have also turned to calling out noncompliance, including color codes that show vaccination levels. A resident of the central Xicheng district told Caixin that the front doors of the buildings in her residential community have signs attached. A green sign means that more than 80% of residents in the building have been vaccinated, while a red sign indicates the vaccination rate is lower than 40%.
"People who do not get vaccinated feel very embarrassed by these signs," the resident said. In a phone call with Caixin, however, a local disease control official said they "didn't know what exactly happened" with the codes.
While China has no national laws or regulations mandating Covid-19 vaccination, some places have still decided to do so.
In early March, the town of Wancheng, on the tropical island province of Hainan, announced a list of restrictions for those who haven't been vaccinated against the virus, including a ban on entering supermarkets and hotels, drawing attention nationwide and sparking a local backlash.
Mi Feng, spokesperson for the country's top health body, said Sunday at a press conference that such measures to mandatorily vaccinate residents should be "completely corrected."
Earlier this month, the Education Ministry called on (link in Chinese) institutions to "actively cooperate with local authorities" to arrange vaccinations for teachers and students as well as to try to "dispel doubts."
A student at Beijing's University of International Business and Economics said he was asked by his university to provide "legitimate and reasonable" reasons why he hadn't been vaccinated yet. Many unvaccinated students have also been asked to do so, he said.
The country had administered more than 160 million doses of Covid-19 vaccines as of Saturday, the National Health Commission said (link in Chinese). Under the unlikely scenario that each vaccine recipient has received only a single shot, that figure means roughly 11.4% of the country's 1.4 billion population would now have some level of immunity against the virus.
So far, China has approved five Covid-19 vaccines for public use, four of which require multiple jabs. The vaccines include two separately developed by affiliates of state-owned China National Pharmaceutical Group Co. Ltd., one by Sinovac Biotech Ltd., one by CanSino Biologics Inc. (688185.SH), and one jointly developed by the Institute of Microbiology under the state-backed Chinese Academy of Sciences and a subsidiary of Chongqing Zhifei Biological Products Co. Ltd. (300122.SZ).
Contact reporter Wang Xintong (xintongwang@caixin.com) and editor Joshua Dummer (joshuadummer@caixin.com)
Download our app to receive breaking news alerts and read the news on the go.
Follow the Chinese markets in real time with Caixin Global's new stock database.
You've accessed an article available only to subscribers
VIEW OPTIONS
Share this article
Open WeChat and scan the QR code

Caixin Biz Roundup: China's Covid Caseload Hits Six-Month High