May 27, 2021 07:29 PM
CHINA
The 10 Domestic Stories Chinese Readers Can't Stop Following – May 27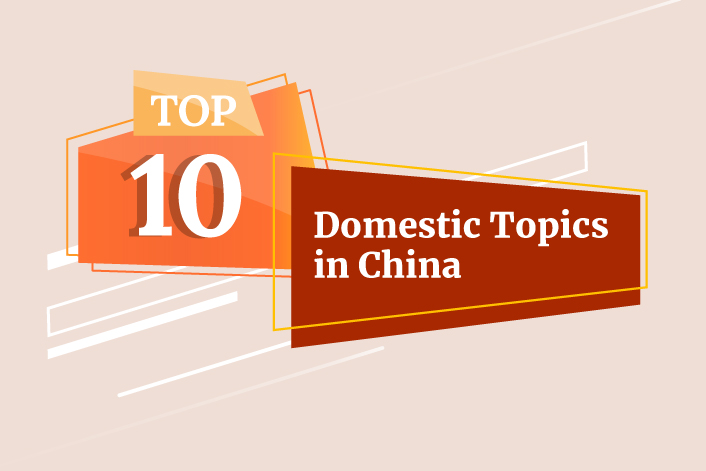 Here's today's ranking of the 10 most-read domestic stories in China, in economics, finance and current affairs. We want to help you get a sense of what's trending in the Chinese language sphere.
Yesterday's trends stayed strong, with internet users following the latest developments of the deadly ultramarathon incident in Northwest China. Several topics have also remained on the list, including the latest outbreak of the Indian variant of Covid-19 in Guangzhou and Chinese mainland's offer to supply Taiwan with vaccines, as the island suffers a surge of virus cases.
1. China mourns the death of beloved plant scientist Yuan Longping
Yuan Longping, a beloved plant scientist (link in Chinese) whose major breakthroughs in developing high-yield hybrid strains of rice were critical to famine and poverty alleviation efforts across much of Asia and Africa, died on Saturday in Changsha at the age of 90.
2. 21 runners killed during mountain race in China's northwestern province of Gansu
21 people were killed after extreme weather including hail, freezing rain and high winds hit runners participating in a 100-kilometer cross-country mountain race in China, local officials have said.
3. Source of Guangzhou Covid-19 outbreak still unclear
According to public health authorities in Guangzhou's Liwan district, a person has been found to have tested positive (link in Chinese) for the new mutated strain of Covid-19 that emerged in India. Authorities have quarantined the individual and begun thorough contact tracing, but the source of the outbreak remains unclear.
4. Film director Feng Xiaogang pays 168 million yuan in compensation to Huayi
Feng Xiaoguang, a reknowned Chinese film director, has been obliged as a shareholder to pay 168 million yuan (external source, in Chinese) in compensation to Huayi Brothers Media Corp. for failing to meet performance standards stipulated in an earlier agreement.
5. Xiongan New Area is designated as a pilot area for marriage reform
Xiongan New Area in the northern Chinese province of Hebei has been designated as the location of a pilot scheme for reforming marriage customs (external source, in Chinese) such as exchanging of expensive gifts.
6. Price of paper soars as paper mills halt production
Since March a number of paper companies suddenly announced shutdowns for maintenance. That led the price of pulp to rise, causing paper prices to skyrocket (external source, in Chinese).
7. Cases on Indian variant found in Guangzhou
Public health authorities in Guangzhou's Liwan district have stated that a person has been found to have tested positive (link in Chinese) for the new mutated strain of Covid-19, thought to have arrived in China from India.
8. Beijing expresses willingness to arrange for vaccines to be sent to Taiwan
A spokesperson for the Chinese government's Taiwan Affairs office has said that they are willing to make arrangements (external source, in Chinese) so that residents in Taiwan will have vaccines available from the mainland as soon as possible.
9. Personal credit reports found to include insulting words
Certain financial institutions in China have reportedly been using humiliating or insulting language (external source, in Chinese) to deliberately harm the personal credit reports of individuals.
10. Nanjing government announces that the city will no longer approve the construction of villas
New planning rules implemented by the municipal government in the eastern city of Nanjing strictly prohibit (external source, in Chinese) the construction of villas and other such low-rise residential buildings. The rules further stipulate that any low-rise buildings that are allowed to be built should meet the requirements of the urban design in the area where they are located, paying attention to scale, proportion, volume, style and color, while being in harmony with the surrounding environment.
Read the top 10 global news on the same day.
Translated by intern reporter Harry Nicholls.
The daily ranking of most read news stories among Chinese people, about China and global affairs, is jointly provided to you by Caixin Insight and HANA Data, an artificial intelligence technology team.
The key indicators calculated on the list are based on mass data sourced from China's mainstream social media platforms and online news websites. Click here for a detailed introduction of our methodology.
You've accessed an article available only to subscribers
VIEW OPTIONS
Share this article
Open WeChat and scan the QR code