Jun 11, 2021 07:59 PM
CHINA
In Depth: Perverse Incentives Plague Environmental Impact Reporting in China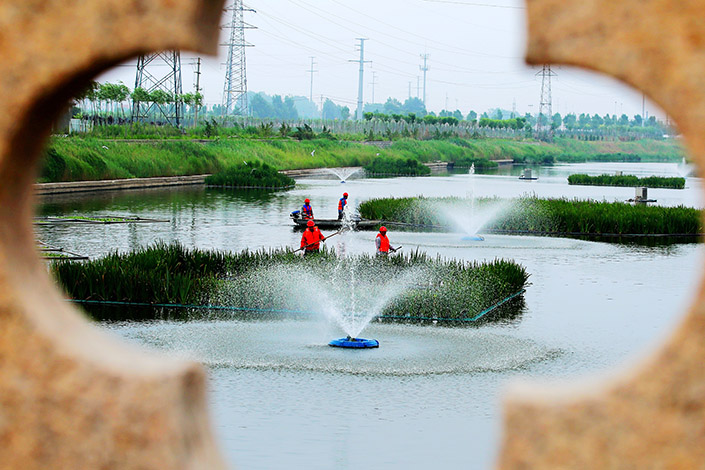 Environmental protection staff at work in Dongying, Shandong province, on June 3. Photo: VCG
Jin Haiyan probably wasn't trying to break any records at her job over the roughly four months starting in late September last year, but she somehow still managed to compose twice as many environmental impact assessment (EIA) reports as the next most productive EIA engineer in China. At least on paper.
News of the feat, which was first brought to light by an environmental watchdog group on Feb. 2, raised eyebrows because assessing the environmental impact of real estate developments and other construction projects isn't the sort of thing you value by volume. More importantly, compiling more than 1,600 EIA reports and report forms in four months just didn't seem possible for one company with a lone licensed EIA engineer.
Several industry insiders told Caixin that it is "absolutely impossible" for one engineer to complete that much EIA paperwork in such a short amount of time.
They said that the likely explanation for Jin's output was her employer was "selling qualifications," a longstanding practice in many industries in China in which an accredited company or individual allows another — usually unlicensed — company to make use of its qualification to engage in business that requires one. Typically, this is done in exchange for a payment to the license holder or their employer.
Although it's not illegal, the practice violates China's environmental regulations and those for the EIA industry. After the environmental watchdog's findings made news, the Ministry of Ecology and Environment (MEE) announced on Feb. 25 that it was "undertaking a complete review" (link in Chinese) of the matter.
Selling qualifications has a history in China's EIA industry that goes back to at least 2014. However, the practice really took off after changes to the law in 2018 made it easier to start an environmental assessment company, but not any easier to get accredited as an EIA engineer, creating perverse economic incentives that spurred companies to sell their qualifications.
"For example, it is cheaper for an EIA company to buy a qualification than to actually employ an EIA engineer," said Li Zhiqing, director of the Research Center on Environmental Economics at Fudan University.
Jin's cases and others like it reflect a lack of oversight on the companies responsible for determining what threats new construction or business activities pose to human health and the environment.
License to sell
Suspiciously prolific engineers are nothing new to China's environmental assessment industry. In November 2019, EIA Survey, an online watchdog that tracks the results of EIAs across the country, published an article on social media about an EIA engineer named Zhang Lihui who compiled eight reports and 94 report forms in 11 days.
In July 2020, an engineer named Tan Yanlai was censured (link in Chinese) by the MEE for "breach of trust" after signing off on numerous EIA reports for construction projects across the country from 2017 to 2019, Caixin has learned. Tan's registered employer, Chongqing Fengda Environmental Impact Assessment Co. Ltd., was also blacklisted from the Environmental Impact Assessment Credit Platform, which was launched by the Ministry of Ecology and Environment in November 2019 to keep tabs on the companies and engineers who provided environmental impact assessments.
At the time the Guangzhou Green Data Service Center released its report, Jin was working for Shandong Jinhua Environmental Protection Technology Co. Ltd., a company described as an online environmental services platform.
According to Caixin data, Jinhua was established on Sept. 10 in Jimo district of Qingdao, East China's Shandong province, and registered on Environmental Impact Assessment Credit Platform on Sept. 14. Its legal representative is Wang Liang and its supervisor is Lin Shuxin.
Lin also happens to be the supervisor of Shandong Yuehua Environmental Protection Technology Co. Ltd., another EIA company with a single EIA engineer who once compiled 387 reports and report forms for projects across China in a single month, Caixin has learned.
According to the report by the environmental watchdog, the Guangzhou Green Data Service Center, Jin's credentials were used to submit 63 reports and 1,541 report forms for construction projects across 25 Chinese provinces and regions from the last week of September through Feb. 3.
The crucial thing to understand is that volume of EIA paperwork submitted under Jin's credentials is clear evidence that she didn't do it all alone.
There is the possiblity that Jin's credentials may have had been used by others, either with or without her knowledge, an EIA engineer who requested anonymity in order to speak freely previously told Caixin.
There is evidence that her employer was selling her qualification to other EIA companies. For example, Jinhua offers a service called "Affiliation to a Qualified EIA Company," for which prices are negotiable.
Caixin contacted several developers whose EIA reports were compiled by Jinhua. Most had never heard of the company and said they had hired local EIA companies to handle their environmental impact assessments.
Pei Zhou, an EIA engineer based in South China's Guangdong province, said he once saw a Jinhua advertisement in an online chat group. The ad offered access to an EIA qualification for the bargain price of 500 yuan ($77) per report form, Pei said.
Lowering the threshold
The EIA concept was introduced to China in the early 1970s, but it took decades to pass its first law. The Environmental Impact Assessment Law, which took effect in 2003, contained clear provisions for EIA procedures, but was widely considered to be "toothless" because the penalties for violating it were so low.
In December 2018, the Standing Committee of the National People's Congress, China's top legislature, decided to amend the law, removing the administrative licensing procedures for construction projects' EIA qualifications. The amended law took effect the same day.
The revisions had a significant effect on the EIA industry. Before the change, companies held their own credentials and were required to have a certain number of licensed engineers on staff. However, the revised law got rid of the approval procedures for EIA companies, so they no longer had to get licensed, leaving the only remaining EIA licenses in the hands of the engineers.
The result was an explosion in the number of EIA companies. At the end of 2018, China had 921 registered licensed EIA institutions, according to data from the MEE. However, by October 2020, there were more than 6,000 EIA companies registered on the EIA Credit Platform.
In 2019, a regulation took effect that allowed EIA companies to have only one registered EIA engineer on staff to compile reports, lowering the threshold for entering the market.
Li, the director of Fudan's Research Center on Environmental Economics, said the low threshold to entry led to an increase in the number of companies that could do environment impact assessments.
To survive the fierce competition in the market, EIA institutions had to cut costs or sidestep regulatory requirements, he said. One tactic was simply not to employ licensed EIA engineers.
Li said protecting the interests of licensed EIA engineers remains on the biggest problem facing the industry.
At the Feb. 25 press conference, MEE spokesperson Liu Youbin said the ministry was "firmly opposed" to the rubber stamping that comes with selling qualifications.
That same day, environmental authorities in East China's Shandong province, where the company is based, launched an investigation, saying they would "completely review" the 505 reports related to the province that Jinhua submitted.
The investigation remains ongoing.
The next day, the Shandong environmental bureau vowed at a press conference to strengthen supervision and management over the EIA industry.
Contact reporter Wang Xintong (xintongwang@caixin.com) and editor Michael Bellart (michaelbellart@caixin.com)
Download our app to receive breaking news alerts and read the news on the go.
Get our weekly free Must-Read newsletter.
You've accessed an article available only to subscribers
VIEW OPTIONS
Share this article
Open WeChat and scan the QR code

Caixin China Biz Roundup: Mystery Deepens After Missing Teen's Body Found Behind School