Exploring Paths to Carbon Neutrality, China Expands Emissions Trading Trials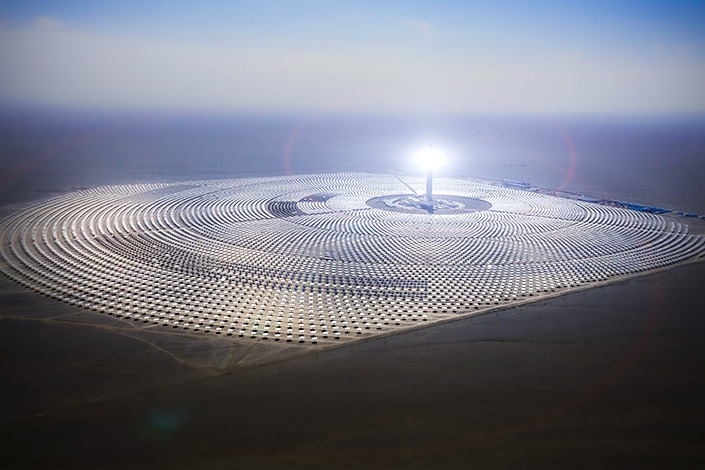 A photothermal power station in Hami, Xinjiang Uyghur autonomous region, on June 16. Photo: VCG
A growing number of regions in China are trialing carbon trading programs underpinned by green energy certificates, as the world's largest greenhouse-gas emitter explores a variety of pathways toward realizing its ambitious net-zero carbon pledge.
It comes even as questions remain about whether the certificates could be used in international carbon markets in the future.
At least six regions are trialing systems that allow low-carbon energy to be traded. The pilot programs taking place in some of the Asian nation's wealthiest and most populous cities and provinces provide a further hint that Beijing regards renewable power as a testing ground for liberalizing its heavily state-controlled energy sector.
The trials permit grid-connected generators of renewable energy to strike deals with end users for excess power that does not form part of the existing system of guaranteed purchases based on the number of hours utilized over the course of a year.
They aim to further promote green power and zero-carbon consumption while also laying the groundwork for Chinese traders to bring their product and supply chains in line with potential future emissions limits under consideration by foreign markets such as the European Union.
So far, such programs are taking place in the so-called Jing-Jin-Ji region — comprising the capital Beijing, the northern city of Tianjin and the surrounding province of Hebei— as well as in the rich coastal province of Zhejiang and the inland provinces of Shaanxi, Gansu, Hunan and Yunnan.
In Zhejiang, the trial aims to encourage exporters to green their supply chains and enhance their overseas competitiveness ahead of anticipated carbon tariff reductions and exemptions, a person from the local energy bureau told Caixin.
Provincial authorities have also begun issuing so-called green power trading certificates to firms in an effort to authenticate energy transactions. The documents can also be incorporated into emissions management systems.
The move is equivalent to Zhejiang establishing its own green power registry capable of ensuring that one-off purchases of electricity cannot be resold in other places, said Yan Qin, a carbon analyst at data provider Refinitiv.
It also imposes similar standards as international organizations like RE100 and I-REC that aim to build demand for renewable energy among industrial and commercial end users, a strategy that may help the Chinese system win international recognition in the future, Qin said.
China is embarking on a once-in-a-generation overhaul of its energy sector to bring it in line with its ambitious carbon emissions goals.
The country has pledged to bring the amount of carbon dioxide it releases into the atmosphere to a peak by the end of the decade and to net zero by 2060, a target that climate experts see as crucial for mitigating the worst effects of global heating and climate change.
Contact reporter Matthew Walsh (matthewwalsh@caixin.com) and editor Joshua Dummer (joshuadummer@caixin.com)
You've accessed an article available only to subscribers
VIEW OPTIONS
Share this article
Open WeChat and scan the QR code

Caixin China Biz Roundup: Mystery Deepens After Missing Teen's Body Found Behind School