Caixin Summit: Uneven Vaccine Distribution Holding Back Global Economy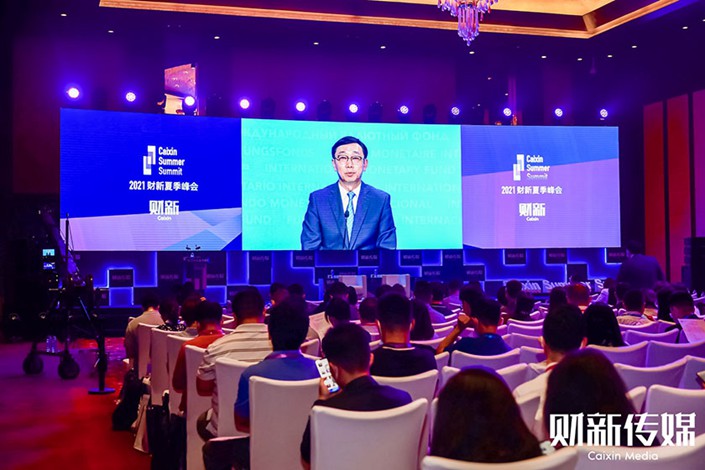 Zhang Tao, a deputy managing director of the International Monetary Fund, delivers a video speech at the Caixin Summer Summit 2021 on Thursday. Photo: Caixin
Uneven vaccination distribution is hampering the global economic recovery, said Zhang Tao, a deputy managing director of the International Monetary Fund (IMF).
"The extent and pace of economic recovery are … uneven across countries, and the road to full recovery is fraught with uncertainty," Zhang said in a video speech delivered at the Caixin Summer Summit 2021 on Thursday. "The increasingly two-track pandemic is leading to a two-track recovery, which is detrimental to global prosperity."
Some economies are struggling to recover due to their slow vaccine rollout, limited policy support or heavy reliance on tourism. That could drag the pace of their economic recovery, said Zhang.
"In the view of the IMF, the most urgent task to bring about global recovery quickly is for all countries to move proactively to complete vaccination efforts as early as possible," he said. "Simply put, vaccine policy is the most important economic policy at the moment."
The IMF warned of unequal vaccine access between richer and poorer nations, according to a statement released in May. The inequality was exacerbated by persistent shortage of raw materials and export restrictions for vaccine manufacturers, as well as people's safety concerns about vaccines.
IMF staff in May proposed a $50 billion plan to help end the pandemic. The plan aims for at least 40% of the global population to be vaccinated by the end of the year, and 60% by the mid-point of 2022. Currently, the number of doses that have been administered means about 17.7% of the global population have received at least one dose, according to Bloomberg's Vaccine Tracker.
As of Wednesday, the U.S. has administered more than 300 million doses, which is enough for about half of its population to have had at least one dose, the Bloomberg data show. The rate is 37.4% across the EU, 44% in Canada and 37.5% on the Chinese mainland. Many African nations have administered vaccines to less than 1% of their population.
If the IMF plan goes ahead, it could generate an extra $9 trillion worth of economic output by 2025 and "become the best public investment ever," said Zhang.
In addition, the IMF is preparing an unprecedently large Special Drawing Rights (SDR) allocation to boost liquidity of all member countries, said Zhang. The SDR is an international reserve asset launched by the IMF in the late 1960s to supplement its member countries' official reserves. The allocation, which aims to issue $650 billion worth of SDR, has won support from major economies, including the U.S.
Zhang, 57, will conclude his five-year stint at the global financial institution when his term expires on Aug. 20, IMF Managing Director Kristalina Georgieva announced earlier this week. In his position, Zhang has spearheaded the fund's engagement with member countries and its work across a wide range of policy issues, including climate change, fintech, gender issues, money laundering, terrorist financing, and small states, the IMF said.
Contact reporter Tang Ziyi (ziyitang@caixin.com) and editor Joshua Dummer (joshuadummer@caixin.com)
Download our app to receive breaking news alerts and read the news on the go.
Get our weekly free Must-Read newsletter.
You've accessed an article available only to subscribers
VIEW OPTIONS
Share this article
Open WeChat and scan the QR code

Caixin China Biz Roundup: What Does the U.S. CHIPS Bill Mean for China?