Analysis: Didi's Fate and China's Overseas Share Sale Policies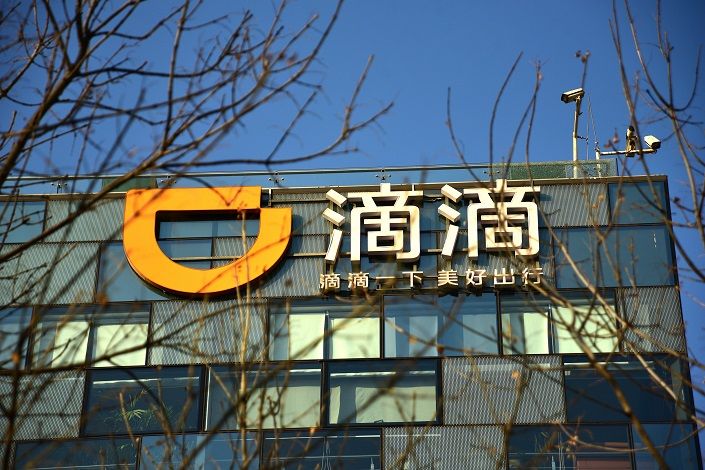 China's cyberspace regulator ordered app stores to remove Didi Chuxing.
China's abrupt regulatory blows to ride-hailing giant Didi Chuxing drew attention to how domestically operating foreign-traded companies are under intense scrutiny at home and potentially abroad.
Cyberspace regulators ordered Didi's app removed from Chinese app stores Sunday, two days after the company came under national security review. The app removal was four days after a $4.4 billion U.S. initial public offering, one of the biggest American stock market debuts of the past decade. Didi lost as much as 11% of its market value at one point Friday.
The two moves caught the market by surprise as the company's U.S. share sale didn't require Chinese approval. Didi listed its stock in the U.S. through what's known as a "small red chip" model, a common strategy used by U.S.-traded private Chinese companies, a senior investment banker told Caixin. Under this structure, an offshore entity usually incorporated in a tax haven like the Cayman Islands controls the business operator in China through a complex web of legal agreements.
Didi's U.S.-listed entity, Didi Global Inc., is incorporated in the Cayman Islands and subject to its laws, the investment banker said. Overseas flotations of small red chip companies currently don't require review and approval by Chinese securities authorities, according to a person close to the regulators.
However, no matter where a company is traded, it still needs to voluntarily comply with the laws and regulations as well as the share sale rules of the country where it operates, the person said.
Lack of control on U.S. listings
According to a notice issued in 1997 by the State Council, overseas listings of big red chip companies, or foreign-incorporated entities of big state-owned enterprises, require joint review and approval by the China Securities Regulatory Commission (CSRC), the National Development and Reform Commission, the Ministry of Commerce and the State-owned Assets Supervision and Administration Commission.
State-owned enterprises such as Minmetals Resources Ltd., China Agri-Industries Holdings Ltd. and Shanghai Industrial Holdings Ltd. went public in Hong Kong under this model.
According to the State Council's notice, all red chip companies need to obtain a no-objection letter from the CSRC before seeking a U.S. flotation. Such a letter is issued by the legal department of the CSRC. But the Administrative License Law passed in 2002 banned any administrative items without authorization of laws and administrative regulations, including the no-objection letter requirement. Since then no SOEs have gone public in the U.S. Meanwhile, more small red chip companies have sold stock abroad as doing so doesn't require domestic regulatory approval, the investment banker told Caixin.
In 2014, the CSRC simplified the procedures for Hong Kong listings of Chinese mainland companies, prompting more businesses, including U.S.-traded Chinese enterprises, to sell shares in Hong Kong.
The $1.6 billion U.S. IPO of Chinese e-commerce platform Pinduoduo in 2018 raised a debate on the outflow of listing resources and approval requirements for overseas flotations of private companies. The fraud scandal and subsequent removal from Nasdaq of Chinese Starbucks rival Luckin Coffee Inc. last year brought the issue onto the agenda again, but so far, no rules or policies have been issued. Based on current laws, the CSRC doesn't have any administrative authorization to review overseas share sales by domestic companies.
At the same time, companies operating in China are required to communicate and register with the Ministry of Commerce and the State Administration of Foreign Exchange when they set up their small red chip structures.
After China's Cybersecurity Review Office announced an investigation Friday into Didi for national security and data risks and later ordered its app's removed from domestic app stores Sunday, two more U.S.-listed domestic tech companies came under similar investigation.
The Cyberspace Administration of China said Monday that it ordered online recruitment platform Boss Zhipin, run by Kanzhun Ltd., and Yunmanman and Huochebang — two truck-booking apps run by Full Truck Alliance Co. Ltd. — to stop registering new users while they are under national security review.
The regulator said Didi seriously violated laws and regulations in its collection and use of personal information. The regulator made no specific allegations about the other companies, which also sold shares in recent weeks in the U.S.
According to China's cybersecurity review rules, companies should voluntarily apply for such probes. The unsolicited investigation of Didi and others can be interpreted partly as a result of insufficient communication with domestic regulators before the overseas share sales, a person close to the regulators told Caixin.
Audit risks
In addition to cybersecurity review, U.S.-traded Chinese companies also face a dispute between U.S. and Chinese regulators over access to audits of Chinese companies traded on American exchanges. A recent American law could trigger the removal from U.S. bourses of Chinese companies whose audits cannot be inspected by a U.S. auditing watchdog.
Proposed rules for enforcing the law issued by the Public Company Accounting Oversight Board (PCAOB) published in May for public comment would provide a framework making it easier for the regulator to determine whether it has been unable to completely inspect or investigate a foreign audit firm. The PCAOB said it would accept public comments on its rules proposal through July 12. That suggests tightened regulatory policy on U.S.-listed Chinese companies is likely to be enacted soon.
Although the law applies to all foreign companies, it is clearly targeted at China. The dispute over China's reluctance to allow the U.S. authority to inspect Chinese businesses' audits has gone on for years. It escalated amid rising China-U.S. tensions during the Trump administration and the Luckin Coffee fraud scandal, which left American investors with huge losses.
The audit requirement for red chip companies makes no sense because the operating entities of these companies are governed by the framework of Chinese accounting standards, while their U.S.-listed foreign-incorporated entities should be subject to the auditing, the investment banker said. The problem is that usually Cayman Islands-incorporated companies have only dividends from their operating entities with no specific accounting data, the investment banker said.
"The argument on auditing paper of these companies has been going on for more than a decade," the investment banker said. "If the U.S. really believe this is a big problem, it should stop accepting listings" under the red chip structure. "Now this issue has turned into a political tactic," the banker said.
China has never banned or stopped Chinese companies from providing audit working papers to overseas regulators, Yi Huiman, the country's top securities regulatory official, told Caixin in an interview in 2020. Chinese law stipulates that exchanging information, such as providing audit working papers for overseas regulators, should be conducted through regulatory cooperation and comply with security and confidentiality regulations, Yi said.
In years past, the CSRC proposed several solutions, but none received a response from the U.S. The CSRC has maintained communications with the U.S. Securities and Exchange Commission and the PCAOB, and there have been several cases of successful cooperation, Yi said in June 2020.
China's three major state-owned telecom operators, China Mobile, China Telecom Corp. and China Unicom, were dropped from the New York Stock Exchange after former U.S. President Donald Trump issued a November executive order barring American funds and investors from owning stock in companies believed by the government to have ties to the Chinese military.
In this regulatory environment, many say Didi chose bad timing for its U.S. IPO. If Didi is forced to provide its data to the PCAOB and other U.S. regulators, it may pose significant security risks, the investment banker said.
Contact reporter Denise Jia (huijuanjia@caixin.com) and editor Bob Simison (bobsimison@caixin.com)
Download our app to receive breaking news alerts and read the news on the go.
Get our weekly free Must-Read newsletter.
You've accessed an article available only to subscribers
VIEW OPTIONS
Share this article
Open WeChat and scan the QR code