Editorial: Economic Rationality Should Be the Priority in Hosting Global Sporting Events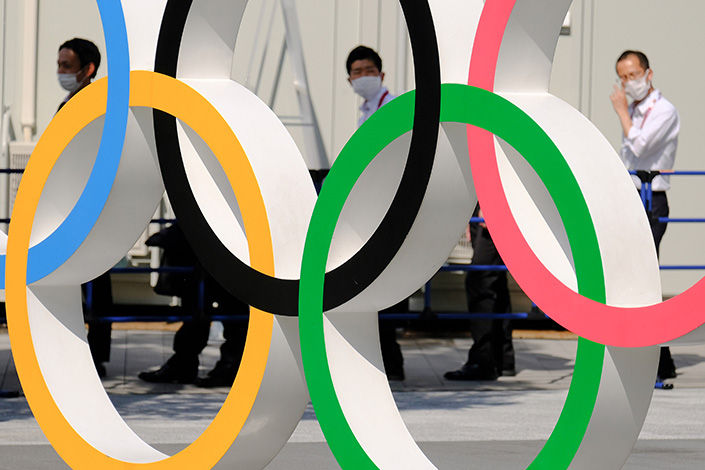 People in face masks walk past the Olympic Rings near the National Stadium in Tokyo on Sunday. Photo: VCG
The Tokyo Olympics have been rescheduled for July 23 to Aug. 8, 2021, after being delayed for about a year because of the coronavirus pandemic, an unprecedented development in the modern history of the Games. The delayed 2020 Tokyo Olympics will be held mostly without spectators due to the recent resurgence of the pandemic in Japan. This will hurt ticket sales revenue and related consumer spending, piling pressure on Tokyo's finances. Therefore, the Tokyo Games have become an excellent opportunity to observe how economic rationality is reflected in major sports events. 
It has been a difficult year for the Olympics. Whether the event would even take place as scheduled tugged at people's heartstrings. With the Olympics drawing near, the Japanese government declared a fourth coronavirus state of emergency in Tokyo in response to the rising number of cases in the capital. This has resulted in, for the first time in history, a "no spectators" Olympics in most venues. In contrast, big crowds were allowed at the recently concluded UEFA EURO 2020, causing a surge in Covid-19 cases at eight out of 11 venues. Therefore, it is clear that a "no spectators" Tokyo Olympics is just the lesser of two evils.

For Japanese politicians, the Olympics functions as a tool for improving their poll numbers and boosting momentum for reelection. However, they need to carefully calculate the economic benefits and make ends meet in light of the rising costs of the Games. Before the pandemic, the Japanese government, and the Tokyo Metropolitan Government in particular, had high expectations for the economic lift that the Tokyo Olympics would provide by attracting tourists and boosting the overall economic output. As the pandemic has dragged on, such expectations have faded. The economic rationality of the Games is better reflected in "loss control." It is estimated that Olympic spending, when the costs of Covid-19 measures are added in, has reached 3 trillion yen ($27.2 billion). There will be additional losses of 146.8 billion yen to 350 billion yen if the Games are held without spectators. Tokyo is the largest city in Japan. Thus, a massive budget has been set aside by the Tokyo Metropolitan Government, but the pandemic continues to cause a significant deterioration in the state of its economy. This ought to serve as a warning to countries: when considering making a bid to host a mega-event, they should have a thorough sense of the uncertain factors and make prudent decisions.
It remains to be seen how the Tokyo Olympics will control its losses. However, there is inevitably a whole set of institutional arrangements behind its economic rationality. Japan is a unitary state, but a local self-government system has been in place since the Meiji Restoration (the political revolution in 1868). After World War II, the well-known Shoup Mission further established the principles of power division, government efficiency and local autonomy in Japan. In this century, Japan further promoted decentralization reform, drawing a clearer distinction between financial powers and spending responsibilities for all levels of governments. Therefore, the central government and the Tokyo Metropolitan Government have shared most of the Games' spending, whereas the latter has borne most of the cost. The only open item subject to further negotiations is how to bear the brunt of lost ticket revenue.
Moreover, reckless government spending has been largely curbed due to monitoring by opposition parties, news coverage by media outlets and timely estimates of public opinion. The Japanese people are quite rational about the Olympics. For over a year, they were asked whether they think the Tokyo Olympic Games should be held as scheduled, further postponed or outright canceled. Public opinion has been largely divided amid a flurry of changes in the results. Many Japanese people believe that the government should allocate more human and financial resources to combat Covid-19, rather than host the Olympics.
In some host countries, major international sporting events such as the Olympic Games have long been seen as an essential driving force of economic growth. However, a growing economy calls for increased demands on venues, event management and logistics, resulting in rising economic costs — a factor that no country can afford to ignore.
The truth is, long before Covid-19 was on the radar, economic rationality had become a concern for many countries in their bidding to host major international sporting events and during the events, especially for the Olympics. For example, Boston's bid for the 2024 Games was withdrawn to avoid cost overruns. Paris and Los Angeles, two cities that competed in the bidding for the 2024 Games, both declared that they would not bid for the Olympics again if they failed that time. The International Olympic Committee (IOC) was left with no choice but to announce that Paris and Los Angeles would host the Olympic Games in 2024 and 2028 respectively. With a shrinking number of states interested in playing host, the IOC has been forced to advance reforms, such as allowing multiple cities and countries to host the Games, and relaxing requirements on sports facilities. It can be expected that economic rationality will begin to play a leading role in organizing global sporting events.
For China, as an emerging economy, a focus on economic rationality in hosting major sporting events is not merely a principle on paper, but is also becoming a reality. Soon after the Tokyo Olympics, another mega-event, the Beijing 2022 Winter Olympic and Paralympic Games, is scheduled to begin in just six months. For this Winter Games, China will stick to the principles of simplicity, safety and excellence. Among these, the top priority is simplicity, which can be interpreted as simple and thrifty. Simplicity is reflected throughout the design and construction of the venues, as well as the human and financial resources put in and the organization of the Games.
Advocating economic rationality in organizing events does not mean ignoring sports or cutting back on investment, as that would result in poorly organized events that look cheap. Instead, the goal is to bring sports back to basics — staying healthy, having fun and never giving up — without being tainted by other factors. Therefore, the citizens need to relax and learn to treat mega-events, including the Olympics and the World Cup, with a calm attitude; and the government should make decisions based on economic rationality when they consider bidding to host such events.
As the shadow of Covid-19 lingers, the Tokyo Olympics will set an important example for the Beijing Winter Olympics, and we wish both of them success. The Chinese government should pay close attention to Japan and draw lessons from its experience in sporting event organization and pandemic control, which will put China in a stronger position to explore economic rationality. Such rational choices are essential to achieving the long-term healthy development of the domestic and global sports markets. Thus, economic rationality holds a mirror up to a country's system and capacity for governance, and it is not difficult to see why.
Contact editor Michael Bellart (michaelbellart@caixin.com)
Download our app to receive breaking news alerts and read the news on the go.
Get our weekly free Must-Read newsletter.
You've accessed an article available only to subscribers
VIEW OPTIONS
Share this article
Open WeChat and scan the QR code