Jul 26, 2021 09:36 PM
WORLD
Update: China Urges U.S. to Lift Sanctions, Visa Restrictions on Chinese Citizens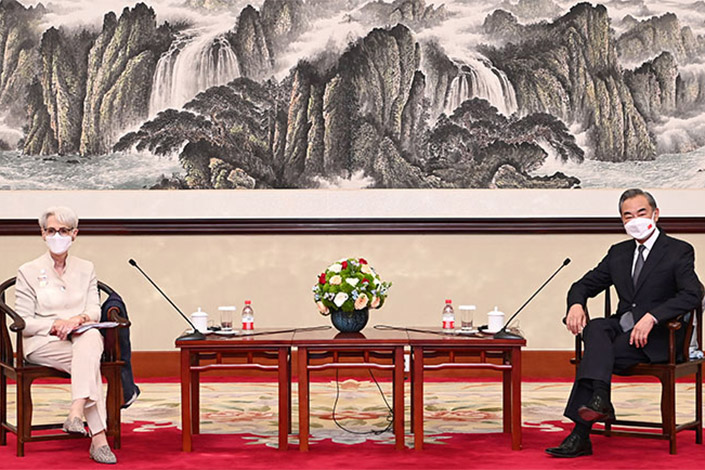 Foreign Minister Wang Yi (right) and U.S. Deputy Secretary of State Wendy Sherman. Photo: fmprc.gov.cn
China's foreign minister urged the U.S. to lift sanctions and a technology blockade against China and spelled out three baselines for keeping China-U.S. relations from going off the rails in a meeting Monday with a senior U.S. diplomat in the northern city of Tianjin.
Chinese Foreign Minister Wang Yi called on the U.S. to take the lead in adhering to international rules during a meeting with U.S. Deputy Secretary of State Wendy Sherman. He set as a first baseline that the U.S. must not challenge, denigrate or try to subvert China's path and system of socialism with Chinese characteristics.
Secondly, the United States must not try to obstruct or interrupt China's development process, Wang said. Thirdly, the U.S. must not violate China's sovereignty or undermine China's territorial integrity, he said. Issues related to Xinjiang, Tibet and Hong Kong have never been about human rights or democracy, Wang said.
The foreign minister also reiterated that Taiwan is part of China's territory. China urges the U.S. to honor its commitments and act prudently on the Taiwan question, Wang said.
Earlier in the day, Xie Feng, China's vice foreign minister, also met with Sherman and urged the U.S. side to "correct mistakes in its China policies" including visa restrictions on Chinese students, Communist Party members and their families, and sanctions on Chinese officials and government agencies.
During the meeting, Xie said the U.S.-China relationship is "in a stalemate and faces serious difficulties" as some in the U.S. regard China as an "imagined enemy" and waged "a whole-of-government campaign" to bring China down, according to a statement released by the ministry.
"The hope may be that by demonizing China, the U.S. could somehow shift domestic public discontent over political, economic and social issues and blame China for its own structural problems," Xie said, "It is as if when China's development is contained, all U.S. domestic and external challenges would go away, and America would become great again and Pax Americana would continue to go on."
Xie also said that the U.S. notion of "engaging other countries from a position of strength" is another version of the "big bullying the small." "This is pure coercive diplomacy," he said. He urged the U.S. to "change its highly misguided mindset and dangerous policy" and work along with China to achieve "mutual respect, fair competition and peaceful coexistence."
It's the second high-level meeting between the two countries as Beijing and Washington try to reengage with each other while tensions remain high over several issues including the South China Sea, Taiwan and Hong Kong. In March, China and the U.S. held their first high-level face-to-face meeting in Anchorage, Alaska, which was characterized by tense exchanges.
Sherman arrived in Tianjin on Sunday for a two-day trip to meet with Chinese officials. On Wednesday, the U.S. State Department announced the visit, with a goal to "responsibly manage" relations and to "discuss areas where we have serious concerns about PRC actions, as well as areas where our interests align."
Ahead of the talks, Ned Price, a U.S. State Department spokesperson, said at a media briefing Wednesday that Sherman will continue to speak to China "from a position of strength."
In a response to a reporter's question, Wang said Saturday China would not accept any countries taking a superior position, according to the Ministry of Foreign Affairs.
"The United States always wants to exert pressure on other countries using its strength, thinking that it is superior to others," the Chinese foreign minister said.
"If the United States has not learned how to get along with other countries on an equal footing, then it is our responsibility, together with the international community, to give the United States a good lesson on this," he said.
Contact reporter Cai Xuejiao (xuejiaocai@caixin.com) and editor Lu Zhenhua (zhenhualu@caixin.com) and Bob Simison (bobsimison@caixin.com)
Download our app to receive breaking news alerts and read the news on the go.
Get our weekly free Must-Read newsletter.
You've accessed an article available only to subscribers
VIEW OPTIONS
Share this article
Open WeChat and scan the QR code

China Stories: Strict Rules at Home Push Chinese Metaverse Entrepreneurs, Investors Overseas