Semidrive Raises New Capital to Fund Smart Car Chip Development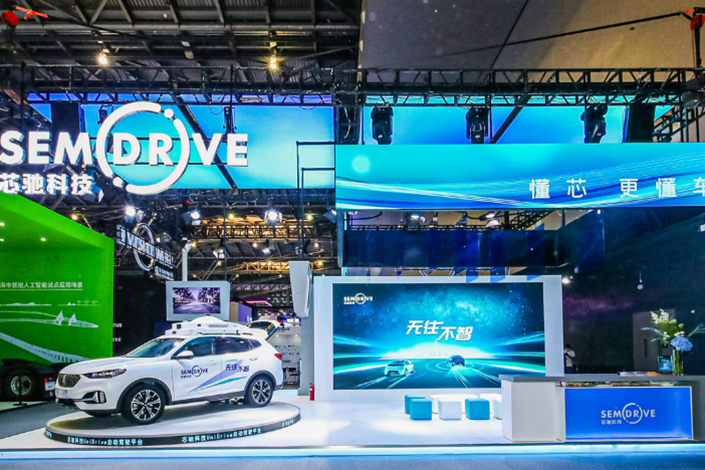 Nanjing Semidrive Technology, a Chinese startup that develops smart car microchips, has raised nearly 1 billion yuan ($154 million) in a series B funding round as a global shortage of semiconductors has forced carmakers to scale back production.
Co-led by CDB Equipment Manufacturing Funds and V Fund, the new round attracted several other investors including BOC International, Matrix Partners China and CTC Capital, Semidrive said in a statement Monday.
Since its inception in 2018, Semidrive has developed three car chips — for smart cockpits, advanced driver-assistance systems and central gateways, according to its website. A central gateway is used to interconnect and transfer data across different electronic systems in a vehicle. Mass production of the three chips is expected to commence by the end of this year, according to CEO Qiu Yuqing.
The company said that the fresh capital will be used to boost R&D of more advanced car chips, which could help accelerate the commercial application of autonomous vehicles, according to company Chairman Zhang Qiang.
At the World Artificial Intelligence Conference held earlier this month, Semidrive, which has R&D centers in Shanghai and Beijing, launched its self-developed UniDrive self-driving platform, which it said features strong compatibility enabling different developers to improve their own autonomous driving technologies. At the conference, the company also unveiled plans to develop a new car chip in 2023 that can support robotaxis featuring Level 4 self-driving capabilities.
U.S. engineering standards group SAE International classifies autonomous driving from Level 0 to Level 5, with Level 4 referring to features that enable a vehicle to drive itself under most circumstances with no human intervention.
Related: Vehicle Vision Startup CalmCar Completes $150 Million Funding Round
Contact reporter Ding Yi (yiding@caixin.com) and editor Heather Mowbray (heathermowbray@caixin.com)