Opinion: How U.S. Global Infrastructure Push Will Affect Belt and Road
The United States is showing greater intention to compete with China on global infrastructure investment with the Build Back Better World initiative unveiled at the G-7 Summit and a revived Blue Dot Network proposal, both taking aim at China's Belt and Road Initiative.
China put forward the Belt and Road Initiative in 2013, a global infrastructure development strategy set up to strengthen China's ties with a vast number of countries through infrastructure investment and economic cooperation.
Under the program, China's outstanding direct investment in partner countries stood at $179.47 billion. The figure is significant, but it met only a small portion of the world's demand. According to the Asian Development Bank, developing countries in Asia alone will need $26 trillion of infrastructure investment by 2030. As the number of countries involved in the initiative is increasing, China's average investment in single countries will gradually decline. This, together with the impacts of the Covid-19 pandemic, will possibly lead to a bigger investment gap in global infrastructure in the next few years.
Under these circumstances, the U.S. and its allies will have an opportunity to provide a competitive alternative. The Biden administration proposed its "Build Back Better World" (B3W) at this year's Group of Seven summit. The initiative is designed to provide $40 trillion for developing countries by 2035 to support "climate, health and health security, digital technology and gender equity and equality."
Meanwhile, a stalled proposal called Blue Dot Network (BDN) was recently resumed after more than a year of suspension. As a multi-stakeholder initiative formed by the U.S., Japan and Australia in 2019, BDN aims to provide assessment and certification of infrastructure development projects worldwide on the criteria of financial transparency, environmental sustainability and impact on economic development, and to mobilize the private sector to invest abroad.
The reason behind the two U.S.-led initiatives clearly reflects heated competition between the U.S. and China. The global shortfall of infrastructure is also a main driving force.
So, what are the prospects for the two initiatives and how will they affect Chinese policies?
Domestic infrastructure in U.S.
The current situation of domestic infrastructure in the U.S. is worrisome.
According to the latest report from the American Society of Civil Engineers (ASCE), the average age of dams in the U.S. is 50 years and of levees, 57. The average age of water pipes and sewage conduits is 45 years. In addition, a survey by the U.S. Army Corps of Engineers found that locks on inland waterways have an average age of 67 years. The aging U.S. infrastructure is in urgent need of repair and renovation.
The ASCE and the American Road & Transportation Builders Association provided a detailed assessment of the infrastructure gaps facing the U.S. in their annual reports. In 2020, the ASCE evaluated 17 categories of the U.S. infrastructure. Eleven of them received a D.
Poor infrastructure conditions are bound to have negative impacts on society and the economy. If the U.S. maintains inadequate infrastructure investment, by 2039 the crumbling infrastructure will lead to potential GDP losses of as much as $10 trillion and the loss of more than 3 million jobs, according to ASCE's evaluation report.
ASCE estimated that the gap between the amount of infrastructure funding needed and allocated in the U.S. during 2020 to 2029 reaches nearly $2.6 trillion.
President Joe Biden's $2.3 trillion American Jobs Plan unveiled March 31 is aimed squarely at the U.S. domestic infrastructure. After endless bipartisan negotiations, the amount was slashed, largely because Republicans did not endorse the so-called "human infrastructure" — including child care subsidies, paid leave and home nursing — that Democrats wanted.
With such a huge funding gap at home, it is questionable whether the U.S. government can mobilize enough capital to pay for the two overseas investment initiatives.
For China, a close monitoring of the U.S. domestic infrastructure situation and its approach to pushing forward the B3W and BDN initiatives could provide important references for China in implementing Belt and Road in the future, offering lessons to prevent and defuse risks and conduct relevant reforms of overseas infrastructure investment.
What impact do B3W and BDN have on Belt and Road?
According to available information, we have the following predictions:
First, due to the serious shortage of global infrastructure, even if the U.S.-led B3W initiative can provide $40 trillion to developing countries by 2035, it would not squeeze Belt and Road's investment space.
In fact, the participation of the U.S. and its allies in global infrastructure may bolster the global economy and also indirectly benefit China, the world's largest steel producer and exporter. If B3W and BDN are carried out as planned, they may bring some positive effect on China's economic growth.
Second, the U.S.-led programs will surely put some pressure on Belt and Road, although they may not necessarily have a major negative impact on the program. For example, the U.S. would provide loans to countries at lower interest rates, propose higher standards of transparency in terms of capital sources and loan flows, pay more attention to environmental issues in the process of infrastructure construction, attract a larger proportion of private sector capital to global infrastructure construction, pursue a more market-oriented manner and so on.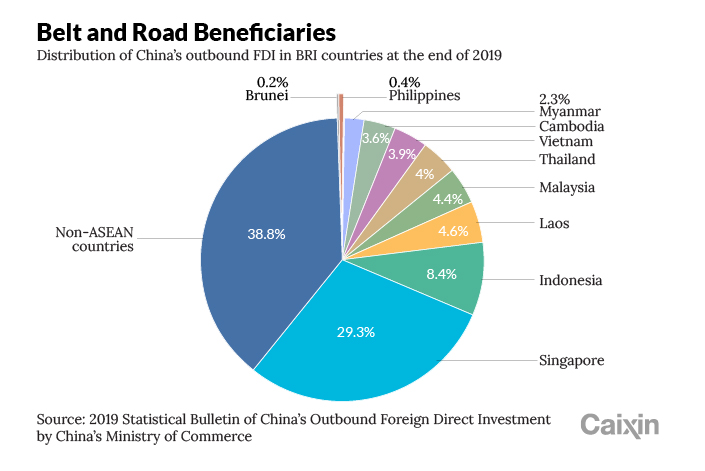 Third, given that BDN was jointly initiated by the U.S., Japan and Australia, it would mainly focus on Southeast Asia and the Indo-Pacific region. The ASEAN countries are key participants in China's Belt and Road Initiative. The 10 member countries have obtained more than 60% of the investment of all Belt and Road countries. In the future, increased infrastructure investment by the U.S. and its allies in Southeast Asia is likely to put some competitive pressure on Chinese companies, but it will also improve the globalization level of China's industrial supply chains. From this perspective, BDN will actually provide an opportunity for China to prevent and defuse "U.S.-China Decoupling," the current biggest external risk for China. Therefore, the expansion of economic and trade exchanges and bilateral investment between China and ASEAN countries could help avoid a new Cold War between the world's two biggest economies.
Tang Shiping is a professor of political science and Dr. Seaker Chan Chair Professor at the School of International Relations and Public Affairs of Fudan University.
The views and opinions expressed in this opinion section are those of the authors and do not necessarily reflect the editorial positions of Caixin Media.
If you would like to write an opinion for Caixin Global, please send your ideas or finished opinions to our email: opinionen@caixin.com.
Download our app to receive breaking news alerts and read the news on the go.
Follow the Chinese markets in real time with Caixin Global's new stock database.
You've accessed an article available only to subscribers
VIEW OPTIONS
Share this article
Open WeChat and scan the QR code

Caixin-Sinica Business Brief: China's First Homegrown Jet Sets Sights on Airbus and Boeing