Aug 09, 2021 08:23 PM
CHINA
Shanghai Cancels English Final Exam for Elementary School Students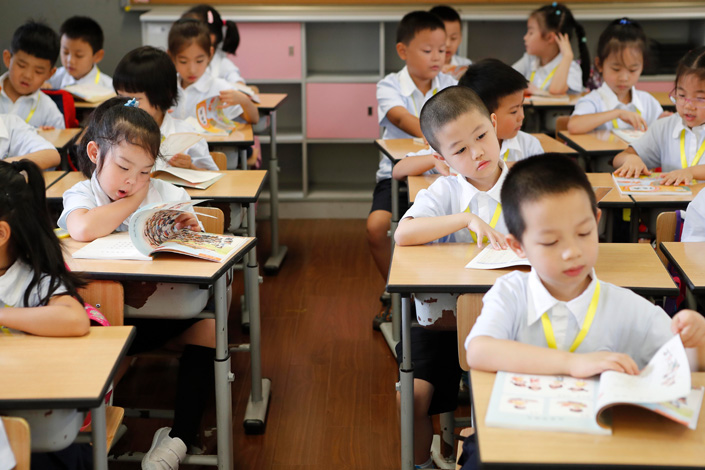 Shanghai first graders read textbooks in September 2017. Photo: Yin Liqin/China News Service/VCG
Shanghai education authorities have canceled final exams in English and prohibited primary schools from carrying out midterm exams, marking the latest of a range of new measures sweeping China designed to reduce the academic burden on young students.
Primary schoolers should be only given finals for Chinese and mathematics, while other subjects will be evaluated without giving specific test scores, according to a notice released by the city's education commission last week. The document also said that first graders should not be given any written tests and that primary schools should not conduct district-wide unified examinations.
For years, authorities in China had pushed more modest reforms aimed at reducing academic demands on young students through the so-called "happy education" policy. However, the education reform agenda has accelerated dramatically in recent months.
In July, the State Council, China's cabinet, issued new rules which seek to reduce the burden on primary and middle school students from both compulsory education and after-school tutoring, known as "double reduction."
In April, the Ministry of Education issued a notice (link in Chinese) requiring primary schools to no longer assign written homework for first and second graders. For older grades in primary schools, the homework assigned was mandated not to take more than 60 minutes to finish.
The notice from the education commission in Shanghai also said that there should be no more than 33 classes per week for first and second graders, and no more than 34 classes per week for other primary schoolers and middle schoolers.
The notice also required middle schools in the city to stop conducting midterm exams on subjects other than Chinese, mathematics and English. Subjects such as history and geography are permitted to be tested through open book examinations, while subjects like physics and chemistry were ordered to focus more on evaluating the students' laboratory skills.
According to the notice, schools in the city should also guarantee time for physical education or sports for students in compulsory education and high schools.
Students should have physical activities at school for one hour per day, the notice said, which is in line with a national fitness plan released by the State Council last week that requires students to have two hours of sports time every day, including one hour off-campus.
Contact reporter Cai Xuejiao (xuejiaocai@caixin.com) and editor Lu Zhenhua (zhenhualu@caixin.com)
Download our app to receive breaking news alerts and read the news on the go.
Get our weekly free Must-Read newsletter.
You've accessed an article available only to subscribers
VIEW OPTIONS
Share this article
Open WeChat and scan the QR code

China Stories: Verdict Reversal in High-Profile Murder Stands Out Amid Exoneration Trend