New Regulation Plan Pledges 'Consistency,' Respect for Rule of Law Amid Roiling Markets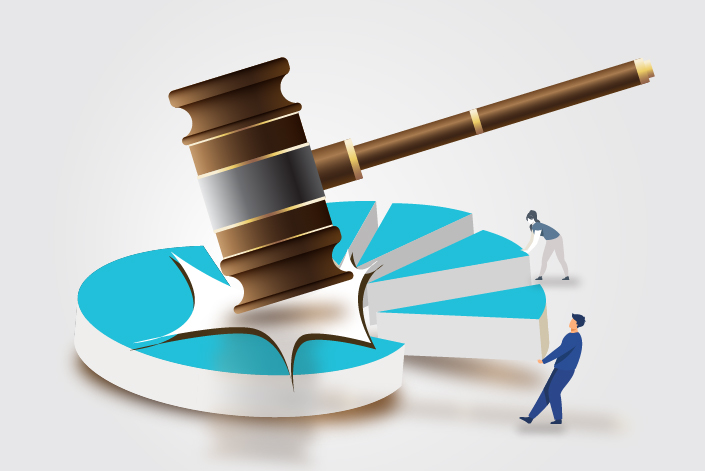 The second five-year guideline on rules-based governance calls for strengthening enforcement of antitrust and unfair competition rules
China's top policymakers sought to reassure jittery investors that they will respect the rule of law, process and contracts as they unveiled a broad five-year plan for the regulation of vast parts of the economy.
The second five-year guideline on rules-based governance, issued late Wednesday by the State Council and the Communist Party's Central Committee, is the first to use the term "antitrust" and include a section dedicated to corporate monopolies.
It emphasizes cross-ministry coordination and policy consistency as goals, and the use of legislation rather than administrative measures, saying "once a major administrative decision has been made, it shall not be arbitrarily changed or suspended" without going through proper legal procedures.
But it also signaled that doing good "for the people" is an overarching policy objective that could trump market sentiment.
Investors have been trying to make sense of a regulatory onslaught in recent weeks that has roiled markets, particularly after authorities banned companies in the $100 billion after-school tutoring sector from running as for-profit businesses. Over the past year Chinese authorities have launched anti-monopoly probes into some of the nation's largest tech companies such as Alibaba Group Holding Ltd., while also mandating cybersecurity reviews for foreign listings — a measure that has created problems for Didi Global Inc.
The document calls for strengthening enforcement of antitrust and unfair competition rules, as well as eliminating regulations and practices that impede fair competition. It also aims to ensure the "healthy development of new forms of business" with "good laws and good governance" for the digital economy, internet finance, artificial intelligence, big data, cloud computing and other related legal systems.
Authorities will work on legislation in areas such as national security, technology and monopolies, the document said. Law enforcement will be strengthened for industries including big data, artificial intelligence, and food and drugs.
"The people's growing need for a better life has created new and higher requirements for the construction of a government under the rule of law," it said.
The lack of specificity in the outline didn't lead to many big market moves, but ZhongAn Online P&C Insurance Co. Ltd. slumped as much as 9.5% and Ping An Insurance Group Co. of China Ltd. fell as much as 2.3%. The MSCI China Index was little changed during Thursday morning trading in Asia.
The outline released Wednesday is an update to an earlier five-year plan that expired in 2020. In an explanatory Q&A, officials responsible for the document highlighted the need to modernize national governance, build digital governance and increase the public's overall level of satisfaction.
While many of the sectors named have been mentioned in previous announcements, the addition of food and drugs was new and could make investors nervous until new regulations are defined, according to Gary Dugan, CEO at the Global CIO Office. "A five-year term to the crackdown at least gives definition to the time extent of the regulatory reset," he said. "However, it will be a long time for investors to fret about pending changes."
Investors have been dumping shares in industries that have been criticized in state media, from video games and e-cigarettes to real estate and baby formula. Alcohol-related stocks were the latest to take a hit, falling Tuesday after the Communist Party's anti-graft watchdog called for a reduction of business drinking after a sexual assault case involving Alibaba employees.
Some analysts welcomed the blueprint as an attempt by Chinese authorities to help investors understand the motives behind the regulatory push.
"The State Council's statement provides a guiding context to interpret current regulatory thrusts," said Michael Norris, an analyst with Shanghai-based consultancy AgencyChina. "In our view, investor concerns are driven less by a proposed regulation's substance, and more by cadence and communication. We view this announcement as doing a better job telegraphing future regulatory hotspots."
Bloomberg contributed reporting.
Contact reporter Flynn Murphy (flynnmurphy@caixin.com) and editor Michael Bellart (michaelbellart@caixin.com)
Download our app to receive breaking news alerts and read the news on the go.
Get our weekly free Must-Read newsletter.
You've accessed an article available only to subscribers
VIEW OPTIONS
Share this article
Open WeChat and scan the QR code

Caixin-Sinica Business Brief: China Mourns Death of Former President Jiang Zemin