Aug 24, 2021 06:05 AM
WORLD
Cover Story: How the Taliban's Return Shakes Up Central Asia
A woman cries at a meeting that urges international society to help Afghan women on Wednesday.
Because of Afghanistan's geographic location, the situation there always has far-reaching implications. With the accelerated withdrawal of the United States and other foreign troops and the Taliban's lightning offensive to take over most of the country, Afghanistan's neighbors including China, Russia, Iran, Pakistan and India have all started making moves, reshaping the region's geopolitical landscape.
In late July during the Taliban's advance through Afghanistan, Chinese State Councilor and Foreign Minister Wang Yi met in Tianjin with a delegation led by Mullah Abdul Ghani Baradar, the head of the Afghan Taliban Political Commission. Wang said at the meeting that the Taliban are "an important military and political force in Afghanistan" and is expected to "play an important role in the country's peace, reconciliation and reconstruction process."
Photos of Wang in a dark suit and Baradar in a white robe and black turban in a magnificent reception hall quickly spread across global media and social networks.
This was not the first visit by Taliban members to China in recent years, but taking place amid the Covid-19 pandemic and the Taliban's surge to power, the session was the highest-profile such meeting and was weighted with the greatest significance.
Wang exhorted the Taliban to "put the interests of the country and nation first, hold the banner of peace talks high, set the goal of peace, build a positive image and pursue an inclusive policy." He emphasized that the Taliban should make a clean break with all terrorist organizations, including the East Turkestan Islamic Movement. Baradar pledged that the Taliban would never allow any force to use Afghan territory to engage in acts detrimental to China and said it has the utmost sincerity to work toward and realize peace.
Sharing a border stretching 90 km (55.9 miles), China and Afghanistan have enjoyed stable relations over the past two decades.
Since the U.S. toppled the previous Taliban government and sought to build a democratically elected Afghan government following its invasion in 2001, China and Afghanistan have resumed bilateral contacts that were interrupted by Afghanistan's civil war in the 1990s.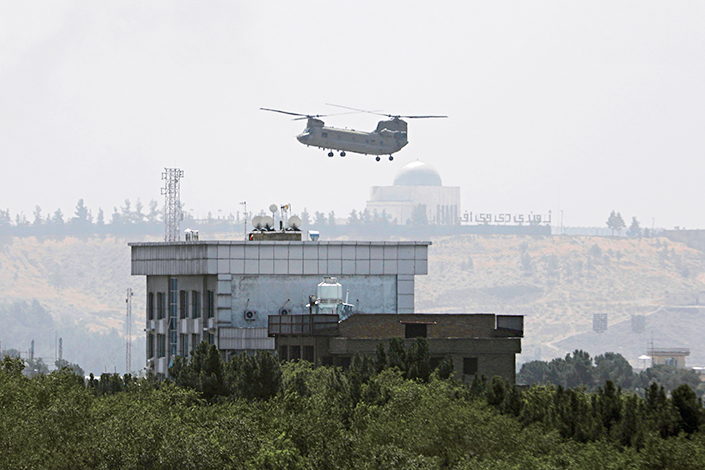 A U.S. Chinook helicopter flies above the U.S. Embassy in Kabul, Afghanistan, on Aug. 15.
The two countries have since maintained frequent high-level exchanges and signed multiple treaties and cooperative documents, including the Treaty of Good Neighborliness and Friendly Cooperation Between China and Afghanistan, the Agreement on Economic and Technical Cooperation between China and Afghanistan and the Joint Declaration Between China and Afghanistan on Establishing Strategic and Cooperation Relations. However, China had no formal diplomatic relations with the Taliban regime that ruled Afghanistan from 1996 to 2001.
Since the end of the war in Afghanistan, China has been actively involved in the country's reconstruction, providing grants, relief on debt service and tariff preferences and helping build infrastructure and train Afghan officials and technicians.
However, China has all along adhered to noninterference in Afghanistan's internal affairs and avoided a military presence in Afghanistan, insisting that the future path of the country must be led and owned by the Afghan people. On the basis of full respect for Afghanistan's national sovereignty, China has adopted a more flexible and pragmatic policy by maintaining contact and communication with all Afghan factions, including the Taliban.
The least controversial player
"China has been very prudent on the Afghan issue, maintaining a very steady pace," said Ma Xiaolin, an international relations expert at Zhejiang International Studies University in Hangzhou. He said China's previous attitude toward the Taliban was based on its limited international recognition.
The Trump administration signed a peace agreement with the Taliban in February 2020. The U.S. discussed the situation in Afghanistan with China, Russia and Pakistan and set up a four-country mechanism to secure stability in Afghanistan after the withdrawal of foreign troops. After this, China began to view the Taliban as an important military and political force, which was understood by the Afghan government.
Taliban fighters patrol on the street of Kabul, Afghanistan displaying a flag on Thursday.
One week before Wang's meeting with Baradar, China appointed Yue Xiaoyong, a veteran diplomat who has served as the Chinese ambassador to Qatar, Jordan and Ireland, as its new special envoy for Afghan affairs. In early July, Wang visited the three Central Asian neighbors of Afghanistan — Turkmenistan, Tajikistan and Uzbekistan — within a week and attended a meeting of foreign ministers of the Shanghai Cooperation Organization (SCO) with the Afghan issue as a key topic.
Many experts said China is the least controversial of the external powers involved in Afghanistan as it has never been involved in Afghan domestic wars and politics. With a clean record, China can state its own interests and discuss the broader issue of security and human rights with transitional Afghan authorities, and it may continue to cooperate with future Afghan governments economically and diplomatically.
As Afghanistan begins to reorganize its government structure, China's position and expectation are clear — it hopes to see an open and inclusive political structure in Afghanistan with a moderate and prudent religious policy.
More importantly, China has repeatedly stressed that the new Afghan regime should draw a clear line, restrain and crack down on all kinds of terrorist forces, including the East Turkestan Islamic Movement, to prevent Afghanistan from once again becoming a hotbed for extremist terrorist forces.
Fu Yuhong, an Afghanistan expert at Jilin University, said China's primary concerns in the country are its economic and counterterrorism interests — which are closely linked to each other.
"Without a safe and stable Afghanistan, both the China-Pakistan Economic Corridor and the Belt and Road Initiative will fail to realize their full potential," Fu said.
Zhu Yongbiao, director of the Center for Afghanistan Studies at Lanzhou University, said China should objectively assess its interests in Afghanistan and the impact of the Afghan situation. While taking its own security precautions and bracing against extreme ideological shocks, China should also actively cooperate with neighboring countries and the international community to help Afghanistan avoid further wars or serious humanitarian crises and maintain contacts and dialogues with all Afghan factions, Zhu said.
Afghanistan residents crowd in Hamid Karzai International Airport, Kabul, on Aug. 16, trying to escape.
On the second day after the Taliban declared the takeover of Kabul, Wang spoke by phone with Russian Foreign Minister Sergey Lavrov and U.S. Secretary of State Antony Blinken. Two days later, Wang exchanged views via phone with Pakistani Foreign Minister Shah Mahmood Qureshi and Turkish Foreign Minister Mevlut Cavusoglu. China also attended a United Nations Security Council emergency meeting on Afghanistan. The last few days have been intensive for Yue, the newly appointed special envoy for Afghan affairs, as he paid visits to Afghanistan, Russia, Turkey, Uzbekistan, Tajikistan, Iran and other countries.
Among other neighbors
Before coming to China in late July, Taliban representatives visited Russia, Iran, Turkmenistan and other neighboring countries to communicate and discuss Afghan refugees, how to prevent regional terrorism and other issues.
In contrast to the hasty evacuation of some Western missions, the embassies and diplomats of China, Russia and Iran in Kabul remained at their posts, maintaining normal operations and providing assistance for citizens who stayed in Kabul.
Ma, the international relations expert at Zhejiang International Studies University, said that although Russia share a border with Afghanistan, Turkmenistan, Uzbekistan and Tajikistan in Central Asia are vital military areas for Russia and its buffer zones against terrorism, separatism and extremism. Preventing the spread of religious extremism and instability from Afghanistan to surrounding Central Asian countries is Russia's main concern.
The U.S. protesters gather outside the White House on Aug.15, calling for support for Afghanistan.
Ongoing conflicts in Afghanistan may also result in large streams of refugees crossing the border, would put greater pressures on Russia's Central Asian neighbors. The Russian government also puts a priority on curbing the flow of drugs from Afghanistan to Russia through Central Asia. While Russia supports the U.S. on anti-terrorism in Afghanistan, the U.S. military presence in Central Asia made Russia uneasy, spurring it to play a greater role in Afghanistan.
In early August, Russia held joint military exercises with Tajikistan and Uzbekistan in Khatlon, Tajikistan, bordering Afghanistan. Later it held a joint drill with China in Ningxia in western China. At a time when the security situation in Afghanistan has deteriorated, the moves are seen as demonstrating the determination of China, Russia and Central Asian countries to resist potential terrorist and extremist threats.
Russia declared that it will wait and observe the Taliban's next moves and that it will not immediately recognize the group as the legitimate Afghanistan regime. Russia said the Taliban started strengthening protection of the Russian embassy in Afghanistan and sent representatives to meet with Russian envoys to Afghanistan.
Iran, which borders western Afghanistan, has had a tense relationship with the Taliban historically, but it is happy to see the U.S. leave Afghanistan. Ma said the intra-Afghan dialogue hosted by Iran in July would be Iran's "first intervention in Afghan affairs over the past two decades." After the Taliban declared victory, Iran's newly elected President Ebrahim Raisi said the U.S. defeat in Afghanistan would offer "an opportunity for Afghanistan to restore life, security and lasting peace."
Iran, with a large number of Shia Muslims who have ideological differences with the Sunni Taliban, needs to cooperate with the Taliban to protect the Shia Muslims in northern and western Afghanistan who make up 20% of the population.
"If Iran cooperates with Afghanistan, Iran can greatly ease its worries — build a strategic buffer against Israel in the east while dealing with issues of the United States," Ma said.
Taliban supporters gather in a town ta located in between Afghan and Pakistan, waving flags on July 14.
Of all of Afghanistan's neighbors, Pakistan is the most enthusiastic about the Taliban takeover. During the Taliban's last rule, Pakistan was one of three countries that established diplomatic relations with it. Members of the Pakistani government recently asserted that the Taliban "broke the shackles of spiritual enslavement in Afghanistan" and won a "historic victory over the superpower," which will help to "establish an exemplary Islamic government in Afghanistan."
But there are also concerns that the Taliban's resurgence may arouse more attacks by radical religious organizations in Pakistan. In particular, the Pakistani Taliban evolved from the Taliban movement and became entrenched in northwestern Pakistan, where it recently posed an increasingly bigger threat to the stability of Pakistan.
Analysts generally agree that Pakistan's active involvement in Afghan affairs is conducive to ensuring the stability of cross-ethnic border areas. As the Taliban take over Afghanistan, Pakistan will carry heavier weight and more bargaining chips in Kabul, allowing it to develop a strong regional alliance sharing similar values in its disputes with India, especially over Kashmir.
India, by contrast, has provided a lot of investment, aid and cultural exports to Afghanistan over the past 20 years, in part to ingratiate itself and to turn Afghanistan's democratically elected government against Pakistan. Previously, India was also seen as an important part of the Afghanistan strategy launched by the Trump administration. The return to power of the Taliban on good terms with Pakistan poses a serious challenge to India's interests.
Afghanistan residents pass through a border checkpoint between Afghan and Pakistan on Thursday.
In the view of Jilin University's Fu, Afghanistan's neighboring countries will respond to the changing situation in Afghanistan in a pragmatic manner according to their core interests and concerns, but as the Taliban play a leading role in the process of power transition in Afghanistan, their status and influence in Afghanistan may see some adjustments.
Ma said that in the past 20 years, the Taliban have been learning and updating their ways of dealing with the international community. As a result, they promoted the war while also doing their best to be perceived as more flexible and tolerant.
However, in the context of the many factions within the Taliban and different governing command networks in Afghanistan, it remains to be seen whether the Taliban's senior figures in charge of external negotiations can effectively restrain the young fighters and fulfill the Taliban's commitment to eliminating terrorism and creating a moderate and inclusive social and political environment in Afghanistan. The Taliban still have to prove that they are responsive to the international community's concerns by using concrete actions and not only words.
Contact editor Bob Simison (bobsimison@caixin.com)
Download our app to receive breaking news alerts and read the news on the go.
Get our weekly free Must-Read newsletter.
You've accessed an article available only to subscribers
VIEW OPTIONS
Share this article
Open WeChat and scan the QR code