ByteDance Workers Take a 20% Pay Hit as Sunday Overtime Ends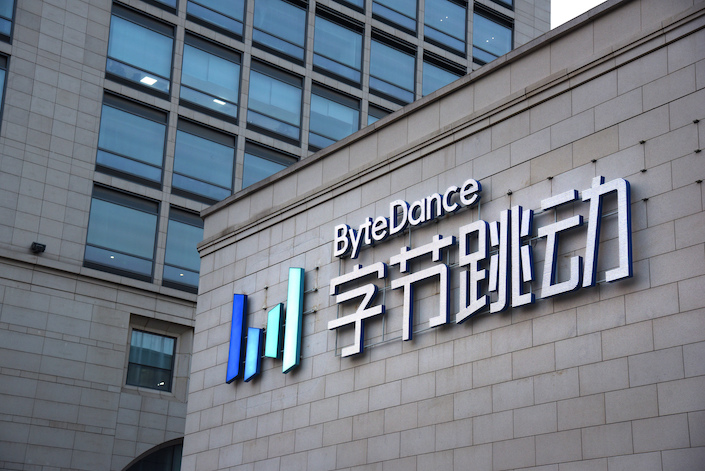 China authorities ruled that "996" working schedules are illegal.
Employees at ByteDance Inc., the owner of short-video apps TikTok and Douyin, found that their August paychecks shrank 20% from previous months as overtime pay withered under a new, less-demanding work scheduling policy.
The pay cut was expected after the company decided last month to end a weekend overtime policy known as "big/small weeks," a common work system adopted by many big tech companies. It required staff to work every other Sunday, some employees told Caixin.
China's tech giants are under increasing public pressure over grueling, long-hours schedules, which were blamed for several deaths of young employees. At the same time, some ByteDance workers are concerned about the loss of income. In an internal survey before the move, about a third of ByteDance workers said they opposed cancellation of the Sunday overtime policy because of the pay cuts, Caixin learned.
When employees are required to work Sundays, they can collect double pay for the extra workday. Employees at ByteDance's research and development department previously could make 6,000 yuan ($930) a day in overtime pay, an employee who recently bought housing in Beijing told Caixin. When he applied for a mortgage, he didn't expect that income to disappear, the employee said.
The absolute value of pay loss varies by position because of base salary differences, but many employees are taking about a 20% hit, multiple employees estimated. Some ByteDance employees said on social media that they worried that they will be left with the same workload but less pay.
In January, a male employee at e-commerce giant Pinduoduo Inc. jumped to his death from his family's 27th floor apartment in the Central China city of Changsha. That was less than two weeks after a 22-year-old employee collapsed and died after getting off work in the early hours of Dec. 29. The incidents sparked a social media backlash against the relentless working schedules at China's tech companies, prompting government investigations.
In June, Tencent-backed gaming studio Lightspeed & Quantum Studios, which developed the popular title Game of Peace, said it would encourage employees go home at 6 p.m. every Wednesday and leave the office no later than 9 p.m. on other days.
On June 24, short video company Kuaishou Technology became the first Chinese internet company to formally abandon the big/small weeks policy. Food-delivery giant Meituan, ByteDance and online recruitment platform BOSS Zhipin soon followed suit.
In a Thursday notice, the Supreme People's Court and the Ministry of Human Resources and Social Security labeled "996" — the common practice of working 9 a.m. to 9 p.m., six days a week — as a serious violation of China's labor law.
The authorities released details of 10 cases of arbitration or court decisions regarding overtime disputes, aiming to "remind employers of the risks of illegal behavior and guide workers to defend their rights in accordance with the law."
"Workers are entitled to remuneration, rest and the right to take leave, and it is the legal obligation of employers to comply with the national working hours system," the Thursday notice said. "Overtime work is very likely to cause labor disputes and affect the harmony of labor relations and social stability."
Cai Xuejiao contributed to this report.
Contact reporter Denise Jia (huijuanjia@caixin.com) and editor Bob Simison (bobsimison@caixin.com)
Download our app to receive breaking news alerts and read the news on the go.
Get our weekly free Must-Read newsletter.
You've accessed an article available only to subscribers
VIEW OPTIONS
Share this article
Open WeChat and scan the QR code

China Stories: How Beijing's Health Care System Battled Covid as Cases Peaked