E-Commerce Sites That Flout Intellectual Property Rules Could Be Shuttered Under Draft Law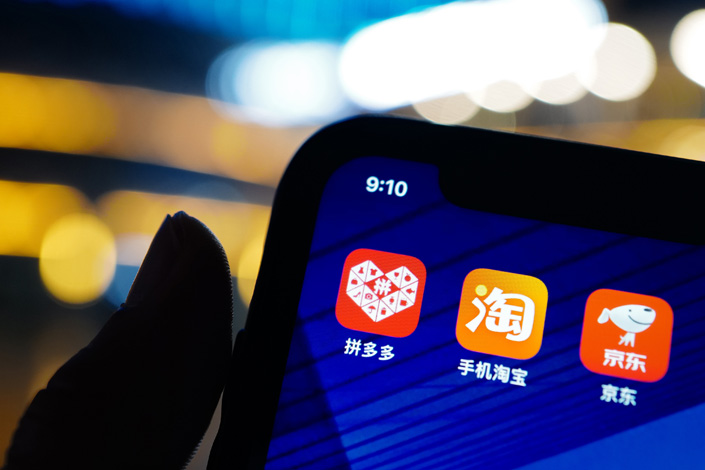 Chinese authorities have been paying more attention to the protection of intellectual property rights in recent years. Photo: VCG
E-commerce firms like Alibaba and Pinduoduo would lose their trading licenses if they continue to flout intellectual property rules under a legal amendment being reviewed by Chinese policymakers.
The firms will also face other restrictions if they ignore serious intellectual property (IP) violations by vendors who use their platforms, according to a revised draft (in Chinese) of China's E-Commerce Law which took effect in 2019. The draft is under review until Oct. 14.
The existing legislation (in Chinese) requires platforms to serve as a middleman between vendors and IP rights holders when conflicts occur. Platforms should delete, shield, or disconnect links to product pages, or cancel orders after they notice, or are informed about, possible IP violations. But the harshest punishment is a penalty of between 50,000 yuan ($7,741) and 2 million yuan.
"License revocation is the highlight of this revised draft," said Zhan Yi, an IP lawyer at Tahota Law Firm. "It expands the obligations of e-commerce platforms… (and) shows the authority's determination to protect IP rights."
Rights holders would also be given more power under the revised law. They would have 20 working days, instead of 15, to respond to vendors' arguments. Merchants, as a result, may need to shut down their businesses for a longer time unless they pay a guarantee fee to the platform.
Chinese e-commerce companies are no stranger to IP disputes.
Taobao, owned by Alibaba Group Holding Ltd., was added to the U.S.' annual "Notorious Markets" list in 2016 and has remained on it for five consecutive years. Rights holders are concerned about "repeat infringers on Taobao," "the strict criteria for rights holders' takedown requests," and "the lack of transparency regarding filters and other proactive anti-counterfeiting measures," the U.S. government's most recent statement said.
Nasdaq-listed Pinduoduo Inc. has been on the list since 2019. The 2020 version found Pinduoduo's takedown system was "sometimes unresponsive and slow to remove the identified goods," and said rights holders have found that counterfeit goods will be sold by the same merchants under different accounts.
Alibaba and Pinduoduo didn't respond to requests for comment.
Chinese authorities have been paying more attention to the protection of IP rights in recent years. During China-U.S. trade talks in 2019, China said it would raise penalties on violations of IP rights, and it was aiming to reduce frequent IP violations by 2022.
The national Intellectual Property Protection and Management for E-Commerce Platforms (in Chinese) standard came into effect on June 1.
Contact reporter Manyun Zou (manyunzou@caixin.com) and editor Michael Bellart (michaelbellart@caixin.com)
Download our app to receive breaking news alerts and read the news on the go.
Get our weekly free Must-Read newsletter.
You've accessed an article available only to subscribers
VIEW OPTIONS
Share this article
Open WeChat and scan the QR code

Caixin China Biz Roundup: Jack Ma Resurfaces on the Mainland