Tech Insider: Xiaomi Bulks Up, Huawei Sprawls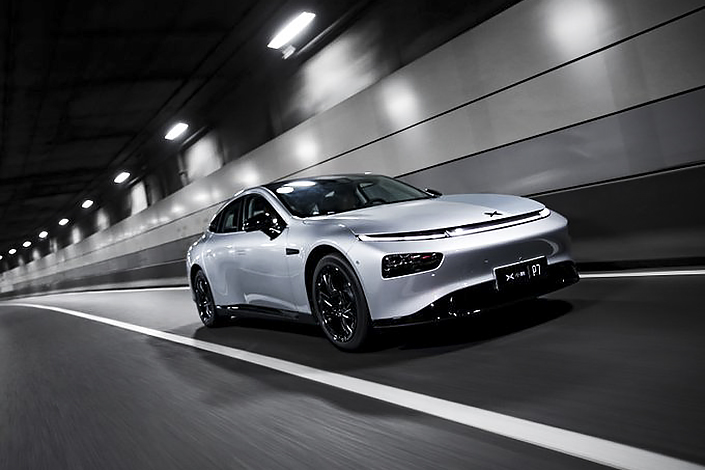 Xpeng hit a new monthly delivery record in September with sales of 10,412 vehicles. Photo: Xpengmotors
Welcome to Caixin's Tech Insider, your twice-weekly wrap on the movers, shakers and deal-makers in China's tech scene.
Huawei sprawls into energy, logistics
Huawei Technologies Co. Ltd. is further expanding its business beyond its core telecoms gear and electronics offerings into the logistics and energy industries, just a few months after the firm opened a lab dedicated to coal mining technology.
The Shenzhen-based company has created four new divisions known as "corps," according to a Monday circular:
- The Customs and Port Corps will be helmed by Xun Su
- Ma Yue will run the Smart Highway Corps
- The Data Center Energy Corps will be captained by Charles Yang
- Chen Guoguang will administer the Smart Photovoltaic Corps
Yang and Chen will both report to Hou Jinlong, the president of Huawei Digital Power Technologies Co. Ltd.
Xpeng hits milestone
Tesla wannabe Xpeng Inc. said on Monday that it has produced 100,000 electric vehicles, seven years after it was founded. Xpeng currently makes vehicles at its plant in the southern Chinese city of Zhaoqing, but the firm is building two new manufacturing facilities in Guangzhou and Wuhan.
Xpeng made a new monthly delivery record in September with sales of 10,412 vehicles, representing a year-on-year increase of nearly 200%, the company said in a statement.
Xpeng's main domestic rival Nio Inc. said it had passed the same milestone in April. Both automakers have started carving out territory in Europe, with Norway their first stop.
Xiaomi bulks up investment in fitness industry
Smartphone giant Xiaomi Corp. has led a series A funding round for home exercise equipment maker Yesoul Health Technology Co. Ltd., reflecting its interest in the fitness industry after the Covid-19 pandemic increased demand for home workouts.
Xiaomi founder Lei Jun-backed venture fund Shunwei Capital and Zero2IPO Ventures, an investment arm of Zero2IPO Group, also participated in the round that raised 100 million yuan ($15 million), Fuzhou-based Yesoul said on Monday in a WeChat post.
Receiving an investment from Xiaomi makes Fujian-based Yesoul, which specializes in designing and making indoor smart bikes, rowing machines and treadmills, a member of Xiaomi's tech ecosystem consisting of startups engaged in connected home products and intelligent hardware, according to Yesoul.
Yesoul said it will spend the money in developing new smart hardware, optimizing its supply chain, improving its online fitness courses and expanding its overseas presence.
Lenovo retains PC lead even as shipments slow
Lenovo Group Ltd. retained its position as the world's largest PC vendor in the third quarter with a market share of 22.8%, but its shipment growth trailed that of the overall market, according to research firm IDC.
During the September quarter, Lenovo shipped 19.8 million PCs, including desktops and laptops, up 3.1% year-on-year, IDC said. Overall, global PC shipments rose 3.9% year-on-year in the third quarter to 86.7 million units.
HP, Dell, Apple, Asus came in second, third, fourth and fifth with market shares of 20.3%, 17.5%, 8.8% and 7%, with Dell enjoying the highest year-on-year shipment growth of 26.6% among the top five sellers.
Honor will use Google services
Honor Device Co. Ltd. said Monday on social media that it has forged partnerships with a number of unspecified suppliers, a move that will enable its Honor 50 series to come preinstalled with Google Mobile Services.
Since being spun off from Huawei last year to escape U.S. sanctions, Honor has been striving to rebuild its supply chain. In January, the former Huawei unit said it had forged ties with major suppliers including Qualcomm, AMD, Intel, Microsoft and MediaTek.
These efforts have had a positive effect. With a market share of 15%, Honor leapfrogged Xiaomi in August to become China's third-largest smartphone brand, the first time it has held that position in a year, according to Counterpoint Research. The first and second spot went to Vivo and Oppo, which controlled 23% and 21% of the market respectively.
TSMC and Sony Group mull joint chip plant in Japan
Taiwan Semiconductor Manufacturing Co. Ltd. (TSMC) and Japan's Sony Group Corp. are considering jointly building a $7 billion chip plant in Japan, Nikkei Asia reported on Friday, as a global shortage of semiconductors continues to bite.
The factory would be located in southern Japan's Kumamoto prefecture and is expected to make semiconductors used in camera sensors, automobiles and other products, Nikkei reported, adding that the plant is likely to start operations by 2024.
This Caixin Tech Insider was compiled by Ding Yi (yiding@caixin.com) and edited by Flynn Murphy (flynnmurphy@caixin.com). Send us your tips and feedback.
You've accessed an article available only to subscribers
VIEW OPTIONS
Share this article
Open WeChat and scan the QR code