CX Daily: Macao Casinos to Close Lucrative VIP Rooms in Wake of Junket King's Arrest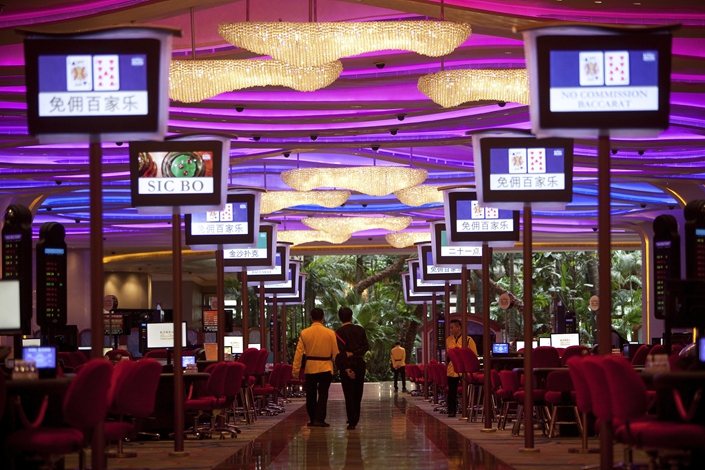 Gambling /
Macao casinos to close lucrative VIP rooms in wake of junket king's arrest
The recent arrest of a Macao junket tycoon has chilled the city's gambling industry as casinos race to close lucrative VIP rooms run by junket operators.
Melco Resorts & Entertainment Ltd., one of Macao's six casino licensees, decided to close its junket-run VIP rooms at City of Dreams and Studio City — two of its casino resorts — in late December, according to a document seen by Caixin.
The company informed junket operators Monday that cooperation will cease Dec. 21, according to the document shared with Caixin by industry insiders.
Streaming /
IQiyi fires hundreds of workers as losses balloon
Chinese video streaming platform iQiyi Inc. is terminating hundreds of workers as losses balloon, marking a sharp U-turn from its previous strategy of seeking profit through expansion.
The Baidu-backed company is laying off an average of 20% of its workforce across departments, with firings running as high as 40% for the least profitable divisions, several company employees told Caixin.
FINANCE & ECONOMY
The central bank lowered relending interest rates for small regional banks and rural lenders to support agriculture and small and midsize companies. Photo: VCG
Interest rates /
PBOC cuts rates on relending facilities for small businesses and rural sectors
China's central bank lowered interest rates on two relending facilities by 25 basis points, or a quarter of a percentage point, as an incentive to encourage commercial banks to lend more and at lower interest rates to small businesses and rural sectors.
Starting Tuesday, the one-year relending rate under the programs was lowered to 2%, the six-month rate to 1.9% and the three-month rate to 1.7%, according to data released by the People's Bank of China (PBOC).
The move comes one day after the PBOC announced the lowering of lenders' reserve requirement ratio (RRR) to unleash about 1.2 trillion yuan ($188 billion) into the financial system, amid the country's slowing economic growth.
Quick hits /
Opinion: After Merkel, Germany's China policy won't change dramatically
BUSINESS & TECH
Shares of Weibo Corp. slip 6.09% in a disappointing Hong Kong trading debut. Photo: VCG
Weibo
Weibo posts loss in Hong Kong debut amid tech stock turmoil
Chinese social media giant Weibo Corp.'s shares flopped in their Hong Kong debut Wednesday, joining a host of major dual-listed tech giants whose stock prices have been hammered this week in the wake of ride-hailing platform Didi's decision to abandon its U.S. listing.
Shares of the Alibaba-backed Weibo, which raised about HK$3 billion ($385 million) in its Hong Kong secondary listing, opened 6.1% below the offering price of HK$272.80 and slid further to close down 7.2% at the end of trading.
Vaccines /
Fosun and BioNTech are developing omicron-specific vaccine
Shanghai Fosun Pharmaceutical (Group) Co. Ltd. said it will actively work with its German partner BioNTech SE to develop a new vaccine targeting the omicron variant of Covid-19, and it may take three to four months to win regulatory approval.
Fosun is the exclusive partner of BioNTech for marketing the mRNA vaccine co-developed by BioNTech and U.S. drug giant Pfizer Inc. in Greater China, including Hong Kong, Macao and Taiwan. Known in China as the Comirnaty vaccine, the product hasn't been approved for the Chinese mainland.
Biodiversity /
Protecting China's biodiversity requires preventative action, Supreme Court says
China's top court warned against misconduct that endangers rare wildlife and the ecological environment, including infrastructure construction, in a bid to strengthen judicial protection for biodiversity.
Citing seven example cases, the Supreme People's Court noted that the five cases of public interest litigation and two administrative decisions highlighted the importance of taking action before harm occurs.
IPO /
China's QingCi Games seeks $153 million in Hong Kong IPO
Alibaba and Tencent-backed mobile game developer QingCi Games Inc. is seeking as much as HK$1.19 billion ($153 million) in a Hong Kong initial public offering (IPO).
The Xiamen-based company plans to sell 85 million shares for HK$11.20–14 each, according to the prospectus. The company said 10% of the shares will be sold in Hong Kong and 90% globally. The subscription will end Thursday, and the stock is expected to debut a week later.
Quick hits /
China's Xpeng sees U.S. delisting threat as 'several years away'
Hong Kong researchers develop Covid-killing stainless steel
Era ends as HNA cedes control of core airline operations
GALLERY
Crew rescued after Chinese ship runs aground
Recommended newsletter for you /
China Green Bulletin Premium - Subscribe to join the Caixin green community and stay up to date with the most exclusive insights on ESG, energy and carbon. Sign up here.
Thanks for reading. If you haven't already, click here to subscribe.
Share this article
Open WeChat and scan the QR code