CX Daily: How Bad Is China's Manufacturing Exodus?
Workers assemble cell phones at a factory in India. 
Manufacturing /
Cover Story: How bad is China's manufacturing exodus?
China's strict pandemic controls blocking production and logistics threaten to add impetus to the manufacturing exodus that has been picking up speed over the past decade, international trade experts said.
The Covid policy disruptions add to pressures from rising labor costs in China and worsening Sino-U.S. trade tensions. With low labor costs and surging domestic demand, Southeast Asia and India have become the most popular destinations.
FINANCE & ECONOMY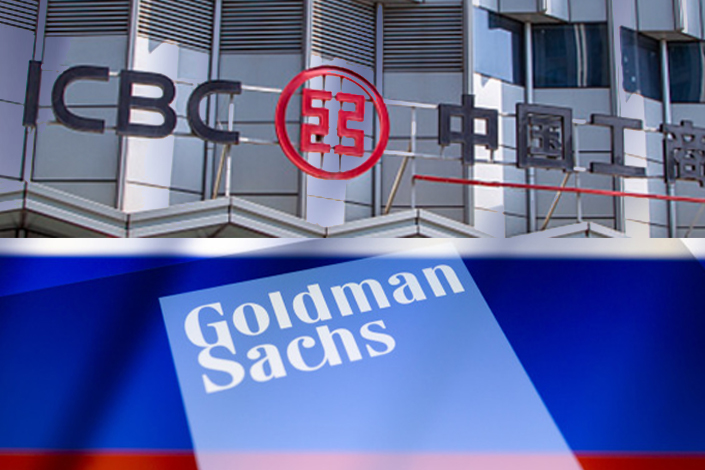 A surge in China's household wealth could translate to more than $16 trillion of inflows to its wealth management market, according to an October report by Morgan Stanley.
Goldman Sachs /
Goldman's China wealth management venture gets OK to launch business
Goldman Sachs Group Inc. won approval to start operating its wealth management joint venture with Industrial and Commercial Bank of China Ltd. (ICBC) in China, the two firms announced.
Goldman Sachs ICBC Wealth Management Co. Ltd. will develop and launch a series of wealth management products for the Chinese market, including cross-border products and those based on quantitative investment strategies, the U.S. investment bank said Friday in a statement.
Pensions /
China regulator issues draft rules for private pension investment products
China's top securities regulator issued standards for eligible mutual fund products for investment by private pensions, taking another step to prepare the badly lagging private pension system to cope with demand from a rapidly aging population.
The China Securities Regulatory Commission (CSRC) released draft rules Friday that stipulate the standards, as well as requirements for the management and sales of such products. The CSRC is soliciting public feedback on the draft before July 24.
Securities /
Ping An Securities hit by business ban for Leshi sponsorship
Ping An Securities was suspended from sponsoring any initial public offerings for three months as a penalty for its role in the scandal-plagued 2010 share sale of Leshi Internet Information and Technology, the Shenzhen branch of China's top securities regulatory body ruled Friday.
Ping An, the brokerage arm of Chinese insurance giant Ping An Insurance Group, was accused of flaws in due diligence and internal control when it performed as the IPO sponsor of Leshi, the Shenzhen-listed unit of embattled private conglomerate LeEco.
Online banking /
Ant-backed MYBank cleared for share placement plan
Ant Group-backed online lender MYBank won regulatory approval to launch a share placement to bring in an undisclosed amount of new capital.
The China Banking and Insurance Regulatory Commission cleared MYBank's share placement plan, which shareholders approved in 2021, the commission said Thursday in a statement on its website. No financial details were disclosed.
Quick hits /
IFC provides $150 million blue syndicated loan to Bank of Qingdao
China creates yuan liquidity reserve pool with Bank for International Settlements
Editorial: How to keep the economy stable while upholding 'houses for living, not for speculation'
BUSINESS & TECH
Beijing has been making efforts to tighten control over the sprawling internet industry for years. Photo: VCG
Antitrust /
China's anti-monopoly law revised to tighten supervision of platform economy
China's top legislature approved changes to a law that will subject platform operators to more restrictions in competition and raise penalties for their violations as the country seeks to bolster its year-long antitrust war on tech giants.
A new provision in the law stipulates that business operators engaging in monopolistic practices that involve abusing their data, algorithms, technology or capital advantages, or the rules for online platforms, may be banned.
JD.com /
After stepping back from JD.com, Richard Liu sells down his stake
Richard Liu, founder and chairman of JD.com Inc., has been selling down his holdings in the Chinese e-commerce giant over the last month, cashing out about $932 million, exchange filings show.
The share sales are just the latest step Liu has taken over the past few years to distance himself from the company he founded. The moves coincide with a pending civil lawsuit in the United States against him and the company he founded that center on four-year-old rape accusations.
Electric cars /
Huawei seals smart car deal with state-owned carmaker's EV brand
Huawei Technologies Co. Ltd. deepened its partnership with a major state-owned automaker's smart electric vehicle (EV) subsidiary with a new deal for its intelligent car system.
The move may shore up the telecom equipment giant's push into the auto industry as it tries to expand its revenue base after U.S. sanctions battered its smartphone business.
GALLERY
China wins first diving gold in Budapest
Recommended newsletter for you /
Caixin Must-Read Newsletter brings you the best of our coverage and stories you can't miss. You can opt-in now and get hand-picked news coverage delivered to your inbox each week for free.
Thanks for reading. If you haven't already, click here to subscribe.
Share this article
Open WeChat and scan the QR code

Caixin-Sinica Business Brief: TikTok CEO Pushes Back on Security Concerns