U.S., China Sign $250 Billion in Deals During Trump Visit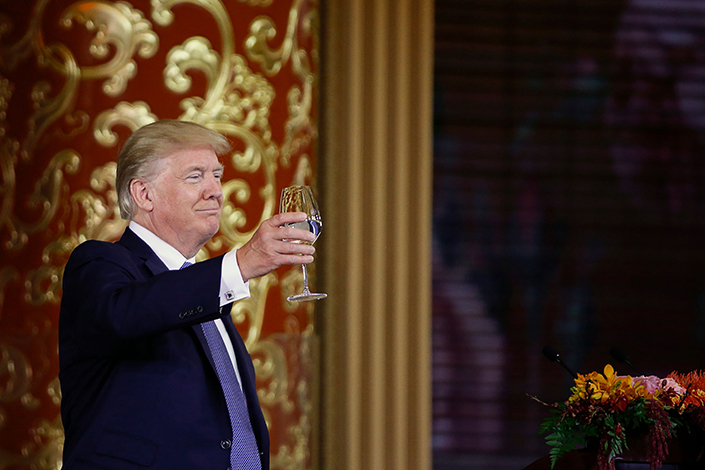 The U.S. and China signed agreements worth more than $250 billion during President Donald Trump's visit to Beijing this week. The deals covered a wide range of sectors, with energy development and aviation as major winners. Here, U.S. President Donald Trump attends a state dinner hosted by China's President Xi Jinping in the Great Hall of the People in Beijing on Nov. 9. Photo: Visual China
During his first visit to China, U.S. President Donald Trump and Chinese counterpart Xi Jinping presided over the signing of $250 billion in business deals covering a wide range of industries. Trump has repeatedly stressed the need for China to open its markets wider to U.S. investment and products, in part to reduce China's large surplus in one of the world's most important trade relationships.
Two of the largest deals announced will see major Chinese investors take part in energy development projects in the U.S. states of Alaska and West Virginia. Both involve development of natural gas resources, a major priority for China as it tries to lessen its reliance on dirtier coal that is a major factor behind the country's big air pollution problem.
Another major deal saw China pledge to buy 300 aircraft from Boeing, with a list value of $38 billion. Also in aviation, private carrier Juneyao Airlines ordered aircraft engines with a list value of $1.4 billion from GE.
The following is a list of all the deals and brief descriptions:
Alaska Gasline Development Corp.: The State of Alaska, Alaska Gasline Development Corp., China Petrochemical Corp. (Sinopec), China Investment Corp., and Bank of China signed a joint development agreement to advance Alaska LNG natural gas development project
American Ethane Co.: Company signs 20-year agreement with Nanshan Group to supply 2.5 million tons of liquid ethane annually
Archer Daniels Midland Co.: Archer Daniels Midland and COFCO sign memorandum of understanding for the export of U.S. soybeans to China
Bell Helicopter: Reignwood agrees to purchase an additional 50 Bell 505s, act as the exclusive reseller for the Bell 505 in China and establish a Bell 505 delivery and maintenance center
Boeing: China Aviation Supplies Holding Co. agrees buy 300 Boeing aircraft valued at approximately $38 billion
Caterpillar: Caterpillar and China Energy Investment Corp. sign five-year strategic cooperative framework agreement
Cheniere Energy: Cheniere and China National Petroleum Corp. (PetroChina) sign memorandum of understanding on long-term LNG sale and purchase cooperation
Dais Analytic: Dais and Gouanrui (Beijing) Technology Co. enter multi-year, royalty-bearing license agreement for Guoanrui to produce and use Dais's Aqualyte nanomaterial
Delfin Midstream: Delfin seals memorandum of understanding for a 15-year sales deal with city gas distributor China Gas Holdings to supply 3 million tons a year of liquefied natural gas (LNG) from 2021
Digit Group: Company signs $100 million joint venture agreement with Gateguard to form a Smart Cities Lab in Shanghai to develop urban safety and security solutions for China
Dow Chemical: Dow and Mobike sign memorandum of understanding to develop a business model to deliver Dow's products to Mobike products and projects via a long-term strategic partnership
Drylet LLC: Company forms joint venture with Nanjing Hoyo Municipal Utilities Investment and Administration Group to sell and commercialize Drylet's biocatalysts
Ford Motor: Company signs agreement on export of American-made Ford and Lincoln vehicles to China, and separate deal with Changan Ford Automobile Co. Ltd. on the export of American-made automotive components
GE: Juneyao Airlines Orders GEnx Engines for 10 aircraft from its Boeing 787 fleet. In separate deal, ICBC Leasing orders CFM LEAP-1B Engines from GE for its Boeing 737 MAX Fleet. In third deal, GE and Datang Group sign framework agreement for energy partnership
GM: Company and SAIC-GM sign agreement on intended purchases of vehicles and components worth $2.2 billion from U.S. over the next three years
Goldman Sachs: Company announces partnership with China Investment Corp. to establish China-US Industrial Cooperation Partnership L.P. targeting $5 billion in commitments to invest in American companies in manufacturing, industrial, consumer and healthcare industries
Honeywell: Oriental Energy to collaborate with Honeywell on propane dehydrogenation projects
I.M. Systems Group: Company signs agreement with Civil Aviation Telecom Co. to implement its weather support subsystem for China's civil aviation flight operations collaborative decision making system
Montana Stockgrowers: JD.com agrees to buy $200 million in beef from Montana over three years
Qualcomm: Company signs three non-binding memoranda of understanding with Xiaomi, Oppo and Vivo to purchase semiconductors with an aggregate value of about $12 billion over next three years
SAS: Company signs cooperation agreement with Shenzhen Zhenghong Technology Co. to jointly establish a big data innovation center for smart manufacturing in Shenzhen's Longhua district
Smithfield Food: JD.com agrees to buy $1 billion in Smithfield pork over three years
Stine Seed China: Stine forms joint venture with Beijing W. Seed to further strengthen Stine's China presence
TEREX: Terex Utilities and Xuzhou Handler Special Vehicles Co. sign strategic letter of intent for Xuzhou Handler to purchase 5,000 insulated aerial devices from Terex over a five-year period, with a total value of more than $250 million
Thermo Fisher Scientific: Company announces three strategic memoranda of understanding with several Chinese partners to boost development of life science, in particular precision medicine
U.S. Soybean Export Council: Council signs letter of intent with China Chamber of Commerce for Import and Export of Foodstuffs for 10 Chinese soybean importers to purchase 8 million metric tons of U.S. soybeans valued at $3.4 billion
Viroment: Company reaches agreement with Hangzhou Iron and Steel addressing textile and sewage sludge for over 800 plants in Zhenjiang province. In separate deal, Viroment agrees to help address recently tightened sewage sludge solids disposal requirements in South China with Guangye Guangdong Environmental Protection Group Co.
West Virginia: U.S. state enters memorandum of understanding with Shenhua Corp. for development of shale gases
Westinghouse Electric: Company affirms its signing of contracts with State Nuclear Power Technology Co. and subsidiaries
You've accessed an article available only to subscribers
VIEW OPTIONS
Share this article
Open WeChat and scan the QR code