Could AI Transform China's Legal System?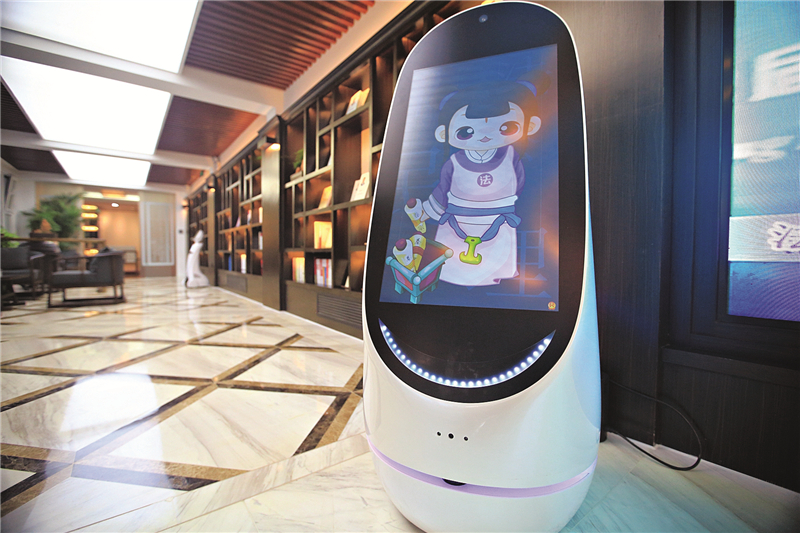 "Xiao Fake," a legal-services robot shown here on demonstration in a Beijing law bookstore, can help users by doing such things as identifying laws and guidelines, and searching for historical case records. Photo: Caixin
Faxin works for China's Supreme People's Court, sifting through reports and identifying laws and guidelines relevant to cases ranging from traffic incidents to bankruptcies.
But Faxin is no typical judicial assistant — it is an online artificial-intelligence (AI) platform designed by the Supreme People's Court Press and Beijing-based big-data company Gridsum Technology.
The platform, officially launched in 2016, is one of many technology products promising to transform the country's legal profession.
FaXiaoTao, a chat bot created by Wusong Technology, analyzes cases and matches clients to lawyers, while "206," a system being tested by Shanghai courts, is designed to help detect holes and contradictions in evidence.
Supported by government policy and favorable investor attention, AI and big-data projects appear poised to take over some of the roles traditionally held by legal professionals. However, AI entrepreneurs and experts point out that many obstacles stand in the way of a true industry-wide revolution.
Overburdened legal system
A combination of factors in recent years has opened up opportunities for China's law-AI developers.
To begin with, China's legal system faces a serious labor shortage, especially after judiciary reforms initiated by the Communist Party's 18th Congress in 2012.
According to official figures, prior to the reforms, there were close to 200,000 judges in the country and nearly 170,000 prosecutors. After the reforms, the numbers fell to 120,000 and 84,000 respectively. But, in the meantime, cases processed by China's courts rose from more than 12 million in 2013 to more than 19 million in 2016.
The country's increasing shift toward relying on case law, despite having a civil law system, is also adding to demand for non-human assistants. In 2012, the Supreme People's Court published its first list of guidance cases—precedents Chinese courts are expected to refer to when making decisions.
"This is a major change in how cases are tried. Lawyers can point to similar past cases to dispute a ruling in court, requiring the judge to answer questions like, 'is this a similar case?' and 'why, then, have you made a different judgment,'" an industry insider told Caixin. "And where can authoritative precedents be found? For this, they'll have to rely on big data and artificial intelligence."
In a number of policy documents, both the Supreme People's Court and the State Council—China's cabinet—have recognized the need to incorporate big data and artificial intelligence into the legal system.
The launch of a national court document online database in July 2013 made it easier for innovators trying to build AI assistants by making an unprecedented amount of legal data available to the public. More than 36 million documents have been uploaded to the online platform.
Law school for robots
It takes a human years of education to qualify as a legal professional, and the process of teaching a computer program about the law is equally, if not more, arduous.
To build competent machines using methods currently available, developers need a huge amount of accurately labeled data, according to Huang Linna, vice president of Huayu Yuandian Information Services Co. Ltd.
Three groups of people must work together to build an AI legal assistant—law experts to identify the appropriate example cases, knowledge map engineers to organize the data, and technicians to write the code for the programs, Gridsum Technology Vice President Shi Peng told Caixin.
It took a team of 64 legal professionals and 215 technicians to develop Shanghai's "206" AI system, according to the official People's Court Daily. "206" handles a range of cases types, from murder to phone fraud. For theft cases alone, technicians had to feed the system data from around 36,000 trials heard by Shanghai courts between 2012 and 2016.
But not all crimes are as common as theft. The team developing "206" was only able to find 591 homicides handled by Shanghai courts in the past five years—far from enough data to help "206" become a good assistant in future homicide cases. "Less than 600 cases in five years—on the one hand, it shows that the public safety situation in Shanghai is pretty good," a person close to the "206" project told Caixin. "But on the other hand, at least tens of thousands of cases are needed for a machine to learn."
Even the millions of court documents now offered online aren't enough to help an AI program learn enough about the legal system, Huang said. Most of the documents available online are relatively simple, and the documents that truly record judges' processes aren't available to the public, Huang said. Through cooperations with courts and procuratorates, some companies have secured access to additional internal data.
Finding a profitable model
Teaching a machine to think like a human judge is hard enough, but private sector players also face pressure to make their products profitable.
To do this, Gridsum is targeting government clients. In addition to taking part in building the Faxin platform, Gridsum has also worked with the Beijing International Property Court to develop a case study guidance and service platform capable of completing tasks like calculating the typical compensation amount per song in copyright infringement cases.
This focus on government clients seems to be paying off—although legal big-data and electronic-governance services still account for only a small part of Gridsum's annual revenue, the company's revenue in these two areas grew by more than 100% in the second quarter of 2017 from the same period last year.
Legal data visualization company iCourt, in contrast, considers lawyers and law firms its main customer base.
Established in 2013, iCourt entered the legal big-data market in 2016, after years of providing training services for law firms. Partner Zheng Wei said iCourt's Alpha system, launched in September, uses big data to help lawyers make more targeted strategies and fine-tune the way they handle cases.
For example, if a lawyer is working on a construction-related case and she knows the judge who will be involved, she can use Alpha to search for how many similar cases this judge has dealt with. If she finds out that this judge has strong expertise in construction and engineering cases, she may decide to minimize their explanation of scientific principles during the trial.
As of October, more than 900 law teams and 15,000 individual lawyers have registered with Alpha, according to iCourt.
But a common view in the industry is that the market for personal and business legal services will be tougher to crack.
"Chinese lawyers are a very smart group. It'll actually be very hard to convince them to pay money every year for a knowledge service," an industry insider told Caixin. "When Chinese lawyers encounter a problem, they first 'Baidu' it. Once they've looked through all the free databases, and have no other options, they go on Taobao to pay a few yuan for limited access to someone's database account."
Wusong Technology has chosen a third path: it connects corporate legal teams to suitable lawyers, while offering businesses tools for self-identifying and solving basic legal issues. Founded in August 2014 by Beijing-based TianTong Law, Wusong Technology has attracted 147 million yuan from investors in two rounds of fund-raising.
Zhang Changhao, president of the court video channel run by the popular Sina news portal, believes legal AI is currently experiencing a bubble. This bubble may be partly fueled by officials looking for quick results in improving judicial efficiency, Zhang said.
Many of the self-styled "artificial intelligence" products available currently are essentially still supported by traditional customer service technology, like basic templates for forms, a person familiar with the field told Caixin.
"Artificial intelligence is a gradual training process. Its precision, coverage and accuracy are gradually improved. In the beginning, it is definitely not in a very good state. But if, in this market, a lot of people go around hawking concepts with beautiful slideshows, it's easy to fool people unfamiliar with the industry," Huayu Yuandian's Vice President Huang Linna said. As a result, Huang said, genuine AI businesses rush their product releases to keep up.
Supporting role
Regardless of their creators' business model, AI systems do not seem likely to replace human law professionals any time soon.
Automation and artificial intelligence could take care of as much as 23% of the work lawyers currently do, according to a January report by McKinsey. But at an October judicial reform conference in Guizhou province, Meng Jianzhu, head of the CPC Central Committee's Commission for Political and Legal Affairs, said intelligence auxiliary-case handling systems were an important force in promoting judicial reform, while emphasizing that these systems would not replace the independent judgment of judicial personnel.
Google's AlphaGo program defeated human world champion Ke Jie at the ancient board game Go. But Go and law are two very different things that can't be compared with each other, Huang said.
"The computing volume involved in Go is huge. But its rules are very clear. And the difference between victory and defeat is easy to judge. But law is an area that encompasses millions of human situations, and laws are surrounded by plenty of dispute and conflict. It's completely different from Go," Huang said.
"If you think we can completely rely on data to perform judicial functions, I think this is an exaggeration of machines' abilities. But technological advances can undoubtedly perform assisting roles in the legal system," Wang Meng, deputy general manager of Gridsum's legal big-data unit, told Caixin.
Contact reporter Teng Jing Xuan (jingxuanteng@caixin.com)
Additional reporting by Du Caicai and Qin Ziyi
You've accessed an article available only to subscribers
VIEW OPTIONS
Share this article
Open WeChat and scan the QR code