Manufacturing Grows at Fastest Pace in Four Months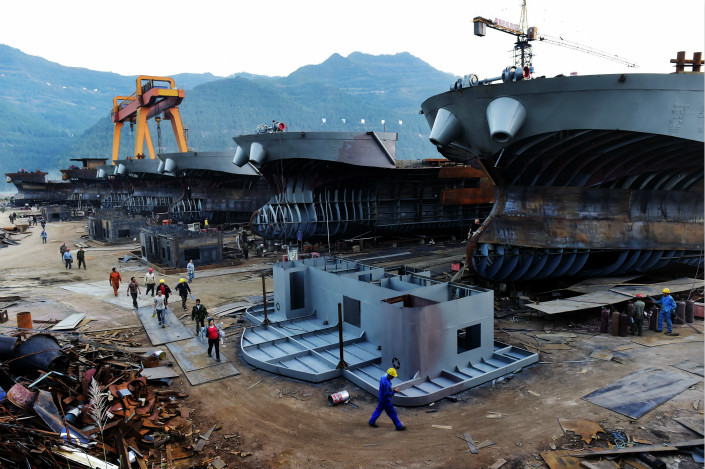 The pickup in December's Caixin China General Manufacturing Purchasing Managers' Index came on the back of strong demand both at home and abroad. Above, ships are seen under construction in Chongqing on Dec. 5. Photo: Visual China
China's manufacturing activity expanded at its fastest pace in four months in December, underpinned by solid growth in new orders that also led companies to buy more supplies, a Caixin survey showed Tuesday.
The Caixin China General Manufacturing Purchasing Managers' Index (PMI) rose to 51.5 last month, up from 50.8 in November. The December figure was the highest reading since August.
The indicator is closely watched by investors as one of the first available monthly barometers of the health of the world's second-largest economy. A number greater than 50 indicates an expansion in activity, while a reading less than 50 means a contraction.
"Manufacturing operating conditions improved in December, reinforcing the notion that economic growth has stabilized in 2017 and has even performed better than expected," said Zhong Zhengsheng, director of macroeconomic analysis at CEBM Group, a subsidiary of Caixin Insight Group.
The pickup in December's manufacturing PMI came on the back of strong demand both at home and abroad. Both new export orders and overall new business received by manufacturers increased at the quickest clip in four months, according to the survey, which is sponsored by Caixin and compiled by international information and data analytics provider IHS Markit Ltd.
Output expanded at the same pace as in August, matching the highest monthly rate of the year, with companies citing improved sales and stronger underlying market demand as key sources of economic growth.
The World Bank last month raised its projection for China's gross domestic product (GDP) last year to 6.8%, up from its October estimate of 6.7%, citing support from strong exports and robust domestic household consumption.
The Caixin survey showed Chinese manufacturers ramped up buying activity at the fastest rate in four months in December to meet higher production needs.
Companies continued to shrink their payrolls last month, despite stronger increases in demand and production, but the rate of job losses was the slowest in nine months.
A tighter grip
However, Zhong cautioned that "downward pressure" on growth this year will remain due to "tightening monetary policy and strengthening oversight on local government financing."
China's GDP, a measure of economic growth, rose by 6.8% year-on-year from July to September, slowing from a 6.9% pace in the first and second quarters. It was the first slowdown in growth since early 2016. Analysts widely expect growth to slow further in the final three months of 2017, though the full-year growth rate is still likely to exceed the government's target of "around 6.5%," which its set in March.
The slowdown will continue into 2018 as the government moves forward with its supply-side structural reforms that include curbs on capacity in many industrial sectors.
China's fourth-quarter GDP growth is scheduled to be released by the government on Jan. 18.
At the annual Central Economic Work Conference (CEWC) chaired by President Xi Jinping, top policymakers pledged to focus on creating "high quality" growth. They also reiterated the government's top policy priorities for the next three years, which include curbing risks, especially financial risks, as well as reducing poverty and pollution. It also vowed to keep a tighter grip on the money supply in a much more hawkish message than it had at the previous year's meeting.
The World Bank expects the government's policy tightening to slow annual economic growth to 6.4% this year and 6.3% in 2019.
Manufacturers' optimism about their business prospects over the next 12 months rebounded from November's record low, but remained well below the historical average, according to the Caixin survey. Concerns over relatively subdued client demand and government policy changes dampened confidence.
The Caixin manufacturing PMI for December compares with a decrease in the official PMI released by the National Bureau of Statistics (NBS) on Sunday. The official PMI dropped to 51.6 from 51.8 in November, as more companies complained about the impact on their operation from tightened supply of energy and other raw materials and rising costs of transportation.
The Caixin PMI focuses more on light industry, while heavy industry makes up a larger share of the NBS survey. The geographic distributions of the companies covered in the two polls are also different.
The official nonmanufacturing PMI, which covers the nation's services and construction sectors, rose to 55 in December from 54.8 in the previous month. The Caixin China General Services Business Activity Index will be published on Thursday.
Contact reporter Fran Wang (fangwang@caixin.com)
You've accessed an article available only to subscribers
VIEW OPTIONS
Share this article
Open WeChat and scan the QR code

Jan 27 06:25 PM

Jan 27 06:23 PM

Jan 27 01:36 PM

Jan 27 01:22 PM

Jan 26 07:02 PM

Jan 26 06:03 PM

Jan 26 05:57 PM

Jan 26 02:42 PM

Jan 26 02:22 PM

Jan 25 07:17 PM

Jan 25 07:03 PM

Jan 25 03:52 PM

Jan 25 12:31 PM

Jan 23 06:06 AM

Jan 22 05:28 PM
GALLERY