Mobike Stuffs Its Baskets With Cash in New Funding Push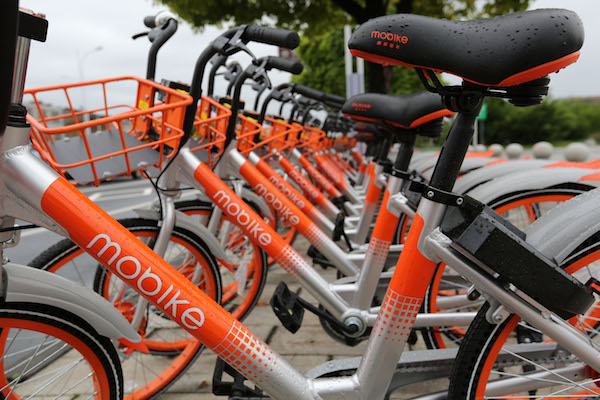 A plan to merge Mobike with archrival Ofo was shelved due to opposition from both sides' management teams. Photo: Visual China
Bike-sharing leader Mobike has raised around $1 billion in its latest fundraising round, sources said, after a possible merger with its archrival Ofo fizzled out.
Mobike and Ofo have been in a cash-burning war to try to dominate the wildly popular bike-sharing sector, offering deep discounts to attract loyal riders. The identity of the latest investors in Mobike wasn't clear.
Market sources have indicated that Meituan-Dianping, China's largest group-buying and local service site, has been interested in investing in Mobike. Meituan-Dianping declined to comment on Caixin's inquiry on whether it took part in the new fundraising.
Mobike announced a previous funding round last July, in which it raised $600 million from investors led by social media giant Tencent Holdings.
The shared economy is booming in China, and investors have scrambled to get into one part of it that has become hugely popular with commuters over the past two years. Riders pay a small deposit to be able to use a company's bikes, which are unlocked via smartphones, cheap, easy to find, and can be left on sidewalks or other public spaces.
A long list of leading venture-capital and private-equity funds such as Sequoia Capital, Hillhouse and Hony Capital have poured a total of more than $2 billion into Mobike and Ofo and boosted each of their valuations to close to $2.5 billion in about two years.
But some investors and company executives have grown exhausted by the price wars in a battle where profits remain a distant target. Talks about a possible merger of the duopoly were held in October, pushed by Mobike's largest shareholder Tencent and Ofo's top investor Didi Chuxing, China's leading car-hailing company.
But as of December, Caixin learned from sources close to the matter that the merger plan was shelved due to opposition from both management teams, who were concerned that the planned merger would grant Didi, which has a 25% stake of Ofo, greater control of a new hybrid company.
As the hope of a tie-up fell apart, both companies stepped up efforts to get new funding.
Sources close to Ofo said the company has also made a fundraising push since late 2017, holding talks with Alibaba Group for new investment in return for giving the e-commerce giant more say in the company's management. This past July, Ofo announced it raised $700 million from investors including Didi and Alibaba.
But sources said conflicts between the management team of Ofo and Didi have escalated since November due to disagreements over the company's operations. Didi has since used its veto right to block new investors entering the company.
"Didi has refused to sign off on agreements to allow Alibaba and other investors to buy Ofo stakes," said one person, adding Ofo's capital chain is under pressure.
In response to Caixin's request about the company's fundraising plan, Ofo said "the financing is in smooth progress."
Didi is making its own foray into the bike-sharing business in hopes of supplementing its car-hailing services. Earlier this month, Didi acquired cash-strapped bike-sharing startup Blugogo. Didi is also building its own-branded shared-bike services, said one person close to the company's management.
An Ofo source said Didi had promised not to directly offer bike-sharing services when it became Ofo's strategic investor in September 2016. But Didi denies it made such an agreement.
Contact reporter Han Wei (weihan@caixin.com)
You've accessed an article available only to subscribers
VIEW OPTIONS
Share this article
Open WeChat and scan the QR code