Business, Political Leaders Urge Dialogue to Resolve U.S.-China Trade Tensions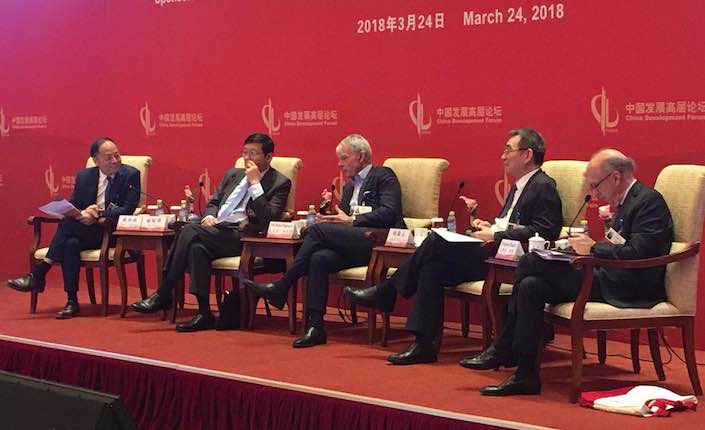 At the China Development Forum in Beijing on Saturday, former Chinese Finance Minister Lou Jiwei (second from left) said the U.S. and China should come together and talk out their differences. Photo: Michael Bellart/Caixin
Beijing could have targeted sectors where the U.S. is a strong exporter for retaliatory tariffs if it wanted to lodge a strong protest to American actions this week aimed at punishing China for unfair trade, former Chinese Finance Minister Lou Jiwei said on Saturday.
Lou's remarks, made with a touch of humor, were among the many opinions coming from academics, politicians and global business leaders at a major event over the weekend in Beijing, where a common theme was that the two countries should resolve their differences through dialogue.
Speaking at the China Development Forum in Beijing, Lou commented that China has had a relatively muted response so far to proposed U.S. punitive tariffs on at least $50 billion worth of Chinese goods. The U.S. announced the tariff plan on Thursday following a seven-month investigation into China's trade practices.
"If I wanted to hit back, I would definitely take aim at soybeans, and then I would aim at cars and airplanes. We can't let others take advantage of us," Lou said, drawing chuckles from the audience at his own musings. "In fact, in the end everyone should come together and talk. It's all business."
Former World Trade Organization Director-General Pascal Lamy called the U.S. "the main threat" to international trade because "the U.S. is the only major country that has a protectionist agenda."
"Trade wars, as history has shown, are a negative-sum game," Lamy said.
The U.S. has broken international trade rules with its probe into China's exports and alleged unfair trade practices, Chinese Vice Premier Liu He told U.S. Treasury Secretary Steven Mnuchin during a phone call on Saturday morning, according to the state-run Xinhua News Agency. Accordingly, China is ready to defend its national interests.
Mnuchin also updated Liu with the latest progress on the investigation during the call, according to the Xinhua report.
In response to the Trump announcement, Beijing said it planned to enforce its own tariffs on certain imports from the U.S., including fresh fruit, nuts, wines, pork and recycled aluminum.
Both sides have agreed to keep in touch regarding the issue, Xinhua reported. Liu, a Harvard alumnus who advises Chinese President Xi Jinping on economic matters, said that China hopes both sides will remain rational and work together to maintain a stable economic and trade relationship.
Attending the China Development Forum in Beijing, former U.S. Treasury Secretary Lawrence Summers said the biggest effects of a trade war would be psychological, but added that he was personally worried about the situation.
"I do not remember a moment when I had more long-term concern about the future of the U.S.-China global economic relationship," he said, calling for discussions to go beyond just commercial concerns to resolve the conflict. "Trade is too important to leave to trade negotiators," he added.
Apple Inc. CEO Tim Cook also encouraged working together to resolve such matters.
"Countries that embrace openness, trade and diversity are countries that do exceptionally. My belief is that 'one plus one equals three,'" he said. "The pie will be larger if we work together."
China also needs to do a better job explaining itself to the rest of the world when it comes to issues like its big trade surplus with the U.S., said Stephen Roach, senior fellow at Yale University. He noted the trade imbalance isn't nearly as big as the U.S. president has claimed.
"I think China could do a better job articulating its role in global commerce, in the global supply chain, the benefits of those supply chains to other countries around the world, including the United States," he said.
Contact reporter Coco Feng (renkefeng@caixin.com)
Read more on the latest China-U.S. trade dispute
You've accessed an article available only to subscribers
VIEW OPTIONS
Share this article
Open WeChat and scan the QR code