Lenovo, China Telecom Consider Homecoming Listings
The Lenovo booth is seen at the Mobile World Congress in Barcelona, Spain, on Feb. 26. Photo: VCG
Hong Kong-listed wireless carrier China Telecom and PC giant Lenovo are considering secondary listings on the Chinese mainland, top company executives said, as Beijing prepares one or more plans allowing overseas-traded local firms to make secondary listings back home.
Some of the world's largest internet companies are based in China but are listed overseas due to difficulties making initial public offerings (IPOs) in their home market. Most notable in that group are leading online game operator Tencent Holdings Ltd., which is listed in Hong Kong, and Alibaba Group Holding Ltd., China's top e-commerce company.
But older Chinese companies like Lenovo and China Telecom are also traded offshore, having chosen that route more than a decade ago when listings at home were still difficult. Those companies set up overseas domiciles to facilitate such listings — a factor that now prevents them from making concurrent listings at home.
China is reportedly considering one or more plans that would allow such overseas-domiciled companies to return home to list. The most talked-about of those would see the country allow offshore listed firms to issue China depositary receipts (CDRs), similar to the popular American depositary receipt (ADR) program that lets companies host major listings in two markets concurrently.
At a media briefing this week to discuss his company's latest financial results, China Telecom Chairman Yang Jie noted that the large majority of his company's operations are in China despite its listing in Hong Kong. He added the company has already done some research on a potential A-share listing, as domestic listings are often called, but hasn't set any timetable for such a plan.
"The A-share market is getting more mature and perfected by the day," the company said in an emailed statement commenting on the matter. "An A-share listing would be beneficial to the integration and promotion of capital markets and business. We believe an A-share listing would be beneficial to the company's valuation by getting greater recognition from capital markets due to the greater understanding of the company by mainland investors."
Lenovo Group Ltd. "presents an interest" in listing on China's domestic stock markets under the CDR program or through other vehicles, said Zhu Linan, president of Lenovo parent Legend Holdings Corp., according to a report in the government-owned China Daily newspaper. A Lenovo spokeswoman had no immediate comment on the situation.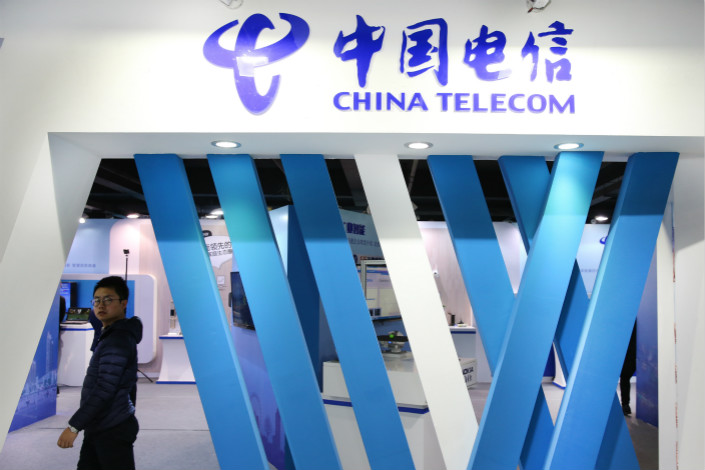 China Telecom sets up a booth at a new-generation information technology exhibition in Nantong, Jiangsu province, on Nov. 17. Photo: VCG
Beijing's latest plan to lure home some of China's most-high-profile companies comes amid a broader drive to improve the quality of firms traded on the nation's stock markets. The country currently uses a first-come, first-served system requiring extensive vetting by the regulator, resulting in a large backlog of companies waiting to list. Tough profitability requirements have also forced many young Chinese companies to list overseas.
In addition to the CDR plan and other possible routes for companies to return home, Beijing has also recently shown it is willing to let IPO candidates with strong potential to cut in the usual long waiting line. In the latest example of that, the regulator approved biotechnology company WuXi AppTec this week for a domestic listing, giving the green light just 50 days after receiving an application. That was the second-fastest time ever, after another hot high-tech company, Foxconn Industrial Internet, won approval in just 36 days.
Contact reporter Yang Ge (geyang@caixin.com)
You've accessed an article available only to subscribers
VIEW OPTIONS
Share this article
Open WeChat and scan the QR code