Trump Eyes Concessions Beneath Softening Trade-War Rhetoric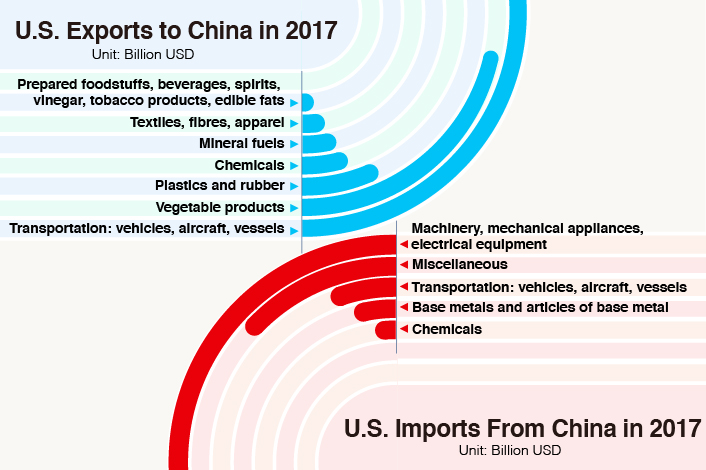 *U.S. president tweets that "China will take down its trade barriers" despite no indication that the two sides are negotiating
*President Xi Jinping expected to address issue in speech on Tuesday
(Beijing) — U.S. President Donald Trump has said that China will remove its trade barriers and reach a deal on intellectual property.
The statement, which the president tweeted Sunday morning U.S. time, indicated that trade tensions between the world's two largest economies might de-escalate in the wake of a new round of tariff proposals last week, despite the lack of any sign that the two sides are negotiating.
"China will take down its Trade Barriers because it is the right thing to do," Trump said on Twitter. "Taxes will become Reciprocal & a deal will be made on Intellectual Property."
However, there has been no indication from the Chinese that any agreement has been reached.
Trump also said that he and President Xi Jinping will always be friends, no matter what happens with the trade dispute. In the tweet, he predicted: "Great future for both countries!"
On Thursday, Trump said that he was considering a new round of tariffs on an additional $100 billion worth of Chinese imports. Beijing said it will "fight back at all costs."
The trade tensions have upset global stock markets. On Friday, the three major stock benchmarks in the U.S. each slid by at least 2%.
There have been no public signs that the two sides are negotiating, although China has requested consultations with the U.S. over the tariffs under the dispute-settlement mechanism of the World Trade Organization (WTO).
Meanwhile, Xi is expected to address trade tensions during a speech Tuesday to the Boao Forum for Asia. Dubbed the "Asian Davos," the forum is held annually on the tropical island of Hainan, China's southernmost province, to discuss regional economic development.
Speaking at the forum on Sunday, Zhou Wenzhong, the forum's secretary-general and a former Chinese ambassador to the U.S., said that the U.S. economic problems are domestically driven, arising from the combination of excessive consumption and a falling savings rate.
"History shows that no country has managed to solve its own economic problems through protectionism," Zhou said.
In a report on Thursday, Moody's Investors Service warned that given the size of the U.S. and Chinese economies, any potential reduction in growth caused by tariffs will affect global growth. "Further, given the integration of the US and Chinese economies in global and regional supply chains, any potential escalation of trade risks is likely to spread to other countries that are part of the integrated production chains," such as South Korea and Vietnam, the report said.
Contact reporters Lin Jinbing (jinbinglin@caixin.com) and Ke Baili (gabriel@caixin.com)
To read more about China-U.S. trade tensions, click here
You've accessed an article available only to subscribers
VIEW OPTIONS
Share this article
Open WeChat and scan the QR code