China Steps Up Scrutiny of Public-Private Partnerships in Fight Against Hidden Debt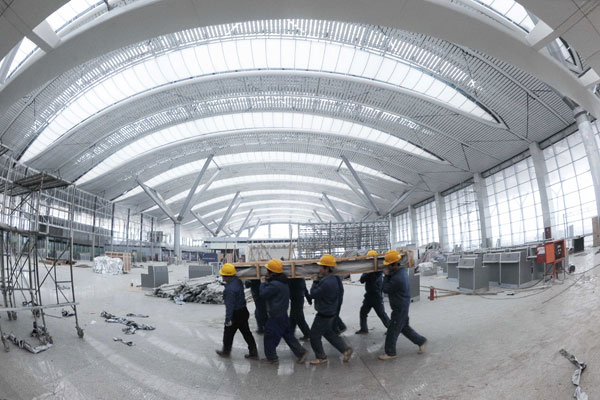 Since last year China has stepped up efforts to close loopholes in the PPP initiative amid concerns over government debts. Photo: VCG
China's Ministry of Finance pledged stricter scrutiny of public-private partnership (PPP) projects in a bid to block them from being used as a vehicle for additional local government borrowing. The move is part of the government's campaign against burgeoning public debt.
State-owned enterprises (SOEs) and local government financing vehicles (LGFVs) — special-purpose entities set up to raise money for local infrastructure projects — are barred from signing PPP contracts on behalf of local governments, nor can they participate in such projects as private players, the ministry said Friday in a statement on its website.
A source close to the ministry said the statement reiterated previous policies regarding state companies and LGFVs' participation in PPP projects. But an official at a local government fiscal department said that despite existing rules, it has been common for SOEs and LGFVs to represent local governments in PPP projects, blurring the boundary between government and business.
"Allowing SOEs and LGFVs to represent local governments in signing PPP contracts violates the basic principle of detaching business from government," said Zhang Liao, chairman of Shanghai-based Jumbo Consulting, which specializes in infrastructure and public utilities projects.
China has been promoting PPP projects since 2013 as a means to encourage private investment in infrastructure projects. But in practice, the notion of PPP has been widely bent by local authorities so that many projects have served as alternative channels for excessive government borrowing while squeezing out private players.
The central government since last year has stepped up efforts to close loopholes in the PPP initiative. As of early April, local governments have scrapped more than 2,000 PPP projects after the finance ministry ordered a crackdown on ineligible projects as part of the campaign to clean up government debts.
By the end of 2017, China's total outstanding government debt was 29.95 trillion yuan ($4.7 billion), or 36.2% of the country's gross domestic product, with local government debt accounting for 16.5 trillion yuan of the total, according to figures from the Ministry of Finance. But the totals don't include trillions of yuan of hidden local government debt, much of which was incurred through LGFVs or disguised as funding for PPP projects, experts said.
In the Friday statement, the finance ministry listed 173 PPP projects that won the ministry's approval but were found to have operational flaws, such as hidden links with local government and poor affordability. Thirty of the 173 projects have been scrapped while the others are required to rectify flaws within a certain period to avoid cancellation, according to the statement.
The source close to the finance ministry said the Friday statement made clear that SOEs and LGFVs can't lead PPP projects on behalf of local governments, but they can still participate in the projects as government investors. Meanwhile, qualified LGFVs will be allowed to take part in local PPP projects as private investors if they complete corporate restructuring and cut ties with local authorities, according to a PPP policy issued in 2015.
But the local fiscal official said there is no clear and unified standard for LGFV qualification. "The problem is who should make the judgment on whether a LGFV succeeds in the corporate restructuring?" the official said.
Contact reporter Han Wei (weihan@caixin.com)
You've accessed an article available only to subscribers
VIEW OPTIONS
Share this article
Open WeChat and scan the QR code