Shanghai Talks Trash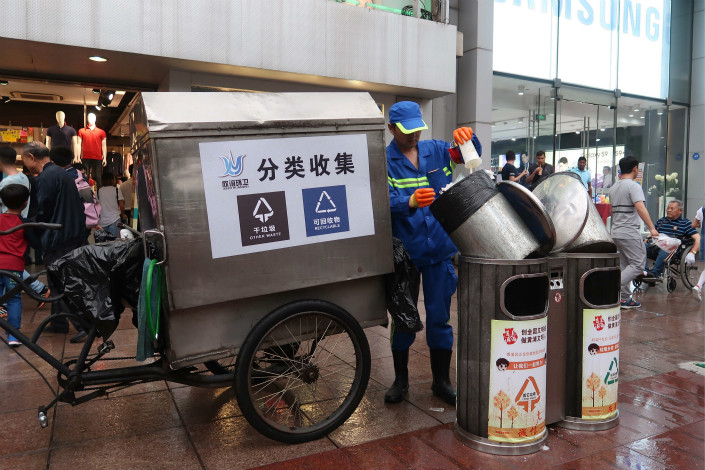 Garbage is collected in Shanghai's Nanjing Road pedestrian street on May 1. Photo: VCG
City sanitation workers in some Shanghai districts received a novel task at the start of May — sorting trash.
The city plans to have a comprehensive domestic waste-sorting system in place by 2020, and already requires thousands of households to sort their waste into distinct bins for recyclable materials, hazardous waste, "wet" or organic waste, and "dry" waste. But residents have long complained that sanitation workers often dump different types of garbage into the same containers, wasting the effort spent on sorting them.
Now, sanitation workers in a few test areas have been given new collection carts that have separate compartments for different types of garbage.
Shanghai's campaign is part of a nationwide push to tackle the growing mountains of domestic waste produced by Chinese cities every year. In 2016, China's top 10 trash-producing cities generated 56 million metric tons (61.7 million U.S. tons) of domestic waste, with Shanghai coming in at No. 1, according to figures from China's Ministry of Ecology and Environment (link in Chinese).
Most Chinese cities rely on informal waste-pickers, including retirees and office janitors hoping to make extra money, to rummage through bins to pick out plastic bottles and cardboard to sell to recycling plants. While informal waste-pickers play a major role in the waste-disposal ecosystem, their efforts are uneven and the lack of efficient official waste-disposal networks often results in serious pollution and underrecycling.
China's central government has been pushing cities to establish official waste-sorting systems for over a decade, but city governments have struggled to formalize an industry that has long been dominated by market-driven informal work. After the central government announced in 2017 that 46 cities were required to reach a recycling rate of 35% by 2020, southern tech hub Shenzhen became the country's first city to impose fines on businesses and individuals for incorrect waste-sorting.
In Shanghai, where Caixin reporters spent two days observing waste-sorting efforts in action, authorities are battling to keep waste sorted correctly in its long journey from homes and businesses to landfills, incinerators and recycling plants.
The garbage waste-sorting system was introduced in Huangpu district of Shanghai on Feb. 2. Photo: VCG
'Wet' and 'other'
In the parts of Shanghai that haven't yet been included in pilot waste-sorting programs, garbage is usually classified into one of only two categories — organic, or "wet," waste; and "other" waste.
Wet refuse can be used to make biogas and fertilizer, but only if it is above a certain level of purity.
"Cities within China that are better at sorting wet from dry waste have up to 70% organic content in their kitchen waste. When we visited organic-waste processing plants in Europe, some had contamination rates of only 2% to 10%," a Chinese waste industry insider said.
Non-organic contaminants have multiple opportunities to get mixed into organic waste during the disposal process, including at the very beginning.
At one barbecue restaurant in Shanghai, Caixin reporters saw employees handing buckets containing beer bottles and scraps of plastic to sanitation workers who were officially there to collect only kitchen waste.
The bottles, some of which were accidentally dropped and broken by a sanitation worker during the handover, were dumped into the waste collection cart along with the plastic — inevitably causing a headache down the line for the food-waste processing plant.
But recyclables are also frequently intercepted by informal waste-pickers, who sell the trash they collect to bigger trash-traders or recycling plants. Without informal waste-pickers, "at best, thousands of tons of material will be lost to landfill, and at worst, more companies will resort to illegal dumping or accumulate waste on the sidewalk," according to a report by Collective Responsibility, a Shanghai-based firm providing advice on social responsibility.
However, many feel that informal waste-sorting is inefficient and dirty. "Individual waste-pickers could bring about a very large secondary pollution problem because of the low operating cost, lack of supervision, and crude processing facilities common to this group," a representative of the China Zero Waste Alliance told Caixin. "In my view, they have a negative impact on the recycling economy."
A newly installed bamboo trashcan is seen in Qibao Street in Shanghai's Minhang District on May 10. Photo: VCG
Incentives
The new waste-collection carts in the Shanghai districts participating in the new sorting program make it easier for sanitation workers to keep different types of garbage separate while on their collection routes.
Yet incentives, rather than equipment, are the key to maintaining a functional waste-sorting system, multiple industry insiders told Caixin.
The Shanghai districts that have had better household-waste sorting results tend to be the ones that reward compliant households with points that can be exchanged for prizes. Households that do a poor job at sorting face penalties including having their names published on noticeboards in their building, and some neighborhood committees are even able to contact the employers of residents who don't sort their trash.
But it's harder for the Shanghai government to apply the same incentive system to businesses. While each restaurant or store is in theory allowed to sign a waste removal contract with waste disposal companies designated by district authorities based on the amount of non-kitchen waste they produce, many businesses try to bribe sanitation workers into allowing them to add some non-kitchen waste into kitchen waste, reducing the fees they must pay the waste disposal company.
The city must also motivate sanitation workers to follow its sorting programs — something it was still working on when Caixin spoke to a local sanitation worker in early May.
The worker — who said that he had been working in the industry for 36 years — pointed to the street for which he is responsible. "If they want to throw things away haphazardly, what can I do? I just turn a blind eye."
Contact reporter Teng Jing Xuan (jingxuanteng@caixin.com)
Share this article
Open WeChat and scan the QR code

Caixin-Sinica Business Brief: China Mourns Death of Former President Jiang Zemin