China Makes it Harder to Get OK to Build Subways, Light Rail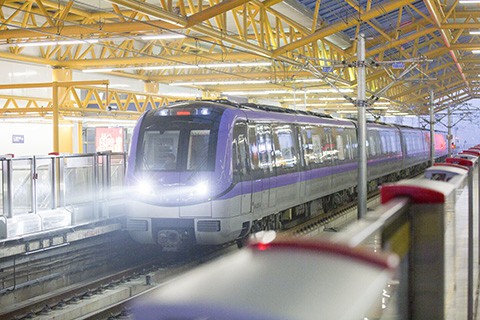 Chinese cities must meet tougher new financial benchmarks to get permission to build subway and light rail systems. Photo: VCG
China is raising the financial bar for cities seeking approval of new subway and light rail projects — a move to rein in local governments' debt-creating infrastructure investments.
The new rules follow the central government's halt to the booming construction of subways and light rail systems in some Chinese cities since late last year amid concerns over the high debt that some cities are running up with such projects.
The State Council, China's cabinet, on Friday released guidelines to strengthen the supervision of urban rail transit planning and construction, raising the requirements of fiscal revenue and gross domestic product (GDP) that cities must have to qualify for new subway and light rail projects.
According to the new guidelines, which will replace the current 15-year-old rules, only cities with more than 3 million residents and that generate more than 30 billion yuan ($4.49 billion) in fiscal revenue and 300 billion yuan in GDP are eligible to apply for new subway projects. The 2003 rules required 10 billion yuan of annual fiscal revenue and a GDP of 100 billion yuan.
For light rail projects, cities must have more than 15 billion yuan of fiscal revenue and 100 billion yuan in GDP, compared with the 6 billion yuan of fiscal revenue and 60 billion yuan in GDP currently required. The population threshold of remains unchanged.
Among the 43 cities already approved for new subway and light rail projects, five cities do not meet the population requirements, and one city doesn't meet the new GDP threshold. But the guideline didn't specify whether the projects that have already been approved will be affected.
Four of the disqualified cities — Baotou, Hohhot, Lanzhou and Urumqi — are in the less-developed regions of China's interior and western regions.
An official at a western regional office of the National Development and Reform Commission (NDRC) told Caixin that raising the approval benchmarks for subway and light rail projects is necessary, but a standard threshold shouldn't apply for all cities throughout the country. The regulators should take into consideration the differences in economic development between the eastern and the western regions, the official said.
The new guidelines banned local governments from raising debts through financing platforms or public-private partnership programs for their subway and light rail projects. The guidelines also said regulators should postpone approvals for projects in cities that have high levels of debt.
Last year, Baotou and Hohhot, both in North China's Inner Mongolia autonomous region, scrapped construction plans for subway projects worth billions of dollars. Sources close to the Baotou government said the central government called off the project due to the city's fiscal burden.
The new rules also banned cities from applying for subway and light rail projects under alternative names — such as "municipal auxiliary project," "engineering experimental line" or "tourism line" — to skirt regulatory scrutiny.
In December, the construction of a monorail line to be built by Warren Buffet-backed electric-vehicle maker BYD Co. in Hengyang, Hunan province, was halted because developers failed to report related information to the NDRC to obtain necessary approval.
The Hengyang project bypassed national approval and required only city-level clearance because it was designated "demonstrative tourism line," a Hunan government official told Caixin.
An official at a provincial NDRC office said many similar urban rail projects got approval under alternative names, and such projects would probably never get approval under the stricter new rules.
You've accessed an article available only to subscribers
VIEW OPTIONS
Share this article
Open WeChat and scan the QR code