Beijing Vows Retaliation Against U.S. Tariffs as Fears of Deadlock Grow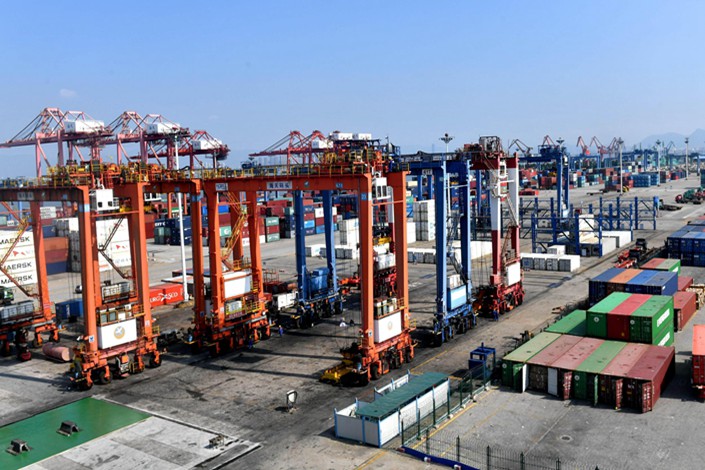 Cargo gets readied for export at the port of Xiamen in eastern China on Friday. Photo: VCG
China said Tuesday it will retaliate against new tariffs on $200 billion of exports announced overnight by U.S. President Donald Trump in spite of Washington's warning that such a move will trigger levies on all Chinese sales to the U.S.
"China has no choice but to retaliate in order to protect its legitimate rights and interests as well as the global free trade order," the Ministry of Commerce said in a statement (link in Chinese) on its website. The ministry said China "deeply regrets" the U.S.' decision announced on Monday to impose tariffs of 10% on $200 billion worth of Chinese goods from next week, and to increase the rate to 25% from the start of 2019.
In his statement announcing the tariffs, Trump warned that if Beijing takes retaliatory measures, his administration will "immediately pursue phase three," which would involve slapping levies on another $267 billion of Chinese products. With duties now covering a total $250 billion of Chinese goods, the measure would extend duties to the value of China's entire annual exports to the U.S.
"The U.S.' insistence on imposing tariffs has brought new uncertainty to consultation between the two sides," the commerce ministry said. "We hope the U.S. recognizes the potential adverse consequences of its actions and takes corrective measures" that China can have confidence in.
The escalation of trade tensions between the world's two largest economies has intensified worries that the diverging mindsets of the two governments and competing priorities among top economic advisers in Washington are leading the dispute into an impasse.
Deadlock ahead
In imposing tariffs, the U.S.' goal is to get China to "play their game" and shift towards a more market-oriented development model, whereas China believes what it is doing is in its own interest and suspects that the U.S.' intention is to keep the country down, said Timothy Stratford, a former U.S. trade official and currently managing partner in the Beijing office of international law firm Covington & Burling LLP.
"You have a big gap. I expect there is going to be a deadlock for some time because neither side wants to change its point of view," said Stratford, who was an assistant U.S. trade representative responsible for China affairs for five years until 2010. He spoke Tuesday at the World Economic Forum in the Chinese port city of Tianjin.
The relationship between the two countries will continue to deteriorate as both sides engage in tit-for-tat penalties, said Scott Kennedy, deputy director of the Freeman Chair in China Studies at American think tank Center for Strategic and International Studies.
"I think it unlikely either side will blink in the near future. China's hope that the midterm elections, the Russian investigation, a stock market collapse or infighting is misplaced. And China is doubling down on its strategy of indigenous innovation," he told Caixin.
Two Chinese government ministries last week confirmed that the U.S. Treasury Secretary Steven Mnuchin had invited a delegation from Beijing to Washington for another round of negotiations in an attempt to defuse the escalating trade dispute. But analysts say they are not optimistic that any solid progress can be made, partly because of Trump's mercurial character and the lack of specific and consistent U.S. demands.
"This is a White House that is very unpredictable and often very erratic — the outreach by one member of the administration can be contradicted a few days or sometimes even hours later by a different representative or even the President himself," Lee Branstetter, professor of economics and public policy at Carnegie Mellon University, told Caixin. "I think the problem with negotiation is that it's not clear what is being negotiated."
In an example of the confusion, the Trump administration unilaterally backtracked on an agreement to avoid escalating their dispute just 10 days after negotiators struck the deal on May 19.
Sean Ding, CEO of Shanghai-based GRisk, a firm specializing in political risk analytics, noted the White House's statement on Monday was vague on what concrete steps the U.S. wants China to take to resolve the trade spat. He attributed the woolly language to the fact that the Trump administration's top economic officials, including Secretary of Commerce Wilbur Ross, U.S. Trade Representative Robert Lighthizer, Larry Kudlow, director of the National Economic Council, and White House Trade Advisor Peter Navarro, "want very different things from China, yet none of them has the full authority to negotiate on the President's behalf."
Although the direct impact of the protracted row on the Chinese economy will be limited in the short term, there will be more profound consequences in the long run as business confidence is battered and companies accelerate the relocation of their production bases out of the country, analysts have warned.
'Huge damage'
"The escalation of the tariffs and the increasing uncertainty in the Sino-U.S. relations will push foreign companies in China as well as Chinese companies to move their manufacturing facilities out of the country," Zhu Haibin, an economist with JP Morgan, said at a media briefing on Monday ahead of the U.S. announcement. "The lengthening (of the trade dispute) is very negative for China because of the uncertainty. The outflow of industries will cause huge damage to China's competitiveness in the medium to long term."
More than 30% of member companies are seeking to source components or assembly outside of China as they adjust their supply chains to avoid the impact of the tariffs, according to a joint survey released last week by Beijing-based AmCham China and AmCham Shanghai, two groups representing American businesses in the country.
A similar poll released by the European Chamber of Commerce in China showed 17% of respondents said they were delaying further investment and/or expansion due to Sino-U.S. trade tensions.
Both the American business groups issued statements on Tuesday after the tariff announcement expressing concern over the potential harm Trump's latest tariffs may inflict on U.S. firms and calling for the two governments to return to talks.
"The majority of our members oppose the use of tariffs," AmCham Shanghai said. "But they do support President Trump's efforts to protect intellectual property rights and open parts of the Chinese economy that remain off limits or unfairly restricted to foreign competition. "Rather than see more punitive tariffs, we urge the United States and China to resume negotiations that improve market access and ensure fair play for U.S. companies in China."
Caixin correspondent Zhang Qi in Washington DC contributed to this report.



Contact reporter Fran Wang
(fangwang@caixin.com)
Read more about the China-U.S. trade war.
You've accessed an article available only to subscribers
VIEW OPTIONS
Share this article
Open WeChat and scan the QR code