Central Bank to Step Into Hong Kong to Support Offshore Yuan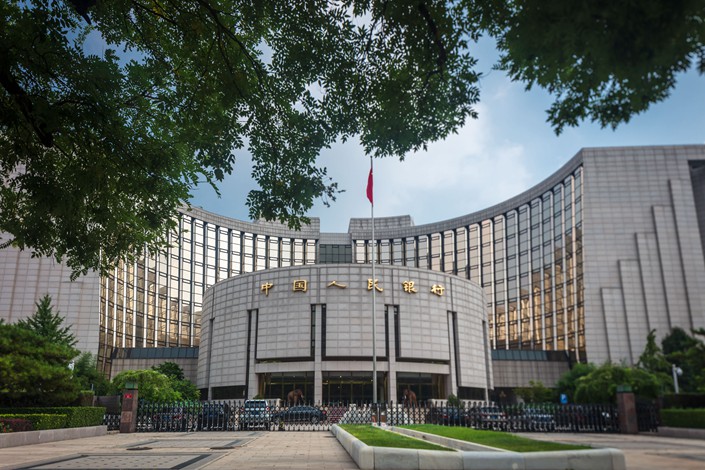 The People's Bank of China headquarters is seen in Beijing. Photo: IC
* The issuance of central bank bills in Hong Kong aims to enrich the spectrum of highly rated, yuan-denominated financial products in the offshore market
* Move comes at a time when market participants expect the U.S. Federal Reserve to raise interest rates next week, which would put downward pressure on the yuan
(Beijing) — China's central bank is taking its first steps toward supporting the offshore yuan market by paving the way for its bill issuance in Hong Kong, the world's largest offshore yuan clearing center.
The People's Bank of China (PBOC) and the Hong Kong Monetary Authority (HKMA), the city's de facto central bank, signed a memorandum Thursday for the future tendering and issuance of PBOC bills through the HKMA's bond tendering platform.
The issuance of PBOC bills in Hong Kong aims to enrich the spectrum of highly rated, yuan-denominated financial products in the offshore market, they said in statements. The details of the issuance will be separately announced.
China has used PBOC bills as a tool to manage market liquidity, as well as guide market expectations, since April 2003. Generally speaking, the issuance of central bank bills reduces the loanable funds available with commercial banks, thus helping push up short-term interest rates, making money more expensive to borrow. When the bills mature, the effect is reversed.
The PBOC move comes at a time when market participants expect the U.S. Federal Reserve to raise interest rates next week, which would put downward pressure on the yuan.
Now China is signaling that it intends to maintain the stability of the exchange rate of the yuan, as the future issuance of central bank bills will lead to a certain degree of tightening in the offshore yuan market, which is similar to the effect of a rate hike, said Zhou Hao, senior emerging markets economist at Germany-based Commerzbank, in an opinion article (link in Chinese).
By absorbing yuan in Hong Kong, the issuance of central bank bills can also help raise interest rates in the offshore yuan market, as well as the cost of shorting the yuan, Zhou said.
During the 2007 global financial crisis, the PBOC issued a number of bills to counter the effect of a deluge of foreign capital inflows. In 2015, it issued 5 billion yuan ($730 million) worth of bills in London, marking its first offshore issuance of such debt.
Contact reporter Lin Jinbing (jinbinglin@caixin.com)
You've accessed an article available only to subscribers
VIEW OPTIONS
Share this article
Open WeChat and scan the QR code

Nov 27 07:07 PM

Nov 27 07:03 PM

Nov 27 05:24 PM

Nov 27 05:13 PM

Nov 27 05:03 PM

Nov 27 11:14 AM

Nov 26 06:42 PM

Nov 26 06:07 PM

Nov 26 05:21 PM

Nov 26 03:58 PM

Nov 26 01:16 PM

Nov 26 12:11 PM

Nov 26 11:44 AM

Nov 25 06:18 PM

Nov 25 06:16 PM
GALLERY