Remember Hanergy? Suspended Firm Back With Privatization Offer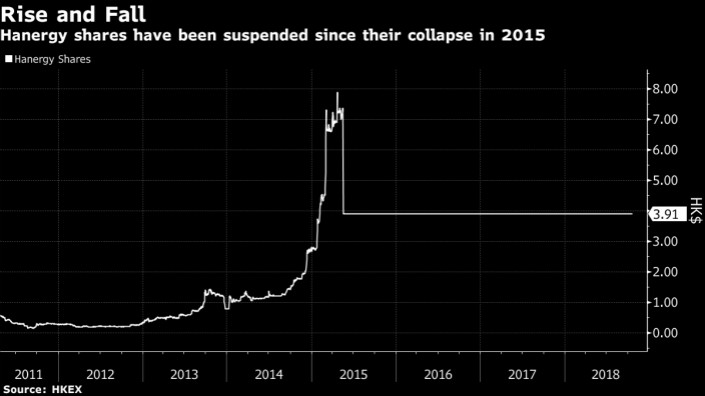 (Bloomberg) — Hanergy Thin Film Power Group Ltd., the solar power technology firm whose shares have been suspended in Hong Kong for more than three years, is resurfacing on the back of a privatization offer from a substantial shareholder and a plan to relist it on the Chinese mainland.
Hanergy Mobile Energy Holding Group Ltd. said in a statement Tuesday that it will offer at least HK$5 ($0.64) for each share "in order to protect the interest of middle and small shareholders" and that the listed company's board has agreed to the privatization offer. Hanergy Thin Film confirmed the statement but declined to comment further.
Once worth more than Twitter Inc., Hanergy's stock abruptly plunged in May 2015 amid concerns about its finances and the trading pattern of its shares, erasing almost half the company's market value in a single day and turning it into an emblem of a bubble in Chinese stocks in 2015. A Hong Kong court last year ruled that the company's former chairman, Li Hejun, was involved in misconduct and that four other directors misled shareholders and failed to discharge their duties appropriately.
Hanergy Thin Film traded at HK$7.88 a share at its peak, valuing the company at about $40 billion. It last traded at HK$3.91. The offer values the company at about $27 billion, according to Bloomberg calculations.
"The offer price sounds reasonable, especially for minority shareholders as it at least offers them a premium over the last price and allows them to withdraw from the chaos with some compensation," said Tian Miao, an analyst at Everbright Sun Hung Kai Co. Approval of the privatization deal would also end the standoff between Hanergy and Hong Kong regulators, she said.
Hanergy Thin Film requested a trading halt in May 2015, followed by the Hong Kong's Securities & Futures Commission in July of that year taking the rare step of ruling that trading couldn't resume without its approval. The commission didn't immediately respond to an emailed request for comment Tuesday.
Hanergy Thin Film was seeking to lift its trading suspension as recently as April. It submitted a disclosure document to the commission on April 4 as one of the two trading resumption requirements and made early repayment of debt.
In June 2017, Hanergy Thin Film said in an exchange filing that Li was the "ultimate controlling shareholder" of Hanergy Mobile Energy, which held about 48% in the listed company. Li was listed as holding about 74% of Hanergy Thin Film shares, according to its interim report in August, which referred to Hanergy Mobile as "a Hanergy affiliate".
Contact editor Yang Ge (geyang@caixin.com)
Share this article
Open WeChat and scan the QR code

12:03

10:50

04:50

04:14

Jun 25 19:43

Jun 25 18:06

Jun 25 18:29

Jun 25 17:50

Jun 25 15:15

Jun 25 14:57

Jun 25 12:26

Jun 25 03:37

Jun 25 03:35

Jun 25 03:46

Jun 24 18:06
GALLERY