Disgraced Head of Major Financial Player Formally Arrested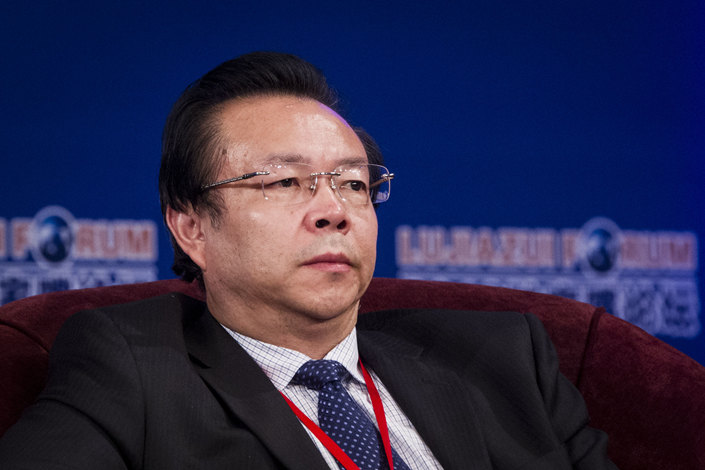 Lai Xiaomin, the former boss of China Huarong Asset Management, one of the country's big four distressed-asset managers. Photo: IC
An order has been issued for the arrest of Lai Xiaomin, the former boss of China Huarong Asset Management Co. Ltd., prosecutors announced Wednesday, indicating that the Communist Party's anti-corruption watchdog has obtained evidence that Lai broke the law.
Lai, who reportedly had three metric tons of cash stashed at home and a 300 million yuan ($43.4 million) bank account under his mother's name, began to be officially investigated by the Central Commission for Discipline Inspection (CCDI) on suspicion of graft in April.
That investigation has ended and the case has been transferred to prosecutors in China's northern port city of Tianjin for review, the Supreme People's Procuratorate said in a social media post on Wednesday. The No. 2 branch of the Tianjin People's Procuratorate has issued an order to arrest Lai, a standard procedure before indictment, according to the statement.
Tianjin courts have a track record of handling sensitive corruption cases involving senior officials, which could imply Lai is likely to be treated as another high-profile scalp taken by the anti-corruption campaign kicked off by President Xi Jinping in 2012. Ex-party boss of Chongqing Sun Zhengcai and ex-security chief Zhou Yongkang were each prosecuted and sentenced in Tianjin courts.
In its latest announcement, the country's top prosecutor didn't disclose the date of Lai's trial.
Lai, who is also the ex-party chief of Huarong, one of the nation's four largest distressed-asset managers, was expelled from the Communist Party of China on Oct. 15 and removed from public office for "serious violations of party discipline," a euphemism for corruption.
In a report also released on Oct. 15, the CCDI accused Lai of breaking multiple rules, including cronyism and embezzlement of public assets. Lai has "caused bad political influence" by going against the central government's financial work guidelines and policy instructions, the CCDI previously said, and his "blind expansion and disorderly management" led the company to seriously deviate from its main responsibility and core businesses.
During his five-year tenure at Huarong, Lai oversaw an aggressive expansion that transformed the company from what he once called a "marginalized" enterprise into one of the biggest players in China's financial industry. By fueling risky business endeavors and ambiguous ties with private borrowers, the company grew into a financial conglomerate, handling securities, trusts, banking and financial leasing. Since 2015, the company has also been investing overseas at an accelerated pace, acquiring more than 3 trillion yuan in offshore assets.
After Lai was placed under investigation, Wang Zhanfeng, a senior banking regulator, was appointed to replace him as party chief and chairman of the scandal-ridden company. Wang has stepped up efforts to both wipe out Lai's lingering influence inside the company and walk Huarong back to focus on its core distressed-debt business.
Contact reporter Leng Cheng (chengleng@caixin.com)
You've accessed an article available only to subscribers
VIEW OPTIONS
Share this article
Open WeChat and scan the QR code