Ant Financial Chief Blasts 'Fake' Fintech, Says His Company Helps Economy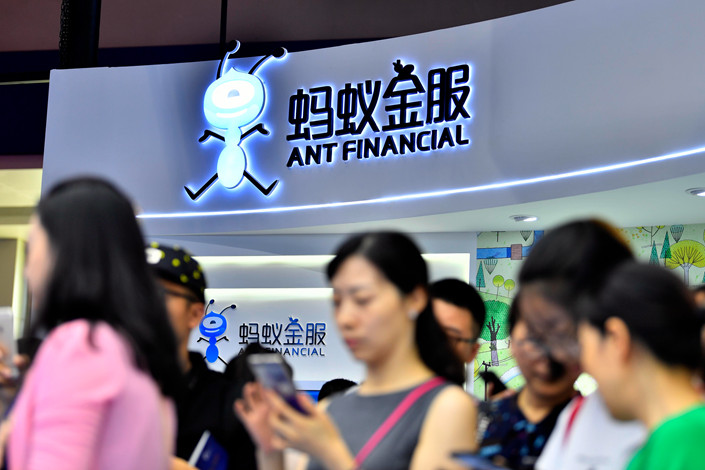 People visit Ant Financial's stand at an exhibition in Chongqing on Aug. 23. Photo: IC
The head of Ant Financial Services Group, the online payment behemoth affiliated to Alibaba Group Holding Ltd., distanced his company from dangerous "fake" fintech while touting its support for small businesses and the economy, amid increasing government suspicion of tech giants' expansion into finance.
"There was some chaos in the fintech industry over the past couple of years. Some fintech companies are … fake fintech — they are scams under the cover of fintech. Some others do fake innovation and they just create bubbles without solving real problems," Ant Financial CEO Eric Jing said at the 9th Caixin Summit in Beijing on Tuesday.
But he also defended the value of "real fintech" in serving the real economy, urging authorities who have intensified a crackdown on unscrupulous fintech firms in recent years to offer different treatment to companies that demonstrate integrity.
Ant Financial is helping to get funding to the "capillaries" of China's economy — about 100 million small and micro-sized businesses which in turn support about 300 million people, said Jing. The government has long been frustrated with broadening small private companies' access to funding as banks prefer to lend to big firms and state-owned enterprises.
"Differentiated regulation is needed," he said. "Genuine fintech should be distinguished from fake; this is crucial."
China's government has become increasingly wary of the massive expansion of technology giants like Alibaba Group, controlled by self-made billionaire Jack Ma, in the financial industry. An example of the dominance of the company and its affiliates in the country's financial market, Yu'e Bao, run by Ant Financial, has grown into the world's largest money market fund, holding more than 1.7 trillion yuan ($246 billion) in assets. Ant Financial itself serves more customers than some of China's largest banks.
Private companies must have "public spirit" when they help build financial infrastructure, and their activities must be guided and overseen by the government to ensure the stability and safety of the system and protect user privacy, former central bank governor Zhou Xiaochuan said Sunday.
Zhu Jun, head of the central bank's international department, warned on Saturday that technology giants are endangering financial stability. Companies like Alibaba and Tencent are rapidly expanding into the financial industry on the back of their huge user base and payment services. They have big advantages over traditional financial institutions in terms of information, technology and scale, but have created significant risks, she said at a forum.
Every one of Ant Financial's innovations is for the people, Jing said Tuesday.
"We will forever serve small and micro-sized businesses," he said, a claim that taps into a policy priority coming from the very top of the Chinese government.
This year's financial deleveraging campaign has exacerbated small businesses' lack of access to financing, on top of pressures caused by slowing growth and the Sino-U.S. trade war. President Xi Jinping earlier this month promised lower taxes for small businesses and greater financing availability for the private sector. In October, Vice Premier Liu He said those who do not support the development of private enterprises "must be resolutely corrected."
With a systemically important presence in the financial industry, Ant Financial is also one of five companies involved in a pilot program that the central bank started in December to test new rules for financial holding companies, aiming to increase scrutiny over the freewheeling sector.
The new rules, expected to be rolled out in the first half of 2019, will create stricter requirements on capital adequacy ratios, leverage ratios, corporate governance, shareholder qualifications and transactions with affiliate companies. The central bank will likely be in charge of supervision.
Contact reporter Ke Baili (bailike@caixin.com)
You've accessed an article available only to subscribers
VIEW OPTIONS
Share this article
Open WeChat and scan the QR code