Friday Tech Briefing: China Welcomes Fourth 5G Entrant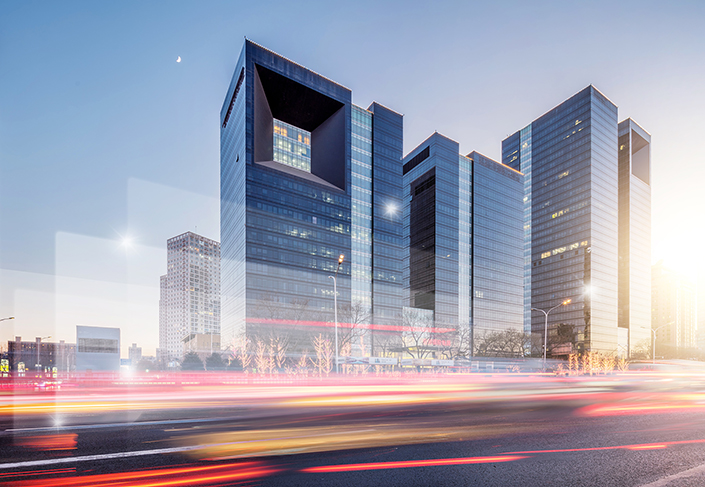 Photo: VCG
1. China Welcomes Fourth 5G Entrant
Beijing has confirmed speculation that China Broadcasting Network Co. Ltd. will become the country's fourth 5G carrier. The company is currently applying for a 5G license.
China Broadcasting was formed in 2014 by combining many of the country's regional cable-TV operators. It was originally set up to run cable networks but was granted a license to operate internet and telecom services in 2016.
China will start testing commercial-quality 5G wireless services next year and could roll out national commercial networks by 2020. Analysts have questioned the wisdom of awarding a fourth 5G license in a market that is already well-served by the three big state-owned carriers, given the significant expense of building a fourth wireless network. (Caixin)
2. Weibo Profits Up 63.5% as User Numbers Surge
Weibo Corp., China's answer to Twitter, is quickly outpacing its American peer after Weibo reported a surge in net profits Wednesday of 63.5% year-on-year to $165.3 million for the third quarter. Revenue jumped 43.8% to $460.2 million.
The leap came on the back of advertising, marketing gains and strong user growth.
Weibo saw a sharp increase in monthly active users to 445.9 million in September, up 70 million from one year before — way ahead of Twitter's 326 million monthly active users for the third quarter. (Caixin)
3. Meitu Shares Plummet After Watchdog Publishes Not-So-Pretty Privacy Report
Selfie app maker Meitu Inc. saw its Hong Kong-listed shares fall by more than 10% Friday morning after China's national consumer watchdog published a report on Thursday criticizing it for collecting too much personal information from users.
Meitu is "suspected of excessively gathering identification and financial information from users," according to the report, which evaluated a total of 100 apps including major players like WeChat and Taobao.
Meitu, which gained its popularity by offering users filters to lighten their skin and slim down their faces in photos, appears several times in the report. The app was slammed for not providing enough clarity when warning users that it shares personal information with third parties. (Caixin)
4. Bytedance Fined by Chinese Regulator over Illegal Medical Advertisements
Beijing-based Bytedance, which runs news aggregation site Jinri Toutiao and video app Douyin (known as TikTok outside the Chinese mainland), was ordered to pay a total of 3.7 million yuan (US$533,000) in fines by a Beijing local commerce administration, SCMP learned recently.
The fine of 3 million yuan was levied on November 19 over the company's failure to submit ads for two health care products and one nonprescription drug for regulatory checks, and for failing to verify the content of the ads.
In March, Jinri Toutiao, which means "Today's Headlines," was fined 700,000 yuan and named and shamed by People's Daily and China Central Television for posting online medical advertisements seen as misleading and harmful to the public. (SCMP)
5. Xiaomi Focuses on AI and IoT as Smartphone Sales Fade
Chinese electronic-device maker Xiaomi Corp. is focusing on artificial intelligence (AI) and the internet of things (IoT) as its next areas of growth as the world's fourth-biggest smartphone maker sees sales declining in its core business.
Xiaomi entered the increasingly crowded smart-speaker business last year. To fight for a slice of the cake, Chinese smart speakers are racing to deeply discount their products.
Xiaomi claims its XiaoAi voice assistant has been activated on more than 132 million smart devices, with monthly active user numbers exceeding 34 million. (Caixin)
6. Cash-Strapped, Money-Losing Ofo Says It Will Soldier On
The chief of bike-share startup Ofo has said the business will soldier on despite its recent troubles, as the cash-strapped, money-losing company struggles to stay afloat in the months following a dry-up of funds.
In an internal letter, Dai Wei, Ofo's founder and CEO, also announced a major board and organizational shakeup, including combining the legal, corporate strategy and risk management departments into a single unit.
By September, daily active users of Ofo's bike rental service fell from 5.1 million to 3.89 million. The company has since faced a flood of requests for user deposit refunds amid a series of lawsuits, forcing it to repeatedly deny bankruptcy rumors. (Caixin)
Compiled by Shen Xinyue
Share this article
Open WeChat and scan the QR code

09:49

03:26

03:05

02:38

May 22 18:08

May 22 16:26

May 22 14:14

May 22 13:54

May 22 12:08

May 22 11:10

May 22 03:31

May 22 02:31

May 21 19:59

May 21 17:50

May 21 17:13
GALLERY