China to Hand Cash to Companies That Limit Layoffs Amid Trade War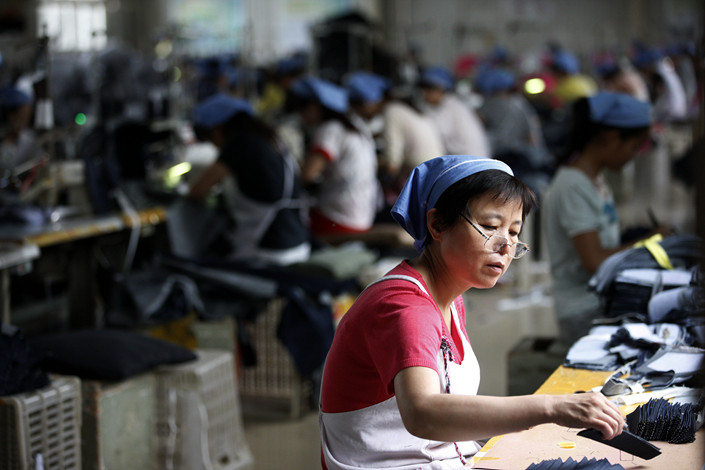 Workers at an export clothing factory in Huaibei, Anhui province, on July 15, 2018. Photo: VCG
(Beijing) — China has promised to hand cash to employers who lay off few workers, in the government's latest attempt to calm jittery nerves among the business community.
The rare move, which aims to ease the financial pressure on companies, reflects Beijing's growing concern over employment amid slowing domestic growth and an ongoing trade war. Widespread unemployment is likely to breed social instability — something Beijing works very hard to avoid.
"Employment is the biggest livelihood of the people, as well as the top priority of economic development," the State Council, China's cabinet, said in a policy paper (link in Chinese) released on Wednesday. The paper includes a slew of measures to support employment.
According to the paper, local authorities should reward companies which either lay off zero or few workers by returning 50% of the unemployment insurance premiums that they paid in the previous year. Even more money can be refunded to companies facing temporary operational difficulties if they are judged to be likely to recover, the policy paper said.
Employers in China must pay a fixed sum per employee into government-managed funds every month on behalf of themselves and their staff. How the size of this sum is calculated varies, but it is usually a small percentage of a region's minimum or average wage.
Unemployment insurance funds across the nation collected and received 111.3 billion yuan ($16.2 billion) in 2017, government data (link in Chinese) showed, the majority of which came from unemployment premiums paid by companies.
The policy paper said that local governments should fuel the refund program with money from their unemployment insurance funds, and they should work out detailed rules by mid-December. It didn't specify what is meant by "few layoffs." Local governments often require a company's layoff rate to be lower than the region's registered unemployment rate, if it wants to apply for subsidies derived from these funds.
Chinese companies, especially small and private ones, have borne the brunt of the economic slowdown this year. The country's economic growth slid to 6.5% in the third quarter amid a nationwide deleveraging campaign and an escalating trade war with the U.S., marking the weakest year-on-year expansion since the first quarter of 2009.
Beijing has made employment its top economic policy priority, and in recent months has issued a raft of policies to support private or small businesses.
It's hard to assess the current employment situation as China lacks reliable statistics on unemployment, with the official registered unemployment rate remaining stable for years. However, privately-collected data show that the job market has been cooling.
Across the nation, the number of job vacancies dropped 27% year-on-year in the third quarter, while the number of jobseekers fell 10%, according to calculations (link in Chinese) by the China Institute for Employment Research at Renmin University based on data from Zhaopin.com, one of China's biggest career and recruitment websites.
The trade war has taken a toll on employment, with job vacancies in the import-export sector sliding 53% year-on-year in the third quarter, following a 13% drop in the previous quarter, the institute said.
Beijing's refund program may be significant, especially for firms facing difficulties. Take a Shenzhen-based company with 100 employees for example. According to local regulations, the monthly unemployment premium it pays for each employee is 1.5% of the city's minimum wage of 2,200 yuan, or 33 yuan.
If the company lays off few or no workers, it can apply for 19,800 yuan of refunds, according to Caixin's calculations.
But if the company faces operational difficulties from which it is expected to recover, and refrains from layoffs, it can apply for even more. According to the policy paper, one way to calculate the expanded refund would be to multiply the unemployment insurance benefits the city pays to laid-off workers — 80% of Shenzhen's minimum wage — by the firm's number of employees, and then by six. If this method was used, the Shenzhen company with 100 employees could receive just over 1 million yuan.
In recent years, multiple local governments have used money paid into unemployment insurance funds to subsidize companies which laid off few or no workers. This was in response to Beijing's call in late 2014 to do so, when the country's annual economic growth dipped to 7.3%, the lowest in more than two decades.
Contact reporter Lin Jinbing (jinbinglin@caixin.com)
You've accessed an article available only to subscribers
VIEW OPTIONS
Share this article
Open WeChat and scan the QR code