China Will Be World's Main Energy Growth Driver Until 2025, Oil Giant Says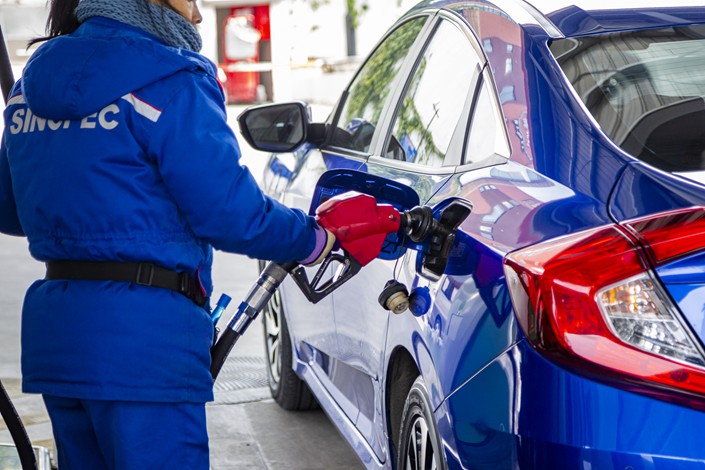 A Sinopec gas station in Shanghai on Feb. 1. Photo: VCG
China will remain the world's main driver of energy consumption and development into the mid-2020s until it is surpassed by India, but it will continue to hold the crown as the world's biggest energy market until 2040, according to a new report.
The country's unprecedented economic transformation has guzzled ever-growing amounts of energy, with China's total consumption of gas, oil, nuclear and renewable energy tripling over the past 20 years, also leading to a huge increase in carbon dioxide emissions.
Yet by 2025, China's neighboring giant is set to overtake it as the main engine of energy development, according to oil giant BP's "Energy Outlook 2019," published this week. The report predicts that Chinese energy demand will grow by 1.1% a year until 2040, down from 5.7% a year in recent history.
"Some of this decline stems from policy efforts to improve efficiency of existing industries," the report said, and "reflects the continuing transition of the Chinese economy away from energy-intensive industrial sectors towards less intensive service and consumer-facing sectors."
The prediction is based on a middle ground "Evolving Transition" scenario, under which policymakers continue to reform energy markets and make energy-related decisions at the same pace as they have in recent history.
This comes as the government attempts to reduce excess capacity in highly polluting energy-intensive industries such as aluminum, steel production and lower-end manufacturing, and push into more value-added manufacturing such as advanced robotics and chip development.
This year's report also substantially revises down BP's previous prediction for China's reliance on coal power due to the unexpected speed at which China has been moving to reduce coal's role in the country's energy mix.
The report also expects coals' share in China's energy mix to fall from 60% at present levels to around 35% in 2040, largely thanks to the continued development of renewable energy and gas power.
Yet while Beijing is turning heavily towards gas in order to reduce pollution from coal plants, BP predicts that 40% of gas consumption will come from imports, either from pipelines from Russia and central Asia, or shipped in liquefied natural gas form. This will occur despite a major push to develop energy resources in the country.
China's natural gas imports hit a record high for January, increasing 26.8% year-on-year to 9.81 million tons, the General Administration of Customs said on Thursday. Last year, China's natural gas consumption ballooned by 16.6% to 276.6 billion cubic meters (9.77 trillion cubic feet), with imported gas making up the lion's share of growth as demand races ahead of domestic production.
The country is also making efforts to reduce the carbon dioxide emissions produced by its substantial coal-fired power capacity, with state planner the National Development and Reform Commission announcing that 75% of coal plants have been fitted with "ultra-low emission" technology this week.
Contact reporter David Kirton (davidkirton@caixin.com)
You've accessed an article available only to subscribers
VIEW OPTIONS
Share this article
Open WeChat and scan the QR code