Retail Investors Get First Crack at Buying Local Government Bonds at Banks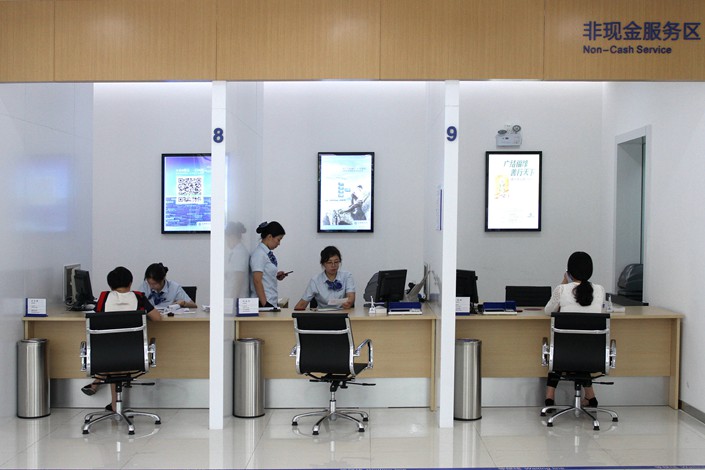 The central government has been strengthening measures to promote the local government bond market. Photo: VCG
* Ningbo plans to become the first city in China to sell local government bonds to retail investors at bank counters. Previously local governments could only issue bonds on the interbank market and stock exchanges
* Beijing hopes that bringing retail investors into the local government bond market will boost trading in the secondary market, making the securities more liquid and allowing the market to price the bonds better
(Beijing) — A city in the wealthy eastern province of Zhejiang is set to become the country's first city to sell local government bonds to retail investors at bank counters, in part of an official effort to boost demand for the securities.
Later this month, Ningbo plans to sell a three-year special-purpose bond worth up to 840 million yuan ($125.1 million) to raise money to purchase land reserves, the city's fiscal authority said in a statement (link in Chinese) dated last week. The issuance will include up to 300 million yuan in notes that will be offered to individual and small institutional investors in the province. The securities will be available at the bank counters of Industrial and Commercial Bank of China (ICBC), China Construction Bank, Agricultural Bank of China and Bank of Ningbo, it said.
It will be the first time that banks will be allowed to offer local government bonds to retail investors via bank counters. Previously local governments could only issue bonds on the interbank market and stock exchanges.
In a joint release in November, the People's Bank of China, the Ministry of Finance, and the China Banking and Insurance Regulatory Commission allowed outstanding local government bonds to be sold via bank counters, opening the door to the 18.3 trillion yuan market wider to retail investors. The agencies also said then that banks will be permitted to offer the newly issued securities over the counter.
The central government has been strengthening measures to promote the local government bond market as part of a longstanding effort to clean up the mountain of hidden debt taken on by local authorities and their financing vehicles since the global financial crisis a decade ago.
Beijing hopes that bringing retail investors into the local government bond market will boost trading in the secondary market, making the securities more liquid and allowing the market to price the bonds better. Currently, local governments heavily intervene in the pricing of the securities.
Selling the bonds directly to individual investors will also require local governments to be more transparent about their debts, a source close to the country's financial regulators told Caixin previously.
Meanwhile, a record amount of local government special-purpose bonds is set to hit the market this year, as authorities, whose revenue growth is slowing, ratchet up infrastructure spending to bolster weakening economic growth.
In his annual report to China's top legislature, Premier Li Keqiang earlier this month raised the special-purpose bond issuance quota for local governments to 2.15 trillion yuan, a significant rise from last year's 1.35 trillion yuan and nearly triple 2017's quota of 800 billion yuan.
Contact reporter Fran Wang (fangwang@caixin.com)
You've accessed an article available only to subscribers
VIEW OPTIONS
Share this article
Open WeChat and scan the QR code