Hainan Airlines Auditor Issues Negative Opinion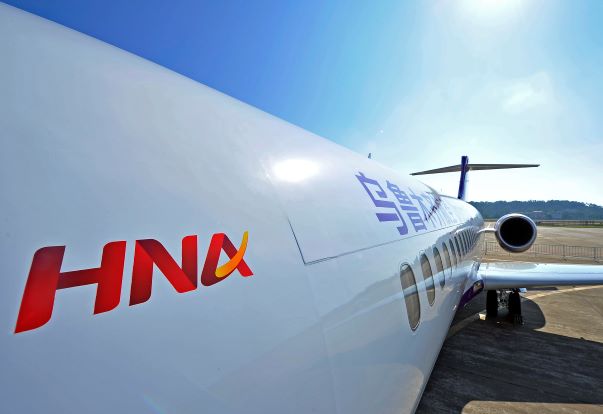 Hainan Airlines reported a huge loss in 2018. Photo: VCG
Cash-strapped conglomerate HNA Group obtained 6.57 billion yuan ($980 million) of bank loans through its listed subsidiary Hainan Airlines Holding Co. to repay debt, earning a negative opinion for the airline from its auditors.
PricewaterhouseCoopers, auditor of Hainan Airlines, issued the adverse opinion on the airline's accounts for 2018, a year of huge losses. PwC cited concerns about weak internal controls and connected-party transactions for three loans taken out to redeem the parent's bonds, according to Hainan Airlines' audit report released Tuesday.
Hainan Airlines said its management detected the flaws and has made corrections to avoid any impact on the company's financials.
Hainan Airlines is the flagship carrier of HNA Group, which has struggled over the past two years to repay massive debts accumulated during years of aggressive expansions at home and aboard.
Hainan Airlines said the money borrowed by the parent has been fully repaid. In April the airline acquired majority stakes from the parent in Haihang Aviation Technology and Hainan Tianyu Flight Training Co. for a combined 3.8 billion yuan. Hainan Airlines said it didn't make actual cash payments for the stakes as they were part of the parent company's repayments for previous loans. HNA Group repaid the remaining principal and interest in cash, Hainan Airlines said.
Hainan Airlines' board of directors pledged to enhance internal controls and management in the future.
The auditor's warning came as Hainan Airlines reported a 2018 net loss of 3.6 billion yuan, compared with a net profit of 3.3 billion yuan in 2017.
The company attributed the loss to asset write-offs from investment losses totaling 1.8 billion yuan. The company also reported a 200% surge in financial costs to 6.4 billion yuan because of exchange rate losses.
Hainan Airlines' core aviation business reported 64.5 billion yuan of revenue in 2018, up 14% year-on-year, despite rising operating costs due to fuel price increases, according to the company's financial report.
By the end of 2018, Hainan Airlines' total assets were 205 billion yuan with total liabilities of 136 billion yuan. The company's debt ratio was 66.4%, an increase of 3.9 percentage points over the previous year.
In its negative opinion on the company's financial reports, PwC said there is potential pressure on Hainan Airlines because of worsening profitability and existing debt obligations.
Hainan Airlines said its capital chain has remained stable, its access to bank loans has continued to be sufficient, and it has more than 12.3 billion yuan of untapped credit lines as of the date of the report.
Hainan Airlines said in the financial report that the Hainan provincial government remains its controlling shareholder with 6.4%. But a Caixin calculation based on public records showed that HNA Group and affiliates held at least 8.66% of Hainan Airlines.
Contact reporter Han Wei (weihan@caixin.com)
You've accessed an article available only to subscribers
VIEW OPTIONS
Share this article
Open WeChat and scan the QR code

China Stories: How a Rich Child Rapist Bribed His Way Off Death Row