Photo Essay: Torrential Rains Kill 61 and Affect Millions in Southern China (Update)
On Sunday, floodwaters from the Lijiang River filled streets, soaked factory buildings and fields, damaged houses, caused blackouts and disrupted communications in some townships in Guilin in the Guangxi Zhuang autonomous region. Photo: VCG
Sixty-one people are dead and 14 are missing after a week of heavy rainfall in southern China that has caused flooding, mudslides and other natural disasters, authorities said.
More than 5.3 million people have been affected and 153,000 people are in need of rescue across eight provinces and municipalities, including Zhejiang, Fujian, Jiangxi, Hunan, Guangdong, and Guizhou provinces, Guangxi Zhuang autonomous region, and Chongqing municipality, according to statistics from China's Ministry of Emergency Management last updated at 4 p.m. on Thursday.
The floodwaters have waterlogged urban areas and soaked farmland, causing an estimated 10.2 billion yuan ($1.5 billion) in losses,
according to information given at a State Council Information Office media briefing on Wednesday.
China's flood season begins in April in southern China and in May in northern China, and lasts through October. "Since the beginning of the flooding season, there have been 14 periods of heavy rain in China, with a cumulative precipitation of 163 millimeters (6.42 inches), close to the amount in the same period last year, 165 millimeters," said Ye Jianchun, secretary general of the National Flood Control and Drought Relief Headquarters.
Extreme weather has become more frequent in recent years, leading to greater uncertainty around flood control and prevention, and it is still difficult to accurately forecast weather for specific locations, Ye said at a press conference on Wednesday.
As of Monday, 22 provinces had suffered flooding to varying degrees since the start of the season, affecting 6.75 million people. "Generally, flood control and relief work is facing a complicated and grim situation this rainy season," Ye said.
On Wednesday, the state-run Xinhua News Agency reported that torrential rains in Guangxi had left 17 dead and nine missing. Floods and landslides were reported to have killed 13 in Guangdong as of Wednesday morning.
Heavy rainfall is expected to continue through the end of the week.
Contact reporter Ren Qiuyu (qiuyuren@caixin.com)
On June 3, a villager stands in front of collapsed homes in East China's Fujian province, waiting for an insurance company evaluation. Rainfall on May 16 and 17 toppled hundreds of houses and flooded 1,209 hectares (2,987 acres) of crop land, causing a direct economic loss of 230 million yuan ($33.2 million). Photo: VCG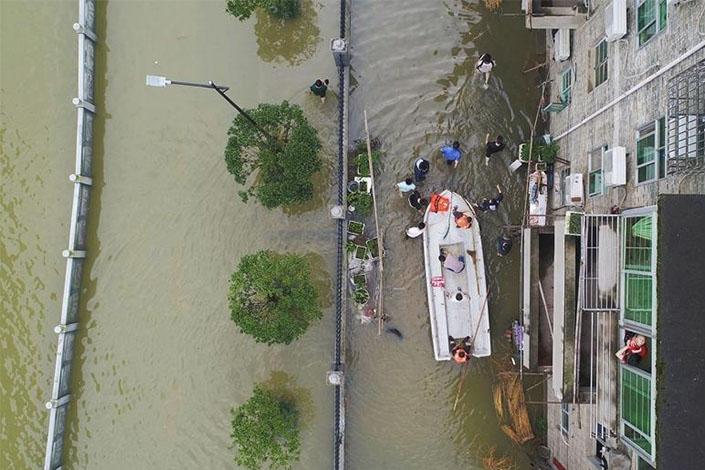 On Sunday, emergency workers help trapped residents in Ji'an, Jiangxi province. As of 11 a.m. that day, more than 900,000 people across 45 counties in the province had been affected by the rainfall, which killed six and left one missing. Thousands of houses collapsed or were damaged. Photo: VCG
Sudden mountain flooding caused major damage to houses in this village near Guilin on Wednesday. Photo: VCG
On June 12, continuous heavy rainfall caused the water level of the Ganjian River in Ji'an to rise to extremely high levels, trapping cattle in a field. Photo: VCG
You've accessed an article available only to subscribers
VIEW OPTIONS
Share this article
Open WeChat and scan the QR code