Central Government Rejects Claims Three Gorges Dam Is Structurally Unsound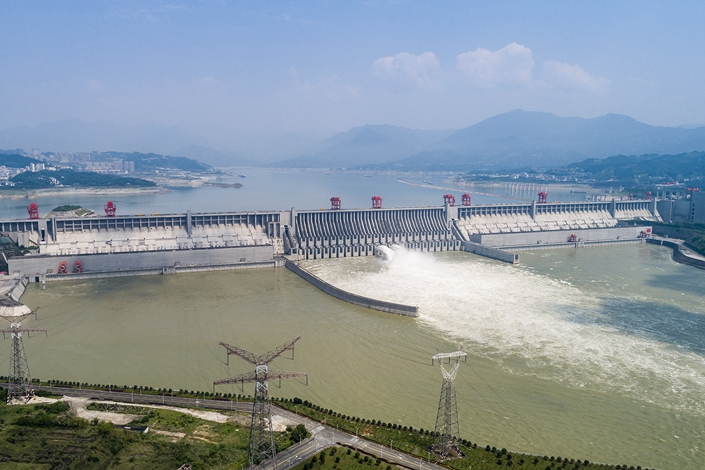 The Three Gorges Dam releases water on June 23 in Yichang, Hubei province. Photo: VCG
The Three Gorges Dam has no structural abnormalities, the State Council's State-owned Assets Supervision and Administration Commission (SASAC) said on its social media accounts on July 8 in response to fears the massive hydroelectric dam was structurally unsound.
The statement came after a screenshot from Google Maps circulated on Chinese social media that appeared to show the giant dam had contorted since construction finished in 2006. If it were to burst it would be catastrophic for "half of China," warned the user who originally posted the screenshot to Twitter.
The post originated on Twitter before moving to Weibo. Google Maps and Twitter are both blocked in China.
Spanning the Yangtze River in Central China's Hubei province, the Three Gorges Dam is the world's largest hydroelectric dam, with a reservoir 410 miles long and a peak water level of 175 meters (574 feet), an enormous amount of water that would cause disastrous flooding were the dam to break.
On July 3, two days after the photo was posted, staff of the dam-builder Three Gorges Group told Shanghai-based, state-owned outlet The Paper that the claim was false, and provided an expert report to that effect shortly afterwards.
The report said minor changes in the dam's structure were to be expected and were accounted for in the design of the dam. These were mere millimeters wide and were within the acceptable range of the design, and were probably down to changes in water levels and temperature and the impact of gravity, the report said.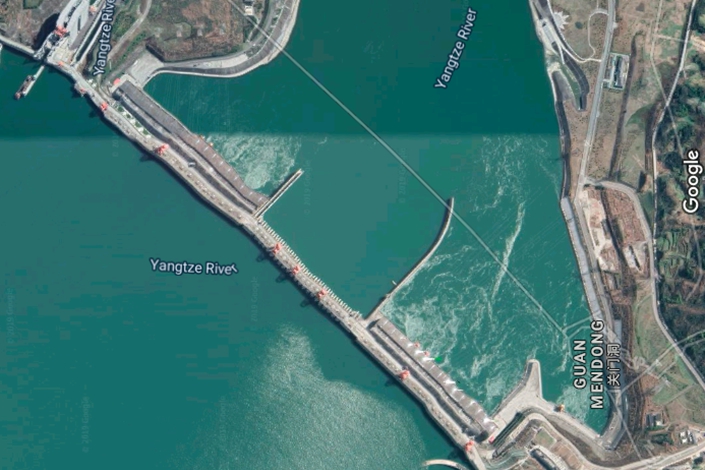 Photo: Google Maps
On July 4, the China Aerospace Science and Technology Group also weighed in to back the sturdiness of the dam with its own photos, taken by the Gaofen-6 observation satellite designed to provide high-resolution imaging.
It its post, SASAC blamed the Google Maps satellite, saying satellite imaging "requires the use of accurate surface elevation models, accurate reference data, and accurate geometric correction algorithms" to correct the image. "If the reference data or algorithm is not accurate, it will cause changes to the image," it said.
A consultant for Beijing satellite image data service provider Kosmos Company of Remote Sensing told Caixin it was possible that the satellite imaging used in Google Maps had not been corrected, resulting in visual distortions that look like geometric ones.
Google did not immediately respond to an emailed request for comment.
The SASAC post said the vertical displacement of the dam's foundation in April was between 1.45 mm and 26.96 mm; horizontal displacement was between -0.24 mm to 4.63 mm. It pointed out that the dam has a certain degree of elasticity and emphasized that these changes were all within the design range.
Contact reporter Ren Qiuyu (qiuyuren@caixin.com)
You've accessed an article available only to subscribers
VIEW OPTIONS
Share this article
Open WeChat and scan the QR code

China Stories: The Rural Hardship Behind the Mine Murders That Shocked China