U.S.-Made Car Sales in China to Suffer as Beijing Reimposes Penalty Duty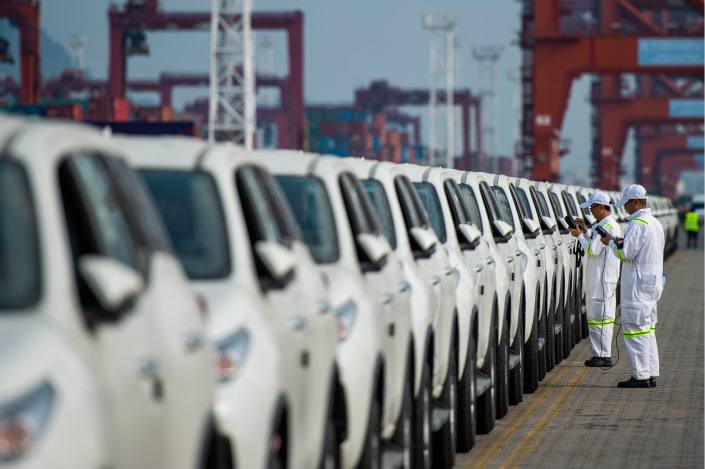 Workers inspect imported cars at a port in Shenzhen, Guangdong province on April 10. Photo: IC Photo
Sales of luxury U.S. car brands and some U.S.-made German vehicles in China, which were already struggling, are expected to be dampened further after Beijing decided to resume the 40% punitive tariff on automobiles imported from the U.S. as part of the country's retaliation against the U.S. escalation of the trade war.
The Chinese government announced late Friday that starting from December 15 it will add an extra 25% tax on automobiles, and a 5% extra duty on auto parts, imported from the U.S.
It's the second time China has resorted to the auto duty in reaction to U.S. tariff threats. After the U.S. started the trade war by levying a 25% tariff on $34 billion worth of Chinese products in July 2018, the Chinese government increased the import duty on U.S.-made cars from 15% to 40%.
The increase in the auto duty was suspended in December after Chinese President Xi Jinping and his U.S. counterpart Donald Trump agreed to a tariff ceasefire at their meeting following the G20 leaders' summit in Argentina.
The resumption of the hefty tax on automobiles made in the U.S. came along with the new tariffs on $75 billion of U.S. imports announced by China on Friday. Tariffs on U.S. soybeans, crude oil, beef and other products will be raised by 5% to 10%, effective in September and December. China said the tariffs, which will affect more than 5,000 product lines, are a response to Trump administration's plan to impose new tariffs on $300 billion of Chinese imports.
U.S. President Donald Trump, in a further escalation of the conflict late Friday, responded to the Chinese tariffs hikes by raising the U.S. tariffs on $250 billion of Chinese imports from 25% to 30% as of October 15, and on the remaining $300 billion of Chinese products to 15% from 10%, effective on September 1 and December 15 for different products.
The return of China's heavy tax on U.S.-made cars jolted U.S. auto stocks. NASDAQ-listed Tesla Inc. was down 4.84% at the closing on Friday; General Motors Co. dropped 3.22%; Ford Motor Co. was down 2.99%.
German automakers Daimler AG and BMW AG, which export luxury SUVs to China from their U.S. plants, have also seen their stocks fall more than 2% in Frankfurt.
U.S. luxury brand sales in China began to suffer soon after Beijing announced in July last year that it would raise tariffs on U.S.-made autos. General Motors (-94%), Chrysler (-81%), BMW (-78%) and Daimler's Mercedes-Benz (-60%) all saw their vehicle imports fall sharply in the third quarter last year, according to a report by CITIC Securities.
The import of U.S.-made cars warmed up earlier this year after the extra tariffs were suspended. China imported 27,000 vehicles from the U.S. in March, up 58% year-on-year and the highest level since July 2017, according to China custom figures released in June.
But the positive trend did not last. According to a report by Sinomach Automobile, a major car importer and dealer in China, the sales of imported cars produced by Ford and Chrysler fell 54% and 67% in April this year from a year earlier, while Mercedes-Benz car sales fell by 28%.
Tesla may be least affected by the tariff increase. The electric carmaker has announced that its newly-built plant in Shanghai will start producing Model 3 cars for the Chinese market by the end of this year.
Contact reporter Wu Gang (gangwu@caixin.com)
You've accessed an article available only to subscribers
VIEW OPTIONS
Share this article
Open WeChat and scan the QR code

China Stories: How Beijing's Health Care System Battled Covid as Cases Peaked